Porridge with Flax seeds, Berries and Banana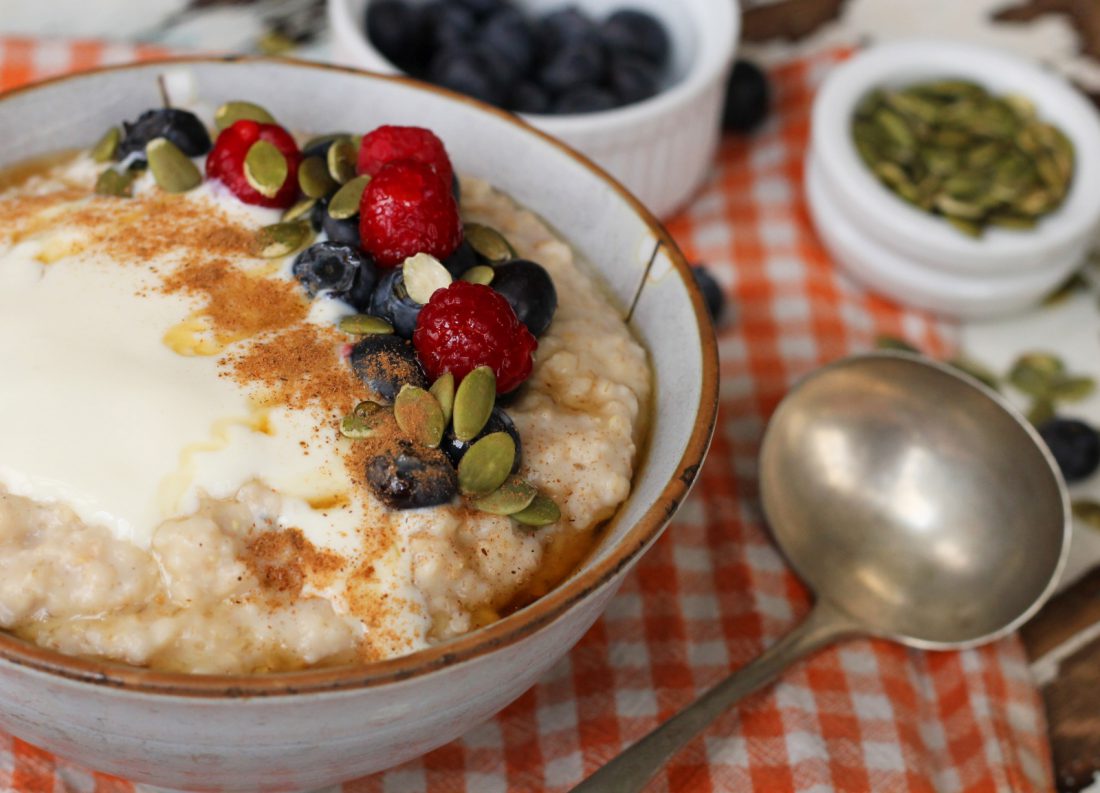 A bountiful, energising vegan breakfast to boost your mood!
It's also easy to add even more tasty and nutritious vegan goodies, eg cashews or other nuts; dried fruit such as raisins, chopped figs or apricots; sunflower or pumpkin seeds…
We've offered two vegan versions: porridge from scratch – very economical, quick and easy, especially if you soak overnight – and also the individual packets which take only 2 minutes to microwave. You choose! Bags of porridge range from value versions to posher organic ranges. Again, make your choice according to budget and availability.
Ready ground linseed (flax seed) is very cheap from Aldi. Alternatively, buy whole seeds and grind them up in a small electric coffee or spice grinder. Whichever you choose, store in the fridge in an airtight container to keep it fresh.
Easy
Gluten free
Wheat free
Reduced sugar, diabetic friendly
Quick meal
Cheap
Kids recipe
* Nutritional information per serving. * Add more oats if you're physically active.
Ingredients
50g/1¾ oz/½ cup porridge or jumbo oats OR 1 sachet instant oats, eg Quaker Oats, Tesco etc
350ml/12fl oz/scant 1½ cups plant milk, eg soya, almond, hemp etc – preferably fortified
Toppings
2 tbsp berries
½ banana, chopped
2 tbsp flax meal
Plus choose some or all of these:
Dried fruit: eg handful of raisins; chopped unsulphured apricots or regular ones; chopped figs etc
Nuts and seeds, eg cashews, pumpkin or sunflower seeds, Brazil nuts, hazelnuts
Natural soya yoghurt (eg Alpro or Sojade)
Syrup to sweeten if needed: agave; maple; date are all good
Instructions
Stove-top method. Put the oats and soya milk in a saucepan and bring to the boil and simmer for 4-5 mins, stirring so the porridge doesn't stick to the bottom of the pan. Add more plant milk if necessary.
Microwave method. Cook on high for 2 minutes (or according to sachet instructions) then check, give a stir and add more plant milk (and microwave time) if necessary.
Serve and add the toppings of berries, banana and flax meal plus any extras that you like.
A spoonful of soya or other vegan yoghurt makes a lovely added extra!
Optional extras / notes
Soaking the oats overnight in plant milk or water makes the porridge quicker to cook in the morning. If using the from scratch version, halve the quantities to make one portion. The instant sachets only serve 1.
Did you know that V30 is run by a charity?
We create vital resources to help educate everyone – vegan veterans, novices and the v-curious alike – about vegan food, health and nutrition; as well as the plight of farmed animals and the devastating environmental impact of farming.
Through this work we have helped thousands of people discover veganism; but we want to reach millions more! We rely entirely on donations as we don't get any government funding. If you already support us, thank you from the bottom of our hearts, you are really making a difference! Please share our details with your friends and loved ones too, as every donation enables us to keep fighting for change.