Quick Aubergine & Tomato Curry with Optional Chickpeas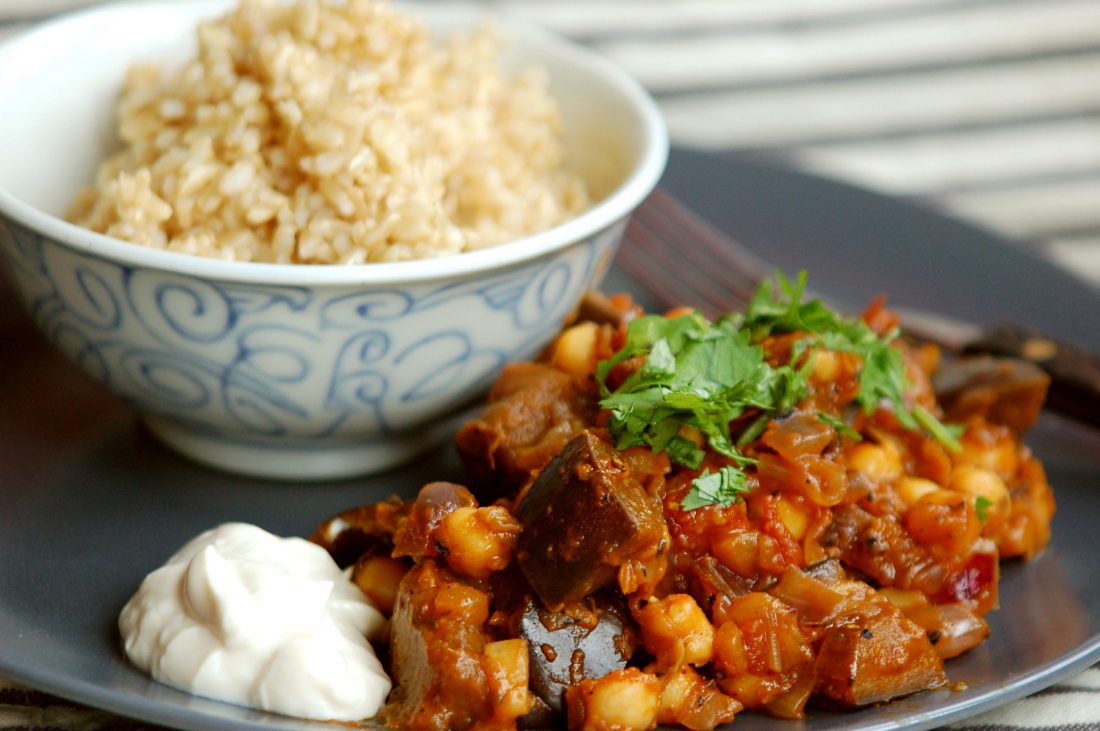 This lovely tangy curry is very easy to make and one of the most popular dishes on the website.
Most of the preparation can be done while the aubergine cubes soak.
We've given serving suggestions below. However, the easiest way to boost protein and make it a more substantial dish is to add 1 tin of rinsed and drained chickpeas about 5 minutes before the end (or 240g home-cooked).
Gluten-free/Wheat-free/Nut-free/Soya-free/Sesame-free
This recipe ticks most of the free-from boxes as well as being 100% vegan
Serving suggestions
Brown or white rice
Chapatis (or GF vegan wraps)
Dairy-free yoghurt, eg plain Sojade (soya-based) or CoYo (coconut-based)
Dahl – especially our Spinach Dahl recipe Or use a tinned dhal if you're in a hurry. Sainsbury's and Asda OR health food shops/Ocado: Hodmedod's British Vaal Dhal; Geo Organic Dhal etc
Not too tricky
Gluten free
Wheat free
Reduced sugar, diabetic friendly
Quick meal
Low fat, low sugar
Freezable
Cheap
Cuisine
Indian and Indian Subcontinent
Meal
mains
lunches
sides-light-meals-and-salads
vegetable-side-dishes
Ingredients
Curry ingredients
675g/1½lbs aubergines (I usually use 2 medium/large aubergines. A few grams either way is fine!)
2 tbsp plain vegetable oil (not olive)
3 medium-large tomatoes, chopped
1 tsp salt
Juice of half a lemon
2 tbsp fresh coriander, chopped
Optional: 1 tin of chickpeas, rinsed and drained (keep the liquid – aquafaba – to make other things, eg aquafaba mayo, chocolate mousse or cakes. It will keep in a jar in the fridge for 3-4 days)
Spice mix – measure out into a small bowl while the aubergine cubes are soaking
1 tsp turmeric powder
4 cloves
1 tsp cumin powder
1 tsp coriander powder
6 black peppercorns
2.5cm/1inch piece fresh ginger, grated
½ tsp paprika or chilli powder (less if you really can't tolerate spices)
ALL KITTED OUT
Chopping board; knife; bowl to soak aubergine pieces; measuring spoons; medium-large saucepan with lid; wooden spoon or similar; small bowl for spices; tin opener if using chickpeas; lemon squeezer
Instructions
Cut aubergines into medium-small cubes – around 2cm/1 inch – and soak in cold water for about 10 minutes. You can prepare the rest of the dish during this time.
Heat oil and fry spices for 2 minutes. Add tomatoes, salt and drained aubergines.
Stir for five minutes, add lemon juice, cover and cook slowly until the aubergine is tender, stirring occasionally.
Add the chickpeas if using and cook in for a minute or two before serving. Stir in the chopped coriander and serve hot.
Did you know that V30 is run by a charity?
We create vital resources to help educate everyone – vegan veterans, novices and the v-curious alike – about vegan food, health and nutrition; as well as the plight of farmed animals and the devastating environmental impact of farming.
Through this work we have helped thousands of people discover veganism; but we want to reach millions more! We rely entirely on donations as we don't get any government funding. If you already support us, thank you from the bottom of our hearts, you are really making a difference! Please share our details with your friends and loved ones too, as every donation enables us to keep fighting for change.