Quick Avocado, Lemon & Basil Pesto with Raw or Cooked Noodles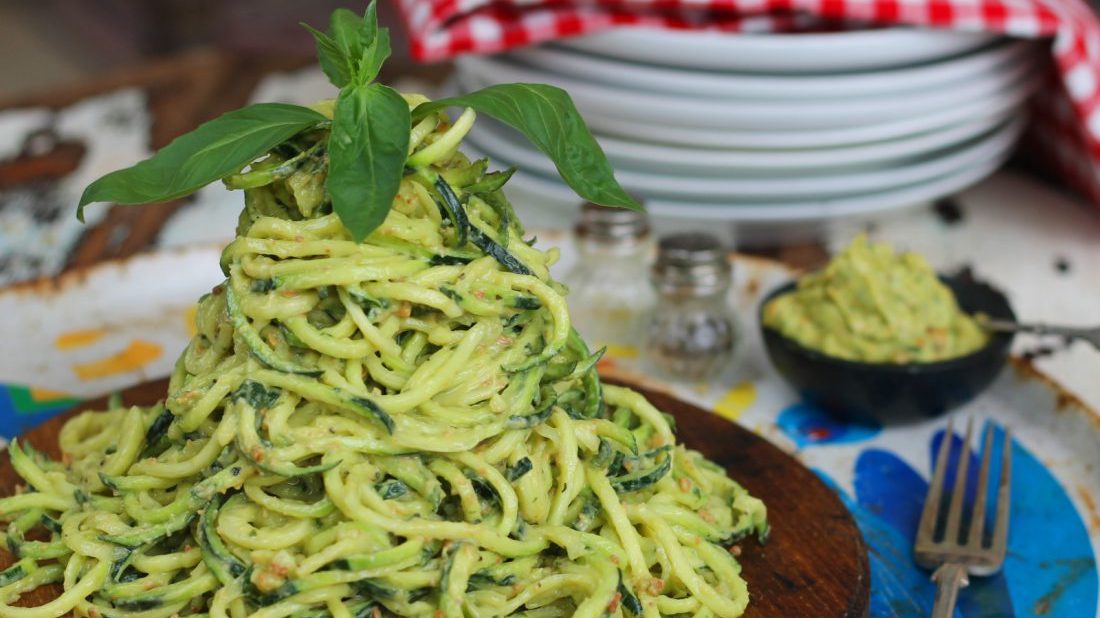 A beautiful, fresh and simple dish which gives you the choice of 'courgettini' – raw courgette noodles – or more traditional cooked ones, eg spaghetti. If you're in a hurry, ready-made courgette noodles are in many supermarkets now!
Options
Pesto we've used the traditional basil and white nut option for flavouring but feel free to experiment with other combinations, eg walnut and parsley; Brazil nut and rocket or parsley.
Extra greens a handful of spinach or chopped kale would work nicely – or just eat them on the side, in a salad!
Easy
Gluten free
Wheat free
Quick meal
Cheap
Kids recipe
Cuisine
United States and Canada
Meal
mains
lunches
sides-light-meals-and-salads
vegetable-side-dishes
Ingredients
Noodles. Choose from either raw or cooked
Raw: 4 medium to large courgettes, washed, ends trimmed, skin on
Cooked: enough dried spaghetti or linguini for 2-4 (regular or GF)
Pesto
Flesh of 2 large, ripe avocados
1 large bunch of fresh basil
⅓ cup/50g of whole raw cashews or pine nuts (raw just means unroasted and unsalted)
1 large garlic clove, peeled
1 tsp lemon zest plus juice of 1 lemon (add a little more if necessary)
2 tbsp olive oil
½ tsp sea salt
¼ tsp freshly ground black pepper
2 tbsp nutritional yeast flakes (Marigold Engivita – not to be confused with brewer's yeast)
ALL KITTED OUT
Chopping board and sharp knife; lemon zester or grater; scissors; measuring cups/scales; measuring spoons; blender or food processor
Cooked noodles: saucepan and strainer
Raw noodles: spiralizer OR just use a long vegetable peeler to make the courgette noodles. If you really like raw noodles it might be worth investing a tenner in the hand type (only does soft veg like courgettes) or spend between £20-30 on something a bit more versatile.
Instructions
Make the noodles
Raw version: make the noodles with your peeler or spiralizer. Peel down the length of the courgette. Set aside. Make them just before using otherwise they will start to leak water and go all soggy.
Cooked noodles: boil the kettle and pour the hot water into a saucepan. Add a little salt and cook the pasta on a rolling boil until just tender, according to the packet directions. When ready, drain and set aside.
Make the pesto
If you want the flavour of toasted nuts, gently roast them in a non-stick frying pan for a minute or two, stirring constantly as they catch and burn otherwise. Remove from the heat and transfer into a bowl (the heat from the pan will continue to cook them otherwise).
Alternatively, use the nuts raw.
Remove about a quarter of the basil from the pack/bunch. Snip it into smallish rough pieces with scissors and set aside.
Place the nuts, garlic, avocados, lemon juice, olive oil, yeast flakes and three quarters of the pack of basil into the food processor or blender. Add in the extra greens if using also.
Do this for about 30 seconds but use short blasts to pulse the ingredients and scrape down the sides with a spatula each time. This stops the nuts from turning into paste! If the mixture becomes too thick to move in the blender, add a splash or two of water and turn on the machine again.
Stir in the snipped basil and lemon zest. Mix in.
Toss the noodles in the pesto and serve.
Did you know that V30 is run by a charity?
We create vital resources to help educate everyone – vegan veterans, novices and the v-curious alike – about vegan food, health and nutrition; as well as the plight of farmed animals and the devastating environmental impact of farming.
Through this work we have helped thousands of people discover veganism; but we want to reach millions more! We rely entirely on donations as we don't get any government funding. If you already support us, thank you from the bottom of our hearts, you are really making a difference! Please share our details with your friends and loved ones too, as every donation enables us to keep fighting for change.