Quick Butterbean, Red Pepper and Basil Spread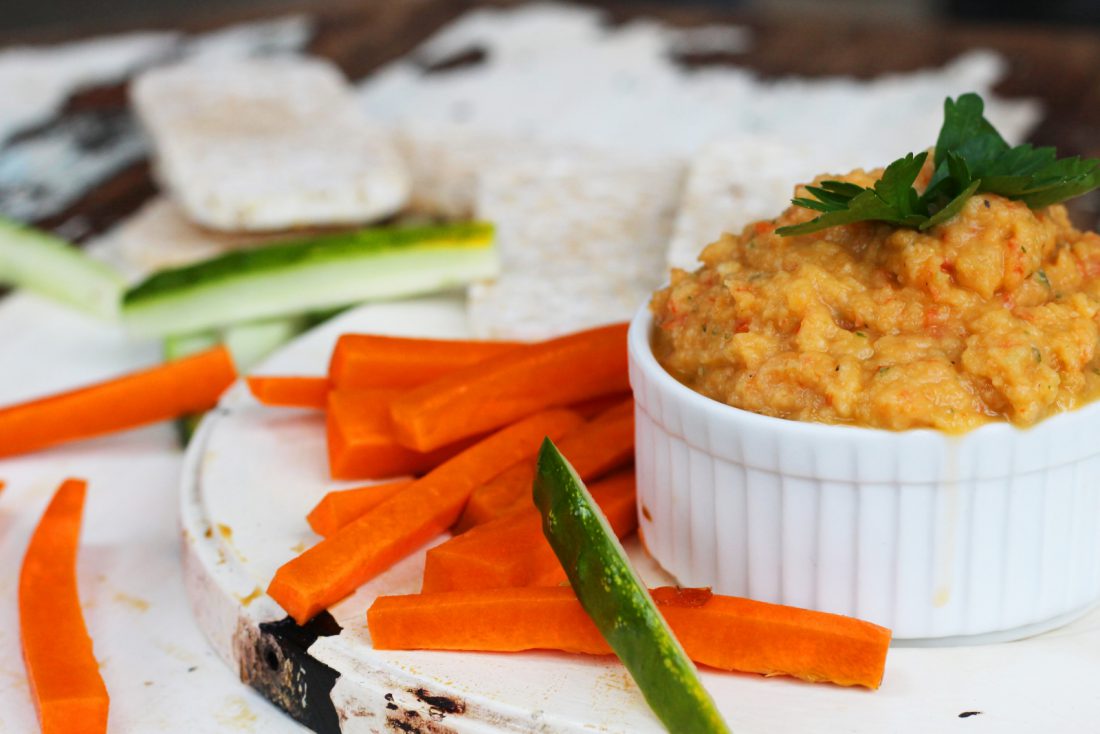 Good on crostini, toast, rice cakes, oat cakes…or as a dip with veggie sticks. If you get a wiggle on, this takes 5 minutes or so to set up, chop the pepper and blend the rest.
Top tips: carrot sticks are widely available if you have no time to chop your own!
Easy
Gluten free
Wheat free
Kids recipe
Meal
soups-starters
sides-light-meals-and-salads
Ingredients
425g/15oz can butter beans
1 tbsp freshly squeezed lemon juice
1 garlic clove, crushed (or just blend it with everything)
4 sprigs basil
1 small red pepper, deseeded and very finely chopped
Salt and freshly ground black pepper
Optional: 1-2 tbsp extra-virgin olive oil, drizzled on top
ALL KITTED OUT
Tin opener; chopping board and knife; blender; citrus squeezer
Instructions
Drain the beans under cold water. (Keep the bean water – aquafaba – to use in vegan meringues, cakes etc. Store in an airtight container in the fridge for a few days)
Blend everything except the red pepper and whizz to a purée. Mix in the red pepper and season with salt and freshly ground black pepper.
If making the non-reduced fat version, drizzle the olive oil over the top and serve.
Did you know that V30 is run by a charity?
We create vital resources to help educate everyone – vegan veterans, novices and the v-curious alike – about vegan food, health and nutrition; as well as the plight of farmed animals and the devastating environmental impact of farming.
Through this work we have helped thousands of people discover veganism; but we want to reach millions more! We rely entirely on donations as we don't get any government funding. If you already support us, thank you from the bottom of our hearts, you are really making a difference! Please share our details with your friends and loved ones too, as every donation enables us to keep fighting for change.