Quick Chow Mein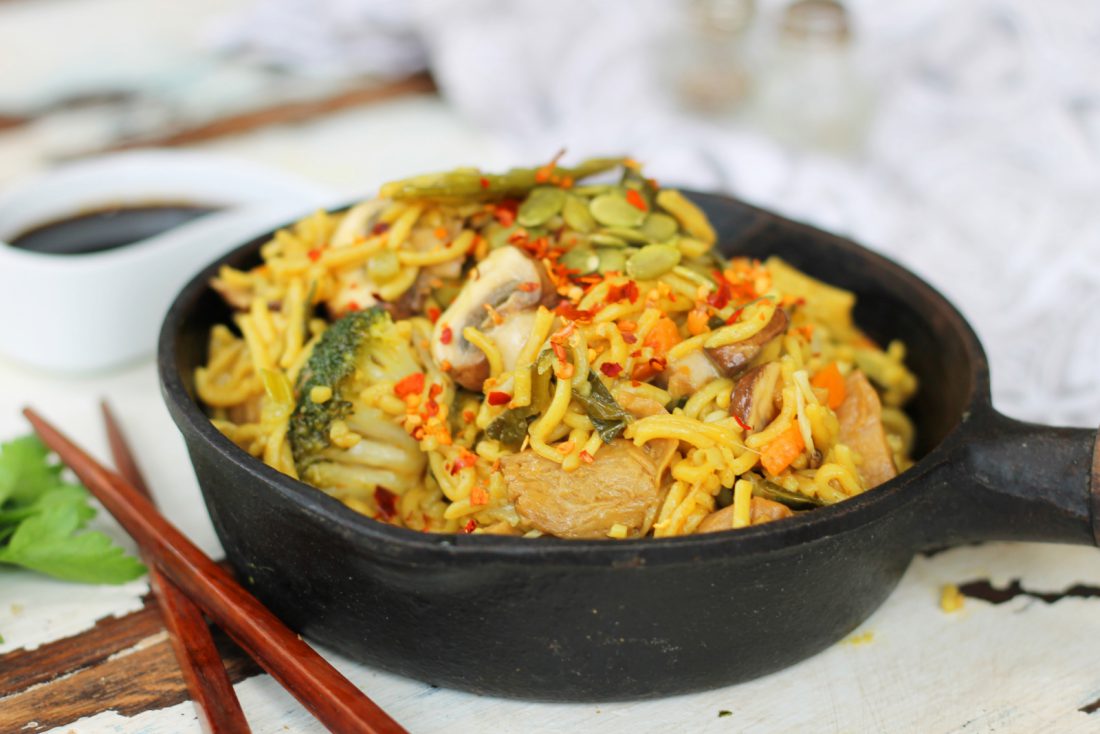 Using fresh ready-made ingredients means you can make this classic dish super-healthy – and in minutes!
Easy
Gluten free
Wheat free
Quick meal
Ingredients
1 pack straight to wok noodles (egg-free) – udon, rice noodles etc – this will serve 1 or 2 people depending on appetite
½-1 pack ready-prepped vegetables or stir-fry mix per person
Four medium mushrooms sliced or broken up with fingers if you like extra or they're not contained in your stir-fry mix
½ pack beansprouts per person
1 jar or 2 sachets Chow Mein Sauce (Blue Dragon or Sainsbury's are vegan)
1 protein option: choose from ONE of these:
Mock Duck, roughly chopped (Granovita tinned vegan duck. Find it in Holland & Barrett or other health food stores. Online – Ocado, Goodness Direct, Amazon and many others. Not GF)
Marigold Braised Tofu, roughly chopped. (Stockists as above – but not Ocado. Suitable for GF and wheat-free eaters)
Smoked tofu, cubed, eg Taifun
Vegan chicken pieces, eg Fry's or Quorn Vegan Chicken Pieces
Tempeh rashers (ready cooked), cut into strips
Instructions
In a wok or large frying pan, heat a little oil. Stir-fry the vegetables (and extra mushrooms if using) until they are just tender but have a little 'bite'.
If using the smoked tofu or vegan chicken option, add now and fry up a little.
Add the beansprouts and noodles and heat through. If using the Marigold Braised Tofu or Granovita Mock Duck add your option now.
Add as much of the Chow Mein sauce as you wish and stir in to heat. Stir well to coat all the ingredients well. Serve hot.
Did you know that V30 is run by a charity?
We create vital resources to help educate everyone – vegan veterans, novices and the v-curious alike – about vegan food, health and nutrition; as well as the plight of farmed animals and the devastating environmental impact of farming.
Through this work we have helped thousands of people discover veganism; but we want to reach millions more! We rely entirely on donations as we don't get any government funding. If you already support us, thank you from the bottom of our hearts, you are really making a difference! Please share our details with your friends and loved ones too, as every donation enables us to keep fighting for change.