Quick & Easy Breakfast Quesadilla with Avocado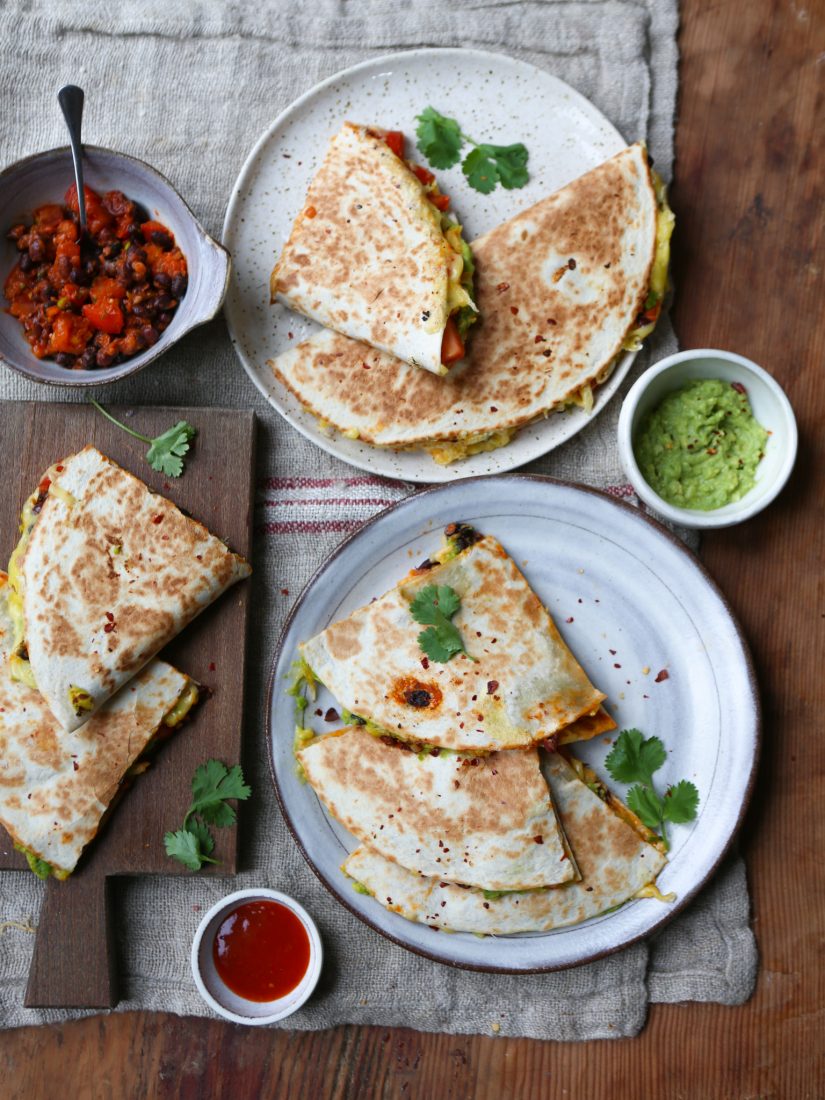 Quesadillas are cheesy tortillas – this vegan version makes a lovely satisfying breakfast, lunch or brunch. Get the ingredients and equipment out before you start then go for it – that way you can have this on the table in 10 minutes or thereabouts.
Top tip: feel free to increase the veg ratio in the tortillas – shredded greens eg spinach, chard or rocket; grated carrot; diced peppers – raid the fridge!
If you're making this recipe for kids then just take out all the hot and spicy ingredients!
Easy
Gluten free
Wheat free
Reduced sugar, diabetic friendly
Quick meal
Low fat, low sugar
Cheap
Kids recipe
Cuisine
Mexican, Central and South American
Meal
breakfasts
lunches
sides-light-meals-and-salads
Ingredients
Quesadillas
½ tin black beans, drained and rinsed
2 medium tomatoes, roughly chopped
2 tbsp tomato sauce or puree
1 spring onion, finely chopped
½ tsp salt
Cracked black pepper
1 tsp smoked paprika
Large handful grated vegan melty cheese (we used Ilchester vegan melting mature block)
2 large wraps or corn tortillas (use GF if needed)
Quick guacamole
1 large ripe avocado, peeled and chopped roughly in a bowl (use more if you love avocado!)
1 clove garlic, crushed
1 tbsp lime or lemon juice
Pinch of chilli powder or hot pepper sauce if desired
Pinch salt
Instructions
Mash the black beans roughly. Add the tomato sauce, tomatoes, spring onion, salt, pepper and smoked paprika.
Spread the mixture on one of the wraps then sprinkle with the vegan cheese. Place the other wrap over the top.
If you prefer, mash the avocado on part of each tortilla and sprinkle the guacamole seasonings on top – or just serve the guacamole on the side.
Either fry the quesedilla on both sides until lightly golden (be careful when flipping that the filling doesn't spill out) or warm each side under a hot grill or pop it in the microwave for a minute.
If serving the guacamole separately, make it now by mixing all the ingredients together in a bowl, while the tortillas are warming through.
Eat immediately.
Did you know that V30 is run by a charity?
We create vital resources to help educate everyone – vegan veterans, novices and the v-curious alike – about vegan food, health and nutrition; as well as the plight of farmed animals and the devastating environmental impact of farming.
Through this work we have helped thousands of people discover veganism; but we want to reach millions more! We rely entirely on donations as we don't get any government funding. If you already support us, thank you from the bottom of our hearts, you are really making a difference! Please share our details with your friends and loved ones too, as every donation enables us to keep fighting for change.