Quick Quinoa Salad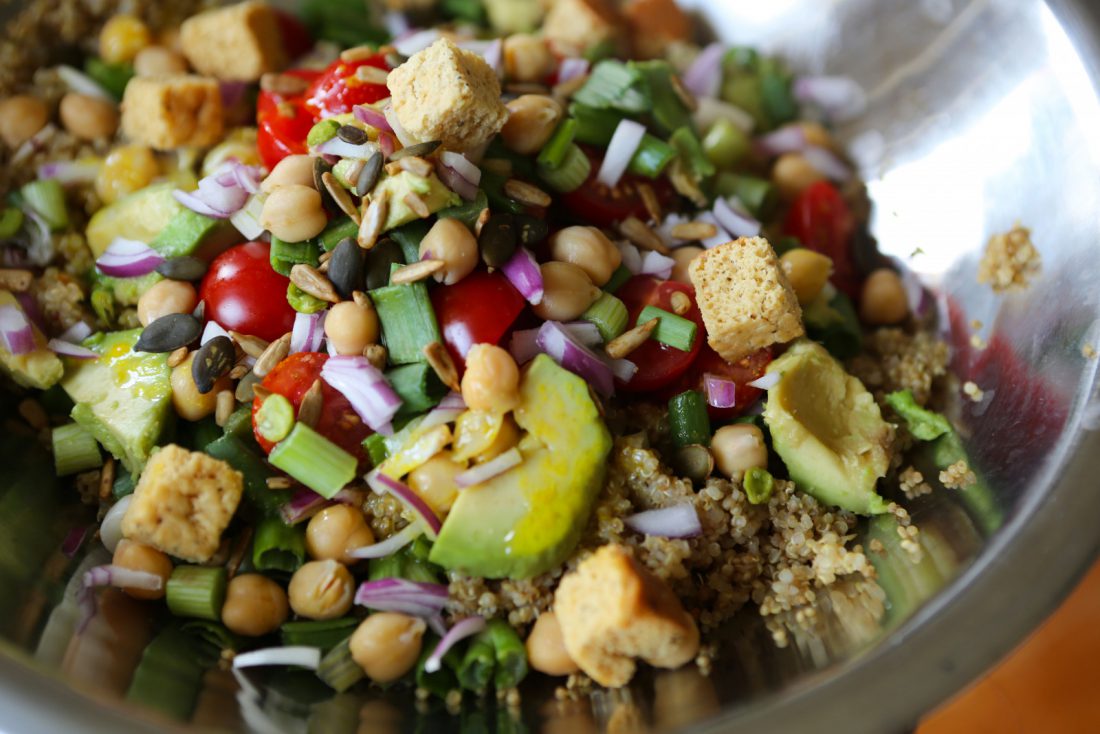 This can be made really quickly if you use pre-cooked quinoa (eg Merchant Gourmet) and makes for a very healthy, delicious and protein-rich lunch, dinner or side salad. There are no strict rules so feel free to add your favourite veggies, tofu, seeds and dressing!
Easy
Gluten free
Wheat free
Reduced sugar, diabetic friendly
Quick meal
Low fat, low sugar
Meal
lunches
sides-light-meals-and-salads
* Nutritional information per serving. * For a lower fat version, skip the avocado.
Ingredients
250g/1 packet pre-cooked quinoa (eg Merchant Gourmet) OR 1½ cups uncooked quinoa, thoroughly rinsed and left to dry in the sieve
1 avocado, sliced
½ tin cannellini beans (or any beans of your choice), drained and rinsed
Handful ready-made croutons
150g marinated tofu, diced (or use pre-cooked seitan or tempeh… lightly fried on each side)
2 handfuls cherry tomatoes, halved
2 spring onions, finely sliced
¼ red onion, finely diced
Handful mixed seeds
Handful fresh herbs of your choice (optional)
Salt and black pepper, to taste
Basic dressing
(make your own or buy a ready-made dressing eg French dressing or balsamic. You can use tahini or get indulgent with Follow Your Heart blue cheese dressing)
2 tbsp olive oil
1 tbsp cider vinegar
1 tsp English mustard
1 tsp vegan syrup (eg maple or agave)
1 tbsp lemon juice
Instructions
If cooking quinoa from scratch:
Heat a little oil in a medium saucepan and add the rinsed and dried quinoa.
Fry for a couple of minutes and then add 2 ¼ cups water to the pan.
Bring to the boil then cover and simmer on low-med until all the water has been absorbed (around 15 minutes)… keep checking regularly.
If using pre-cooked quinoa:
Add the quinoa to a large bowl and stir through a bit of olive oil and salt to soften it up.
Add all of the other ingredients to the bowl and stir through.
Dressing
Mix all the ingredients together in a mug or shake up in a jar.
Add to the salad and stir through.
Did you know that V30 is run by a charity?
We create vital resources to help educate everyone – vegan veterans, novices and the v-curious alike – about vegan food, health and nutrition; as well as the plight of farmed animals and the devastating environmental impact of farming.
Through this work we have helped thousands of people discover veganism; but we want to reach millions more! We rely entirely on donations as we don't get any government funding. If you already support us, thank you from the bottom of our hearts, you are really making a difference! Please share our details with your friends and loved ones too, as every donation enables us to keep fighting for change.