Quick Vegan Cream of Watercress Soup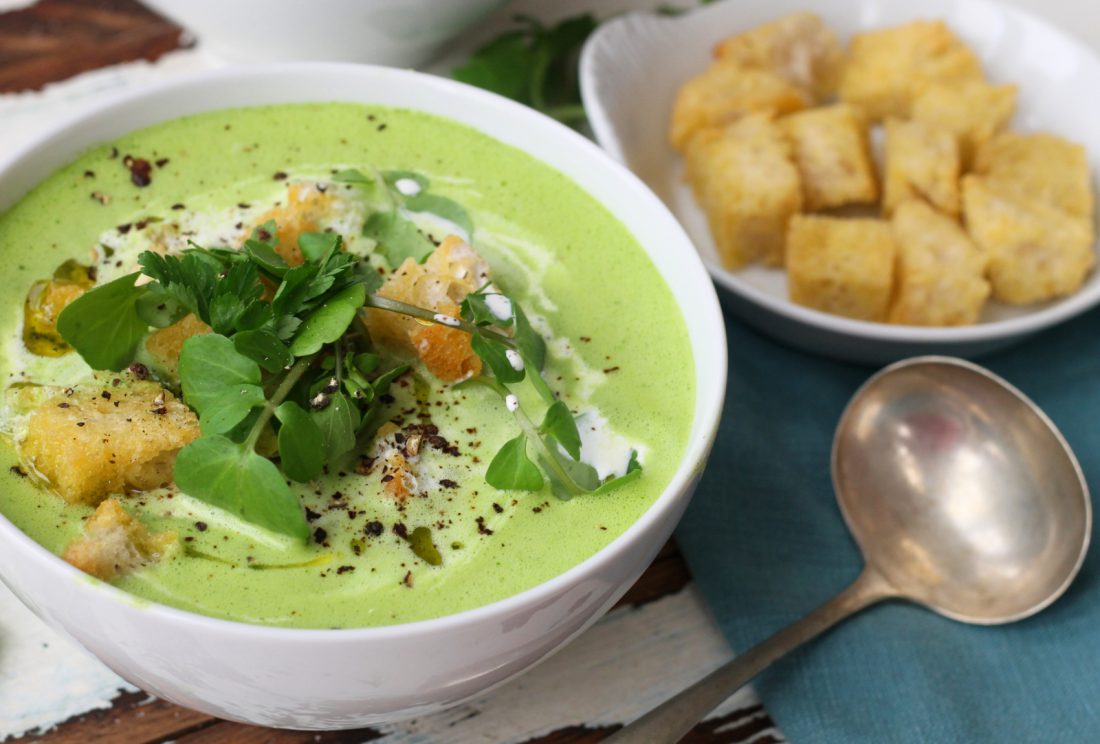 A very nice variation on a traditional recipe. It is faster to make than usual because it is thickened with creamy, protein-rich white beans instead of potato. In addition, watercress and parsley combined offer a fantastic source of nutrients, including iron, calcium and protein!
Top Tip
Don't throw away the tinned bean goo. It is also called aquafaba (Latin for 'bean water'!) and can be used to make vegan cakes, meringues, mousses and more. Store it in an airtight container and refrigerate – it will keep for up to 5 days. It also freezes well but is best frozen in small portions to avoid waste – no more than 60ml/1/4 cup.
Easy
Gluten free
Wheat free
Low fat, low sugar
Ingredients
1 tbsp vegan margarine (eg Pure, Vitalite, Suma or Biona)
2 tsp olive oil
1 onion, peeled and chopped roughly
1 large bunch of watercress OR 2 bags ready-washed watercress – keep a few small sprigs for garnish
500ml/18fl oz strong vegan stock – use 2 Green Oxo or 2 tsp vegan bouillon powder such as Marigold
2 tsp dried parsley OR 1 handful of fresh, chopped roughly
2 tins white beans, eg butter, haricot, cannellini
1 pinch nutmeg
Dash of soya milk or soya cream
Salt and lots of black pepper
Instructions
In a medium-large saucepan, heat the margarine. When it is melted, add the oil. Sauté (gently fry) the onion in the fat until it is translucent (softened but not brown).
Add the watercress and sauté for another few minutes.
Add the stock, parsley, beans and nutmeg. Bring to the boil then simmer for 15-20 minutes.
Blend until smooth. Taste and season – add more salt/pepper/nutmeg as desired. Add the soya milk or soya cream at this point.
Add the watercress sprigs just before serving.
Did you know that V30 is run by a charity?
We create vital resources to help educate everyone – vegan veterans, novices and the v-curious alike – about vegan food, health and nutrition; as well as the plight of farmed animals and the devastating environmental impact of farming.
Through this work we have helped thousands of people discover veganism; but we want to reach millions more! We rely entirely on donations as we don't get any government funding. If you already support us, thank you from the bottom of our hearts, you are really making a difference! Please share our details with your friends and loved ones too, as every donation enables us to keep fighting for change.