Quinoa & Smoked Tofu Salad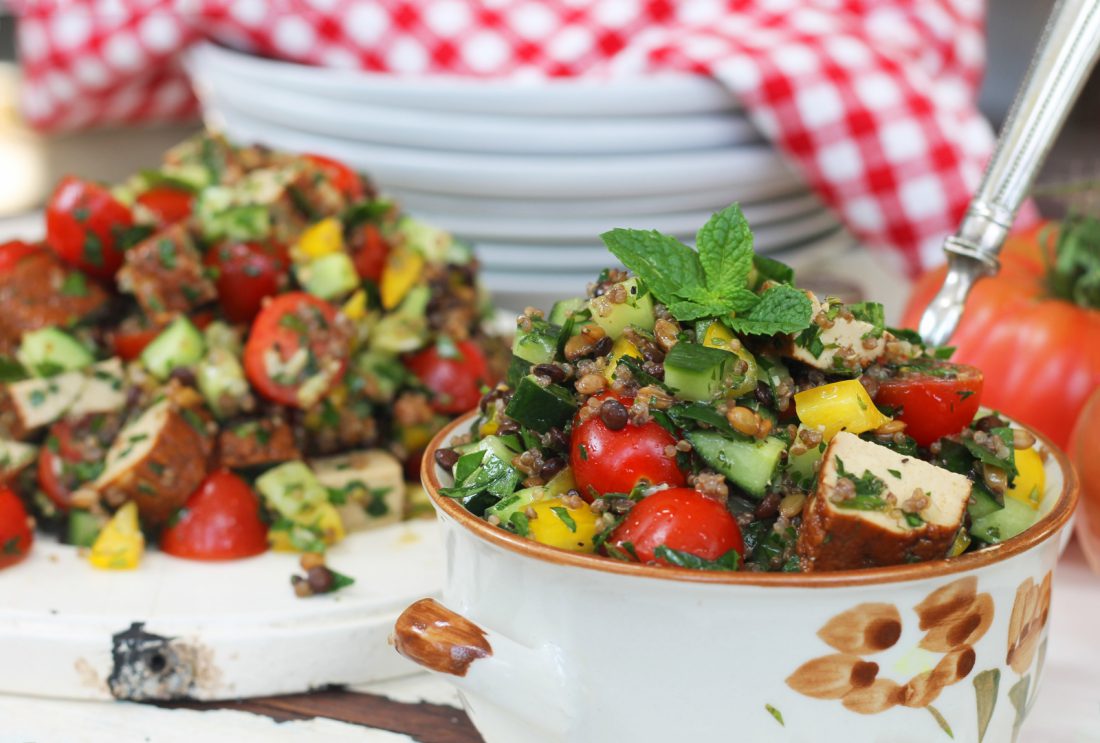 A simple and lovely recipe – quinoa and smoked tofu are a good taste combo, as well as being very nutritious. We offer you two versions:
Cooked from scratch (although all the vegetable chopping and other preparation can be done while the quinoa is cooking).
Cheatin' version – this uses ready to eat quinoa plus ready-prepped salad veg
Ingredients
Taifun Smoked Tofu is available from health food shops and Waitrose.*
Raw and ready-cooked quinoa can be bought from most supermarket branches, health food shops and delis. The dried variety is cheaper and there are plenty of brands to choose from. The ready to eat version in pouches tends to be Merchant Gourmet's although there are other brands, eg Food Doctor. There are also lots of cheaper grain combinations that include quinoa as well as other wholegrains.
Gluten-free?
Taifun Smoked Tofu
A statement from the manufacturers re its gluten-free statues: Soy-sauce contains a minimal amount of gluten, but this is so low, that we consider it as uncritical. However, if you're seriously coeliac, please use another brand of smoked eg Clearspot or Dragonfly – you may wish to fry up the smoked variety and drizzle with tamari, a gluten-free soya sauce. Clearspot and Dragonfly also make marinated, ready-cooked tofu, each of which is GF.
Quinoa is inherently GF but some packs mix it with other grains which might not be, so always check the labels.
Easy
Gluten free
Wheat free
Quick meal
Low fat, low sugar
Kids recipe
Meal
mains
sides-light-meals-and-salads
vegetable-side-dishes
Ingredients
From scratch version
2 cups just-boiled water from a kettle
1 rounded tsp vegan bouillon, Kallo stock cube or similar vegan product
1 cup quinoa, rinsed well
4 tbsp lemon juice
3 tbsp extra-virgin olive oil
2 small cloves garlic, crushed
¼ tsp salt
¼ teaspoon freshly ground pepper
1 pack firm smoked tofu, approximately 225g, cubed
1 small yellow pepper, chopped small
1 pack cherry tomatoes, halved
¼ cucumber, diced
1 small pack of fresh parsley (any type), finely chopped – use scissors for speed
1 small pack of fresh mint, finely chopped – use scissors for speed
Cheatin' version
1 pack of ready to eat quinoa (see above for brands)
5 tbsp vinaigrette dressing
1 tbsp lemon juice, freshly squeezed or from a bottle
1 tsp garlic puree
1 pack of mixed salad, including peppers, tomato and cucumber – or just chop a few extras into a pack of mixed leaves!
1 small pack each of fresh parsley and mint, chopped roughly with scissors for speed
1 packet of smoked tofu, preferably Taifun,cubed
Instructions
Cooked from scratch version
Place the hot water, bouillon/stock cube tand quinoa in a saucepan. Bring to the boil then reduce to a simmer. Cover and cook for about 17 minutes, until tender. Stir occasionally to prevent sticking and add a splash more hot water if necessary. Spread the quinoa on a baking tray to cool for a few minutes, preferably in the freezer.
Meanwhile, whisk lemon juice, oil, garlic, ¼ teaspoon salt and pepper in a large bowl. Add the cooled quinoa plus the prepped tofu, yellow pepper, tomatoes, cucumber and chopped herbs. Toss well to mix everything together. Serve and eat.
Cheatin' version
Open the pack of quinoa, place it in a bowl and gently mash with a fork to get rid of the lumps.
In a small bowl, measure out the vinaigrette then add the lemon juice and garlic puree.
Stir in all the vegetables, herbs, chopped smoked tofu and then add the salad dressing. Season with salt and pepper, toss well to mix everything together. Stir well and serve.
Optional extras / notes
The time depends on whether you use ready to eat ingredients or make the dish from scratch
Did you know that V30 is run by a charity?
We create vital resources to help educate everyone – vegan veterans, novices and the v-curious alike – about vegan food, health and nutrition; as well as the plight of farmed animals and the devastating environmental impact of farming.
Through this work we have helped thousands of people discover veganism; but we want to reach millions more! We rely entirely on donations as we don't get any government funding. If you already support us, thank you from the bottom of our hearts, you are really making a difference! Please share our details with your friends and loved ones too, as every donation enables us to keep fighting for change.