Sausage, Onion & Tomato Tart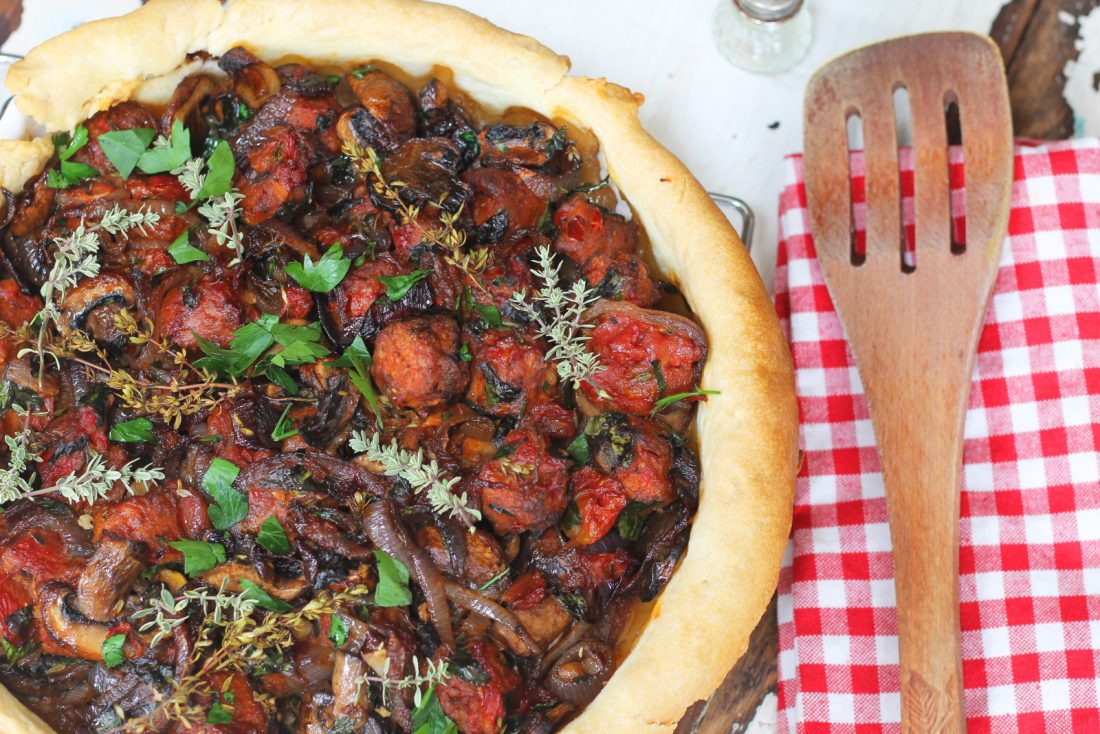 Comfort food at its best! This tasty pie is great with anything but we particularly like it with roast potatoes and steamed broccoli. It's particularly easy if ready-made pastry is used… JusRol, Sainsbury and Tesco sell shortcrust and puff that is vegan. If in doubt, check The L-Plate Vegan or the supermarket's vegan list (most have one).
Please note, if you wish to avoid the use of palm oil products, try this coconut-oil-based home-made vegan pastry. We haven't had time to try it ourselves, but it does come from a popular and reputable website.
Not too tricky
Freezable
Cheap
Kids recipe
Meal
mains
lunches
sides-light-meals-and-salads
Ingredients
Pastry
Use a ready-made shortcrust pastry such as JusRol or a supermarket own-brand that is vegan. OR make your own:
Home-made pastry
100g/4oz plain flour
100g/4oz self-raising flour
100g/4oz vegan margarine such as Pure, Vitalite, Suma or Biona
Pinch of salt
75ml/3fl oz cold water
(See above for a palm oil-free suggestion)
Filling
2 tbsp vegetable or olive oil
6 vegan sausages, eg Linda McCartney; Redwood; Fry's; Morrison's Vegan; Vegetarian Choice; Wheaty; Vegusto are all vegan. Cauldron now offer a vegan sausage as well as the non-vegan ones! Quorn aren't (yet)
2 medium onions, sliced into rings – red are best but white will do
100g/4oz mushrooms, chopped
1 x 400g tin plum tomatoes, drained then chopped roughly. (Tinned chopped tomatoes are too wet)
2 tsp bouquet garni or 1 tsp mixed herbs – or use 1-2 tbsp fresh chopped herbs of choice, eg parsley, basil, thyme
Salt and black pepper
Instructions
If using ready-made pastry, skip to stage 4. Otherwise: make the pastry by sieving both flours in to a large bowl. Add the pinch of salt.
With well-chilled margarine and cold hands, place the margarine into the centre of the flour, coat it in the flour and then break it into smaller pieces. Rub the margarine gently into the flour until the mixture resembles fine breadcrumbs.
Add the water gradually until you have a moist, but not sticky, dough. (Add more flour if necessary). Cover or place in a clean plastic bag and place in the fridge while you make the filling.
Pre-heat the oven to 190C/375F/Gas Mark 5.
Chop the sausages into thick pieces – let them defrost if still frozen. Heat the oil in a frying pan and cook the sausages for a few minutes. Remove from the pan and set aside.
In the same pan, cook the onion – adding more oil or oil spray if necessary – until the pan is full of separated caramelised onion rings. Add the mushrooms and herbs and fry until the mushrooms are a golden colour.
Remove from the heat and add the sausages, tomatoes, salt and pepper. Mix in gently.
Grease a 25cm/10 inch flan dish.
Lightly flour a clean work surface. If using ready-made pastry, roll it out to a large circle, about 2-3 inches bigger than the base of the flan dish. If using home-made, remove the dough from the fridge and knead gently.
For either type: lift up the pastry gently and carefully place it in to the dish. Ease the pastry down around the inside rim then splay over the edges. Roll the rolling pin over the top of the flan dish so that you have a perfectly neat pastry case. Trim the edges.
Spoon the filling in to the pastry case, pat down gently and smooth it out evenly. Bake in the centre of the oven for 30 minutes. Serve hot, warm or cold!
Optional extras / notes
45-60 minutes, including baking time – depending on whether using home-made pastry or ready-made. The number of servings depend on whether it's lunch, dinner – or what accompaniments are served.
Did you know that V30 is run by a charity?
We create vital resources to help educate everyone – vegan veterans, novices and the v-curious alike – about vegan food, health and nutrition; as well as the plight of farmed animals and the devastating environmental impact of farming.
Through this work we have helped thousands of people discover veganism; but we want to reach millions more! We rely entirely on donations as we don't get any government funding. If you already support us, thank you from the bottom of our hearts, you are really making a difference! Please share our details with your friends and loved ones too, as every donation enables us to keep fighting for change.