Sausages with Apple Mustard Mash & Gravy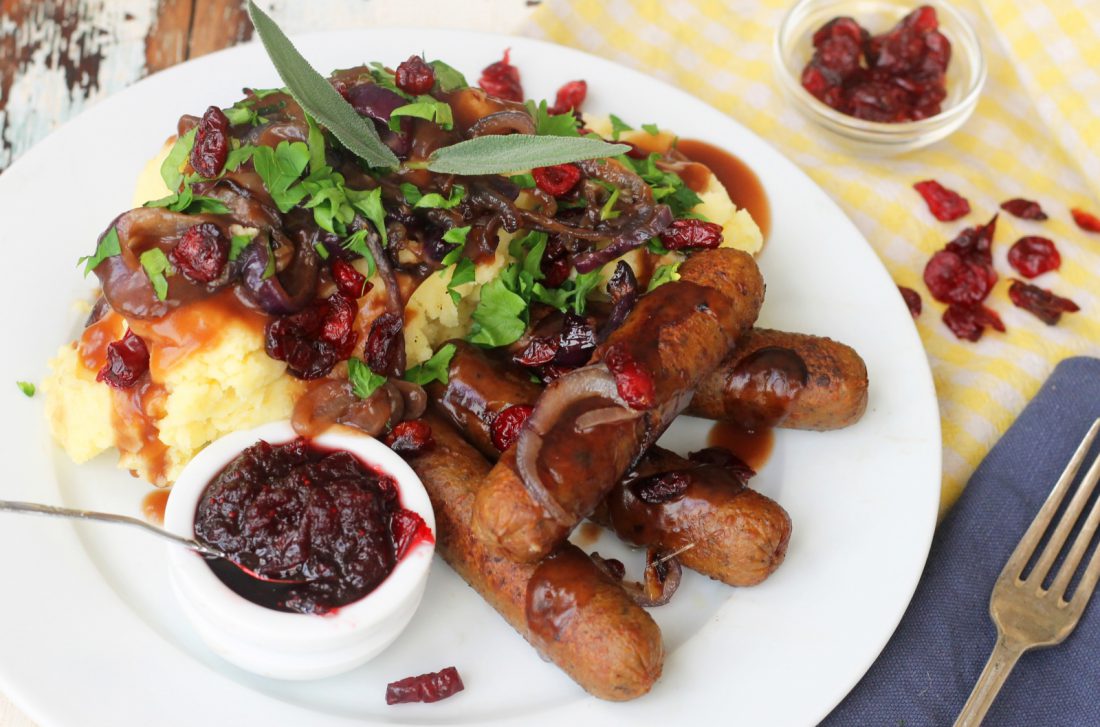 A lovely comforting recipe. We love the addition of apple but if you don't fancy it, just leave it out!
Recipe inventor and food photographer Chava Eichner says 'One of the fastest growing areas of food manufacturing is vegan meats. They're both home-grown and imported from Europe and the US and are capable of imitating the taste and texture of a whole range of traditional recipes, if that's what you want. Pies and pasties, roasts and rashers, schnitzels and slices – the range is growing almost daily.'
It's also worth adding that vegan meats aren't 'cheating', as certain foodies would have it! Basically, all humans enjoy certain textures and flavours – eg salty, sour, sweet, chewy, soft… and vegans are no different. The important difference is that it's possible to have all these without using animal products and all that means! Vegan meats and dairy are also a good way to bridge the gap for new vegans or for those cooking for a mixed group, eg meat-eaters and vegans/veggies because they have a familiar taste, texture and shape.
There are plenty of vegan sausages around the shops: Linda McCartney is the most widely available but do try VBites, Fry's, Vegetarian Choice, Dees (GF) and other brands – the range gets better by the week!
Serving suggestions: greens of any kind would go well with this, eg spinach, shredded spring greens or kale, shredded Brussels sprouts, broccoli or purple sprouting – these can be wok-fried with a little garlic and soya sauce if you wish, or just steamed lightly. Alternatively, a salad with deep green leaves – eg rocket or watercress – and anything else you like, would go well.
Prefer home-made? No probs. Click on each link below. They are also free from TVP.
Not too tricky
Gluten free
Wheat free
Reduced sugar, diabetic friendly
Quick meal
Cheap
Ingredients
Vegan sausages for 4 (see above for options)
Red onion gravy
2 tbsp vegetable oil
2 red onions
1 large sprig fresh rosemary
350ml/12fl oz vegetable stock
2 tbsp soya sauce (tamari is GF)
1 level tsp brown sugar
Salt
Optional for a fuller flavour:
½ tsp yeast extract, eg Marmite or a glug of port, sherry or red wine (Co-op sells vegan options of these – check own-brand labels – or else visit Barnivore for all vegan booze)
Apple mustard mash
750g/1lb 10oz peeled potatoes
2 tsp vegan stock powder, eg Marigold bouillon. Alternatively, use a vegan-friendly stock cube, eg Sainsbury's Vegetable Basics
2 large eating apples
1-2 tbsp vegan margarine, eg Pure, Biona, Vitalite, Tesco. Alternatively, use a glug of olive oil
1 heaped tbsp wholegrain mustard
Dairy-free milk
Black pepper
Instructions
If making home-made sausages, prepare and shape them now (see above for recipes). Chill them.
Make the gravy. Peel the onions and cut into thin wedges. Heat the vegetable oil in a saucepan and sauté onions over a gentle heat. Stir occasionally for about 10 minutes until soft and starting to caramelise.
Add the rosemary, vegetable stock, soya sauce and brown sugar. Simmer for a further 5-7 minutes and season to taste. This would be a good time to prep and cook any side vegetables you want, or make a salad.
While the gravy is cooking, chop the potatoes into 1inch/2cm pieces. Peel the apples, remove cores and cut into quarters. Boil potatoes and apples in just enough water to cover them in the pan. Stir in the stock powder and cook until soft.
When the potatoes/apples are cooked, mash thoroughly and mix in the margarine/oil, mustard and enough dairy-free milk to give a smooth consistency. Taste and season with black pepper and more salt if necessary. Keep warm.
Whichever sausages you're using – home-made or ready-made sausages – fry them up. For ready-mades, use the packet instructions.
Serve the sausages on a bed of mashed potatoes and ladle the gravy over the top.
Optional extras / notes
A bit longer if making home-made sausages
Did you know that V30 is run by a charity?
We create vital resources to help educate everyone – vegan veterans, novices and the v-curious alike – about vegan food, health and nutrition; as well as the plight of farmed animals and the devastating environmental impact of farming.
Through this work we have helped thousands of people discover veganism; but we want to reach millions more! We rely entirely on donations as we don't get any government funding. If you already support us, thank you from the bottom of our hearts, you are really making a difference! Please share our details with your friends and loved ones too, as every donation enables us to keep fighting for change.