Sautéed Squash with Olive Tapenade & Cannellini Beans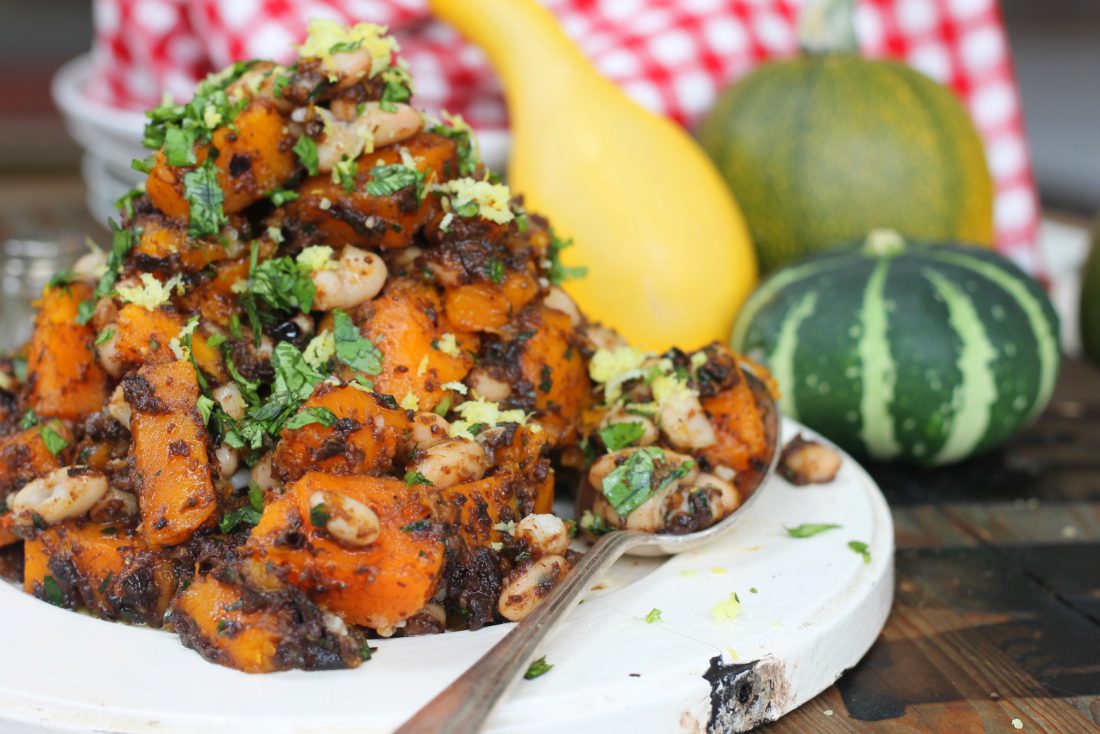 This is a lovely quick simple supper. Steaming the squash or pumpkin in this lovely dish makes it much faster than roasting or baking, yet the flavour is rich – and most of the prep can be done while the squash is cooking. Alternatively, buy ready-prepped squash pieces! The dish can be made with a simple home-made olive tapenade OR a bought one in a jar.
It is easily transformed into a more substantial dish by increasing quantities and serving with a sauce and big salad.
Not too tricky
Gluten free
Wheat free
Quick meal
Meal
mains
sides-light-meals-and-salads
vegetable-side-dishes
Ingredients
1 medium squash or pumpkin, eg butternut or acorn – 500-600g/18-21oz peeled and seeded squash, cut into medium chunks OR a large pack of ready-prepped squash pieces
Olive tapenade

Home-made version: 100g/3oz mixed green and black pitted olives (or use one type if that is all you have) + 4 tbsp/a big handful of finely chopped parsley + 4 tbsp olive oil
Bought version: use 1 jar of black or green tapenade plus 1 tbsp chopped parsley

120g/4oz cannellini or white haricot beans (half a tin or more)
1 lemon, zested
Black pepper
1 tbsp olive oil OR a few squirts of oil spray
2 fat cloves garlic, finely chopped
Instructions
Steam the squash chunks until they are tender – approximately 15-25 minutes.
Meanwhile, if making the tapenade do it now. Chop the olives and parsley by hand for a chunky tapenade then add the 4 tbsp oil, beans and lemon zest. For a smoother tapenade, blend the olives, parsley and oil then add the whole beans and zest. If using the bought tapenade, just mix it with the parsley and the other ingredients. Set aside.
In a large frying pan, heat the 1 tbsp olive oil or oil spray on a low heat. Cook the crushed garlic gently until it starts to turn translucent – don't let it brown as it will taste bitter. Then toss the hot cooked squash in the mix.
Mix in the olive tapenade with the squash, add black pepper and serve hot.
Did you know that V30 is run by a charity?
We create vital resources to help educate everyone – vegan veterans, novices and the v-curious alike – about vegan food, health and nutrition; as well as the plight of farmed animals and the devastating environmental impact of farming.
Through this work we have helped thousands of people discover veganism; but we want to reach millions more! We rely entirely on donations as we don't get any government funding. If you already support us, thank you from the bottom of our hearts, you are really making a difference! Please share our details with your friends and loved ones too, as every donation enables us to keep fighting for change.