Savoury Pancake with Spinach Batter & Tomatoes, Convenience-style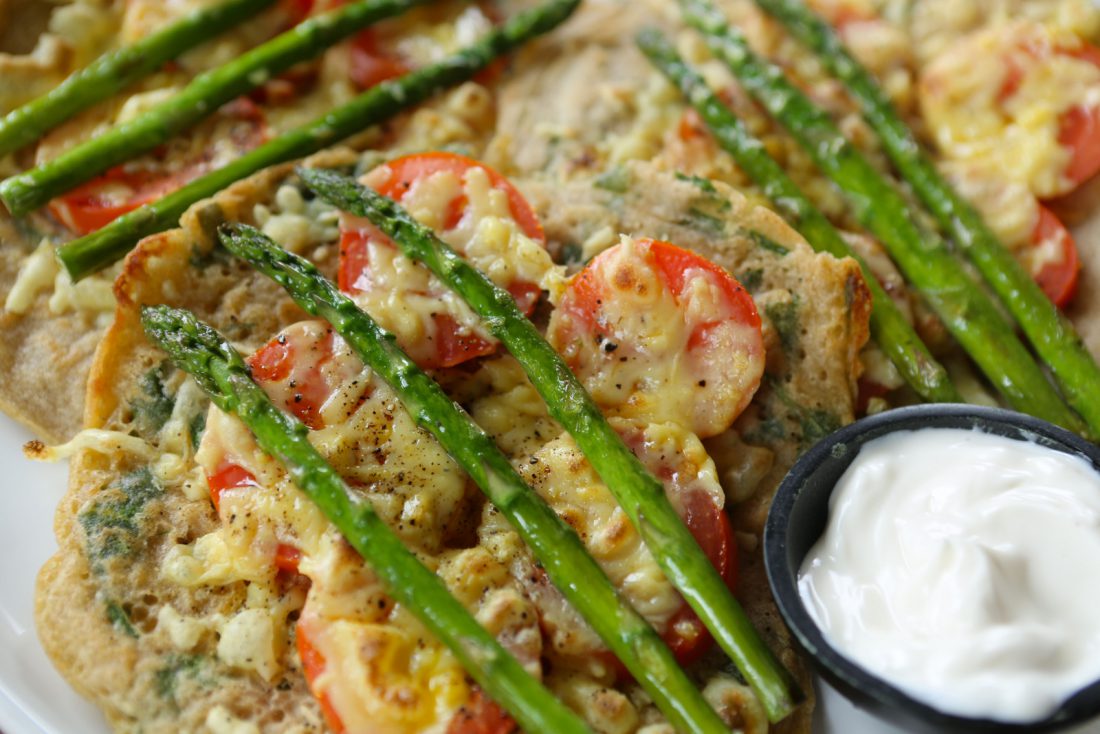 This simplified version of an existing recipe gives you two alternatives -you can use a ready-made dry pancake mix or use thin wraps to replace the pancake entirely.
Easy
Gluten free
Wheat free
Reduced sugar, diabetic friendly
Meal
mains
breakfasts
lunches
sides-light-meals-and-salads
Ingredients
Version 1
Batter
A packet of vegan dry pancake mix, eg Orgran, Amisa etc plus liquid and oil additions, according to the packet instructions.
Oil to fry
Optional: 2-3 tbsp nutritional yeast flakes plus any other flavourings you wish, eg a pinch of dried herbs; black pepper etc
Stuffing
2 large handfuls of baby spinach. Shred it by ripping with your fingers or scissoring roughly
4 tomatoes, chopped roughly
Small block of vegan cheese, grated OR use vegan cream cheese, such as Sheese, Tesco, Tofutti, Vbites, Vegusto, Violife…
Optional: fried asparagus (lightly fry for a few minutes, turning frequently)
ALL KITTED OUT: measuring jug; bowl and whisk or hand blender and jug or similar; colander to wash the spinach, small chopping board and knife for the tomatoes; grater if using vegan hard cheese; frying pan and fish slice or similar
Version 2
1-2 wraps per person, regular or gluten free
Stuffing ingredients as Version 1 + optional yeast flakes if desired
Instructions
Version 1
Make the batter. Mix the dry batter mix plus the liquid and oil as stated on the pancake packet. Whisk by hand or blend until smooth. Stir in the shredded spinach. Pre-heat your grill to medium.
Heat the frying pan until a small drop of water dropped on it spits! Then add a little oil. Drain off any excess (or use low-cal spray, as above).
Make the pancake(s). Pour about a quarter of the batter mixture in to the frying pan to cover the bottom . Smooth out the mixture using a spatula.
Fry on one side for a couple of minutes. Loosen the edges with a spatula and carefully flip it over. Fry the flip side for another minute or until done.
Grill the topping. Arrange a quarter of the sliced tomatoes on the top of each pancake. Sprinkle with grated vegan block cheese or small dollops of vegan cream cheese plus salt and pepper to taste. Place back under a heated grill to soften the cheese and lightly brown the tomatoes. (Alternatively, fold each pancake in half and squeeze it into a toastie machine!)
Repeat stages 2-5 to make more pancakes, keeping each one warm in the meantime. Serve with some vegan mayo or chutney. Plain vegan yoghurt also works nicely.
Version 2
Warm the wraps a little
Add the finely shredded spinach, tomatoes and vegan cheese (and nutritional yeast flakes if using) then grill until everything is melted and hot. Or cram into a toastie machine!
Did you know that V30 is run by a charity?
We create vital resources to help educate everyone – vegan veterans, novices and the v-curious alike – about vegan food, health and nutrition; as well as the plight of farmed animals and the devastating environmental impact of farming.
Through this work we have helped thousands of people discover veganism; but we want to reach millions more! We rely entirely on donations as we don't get any government funding. If you already support us, thank you from the bottom of our hearts, you are really making a difference! Please share our details with your friends and loved ones too, as every donation enables us to keep fighting for change.