Savoury Pancakes with Spinach Batter and Tomatoes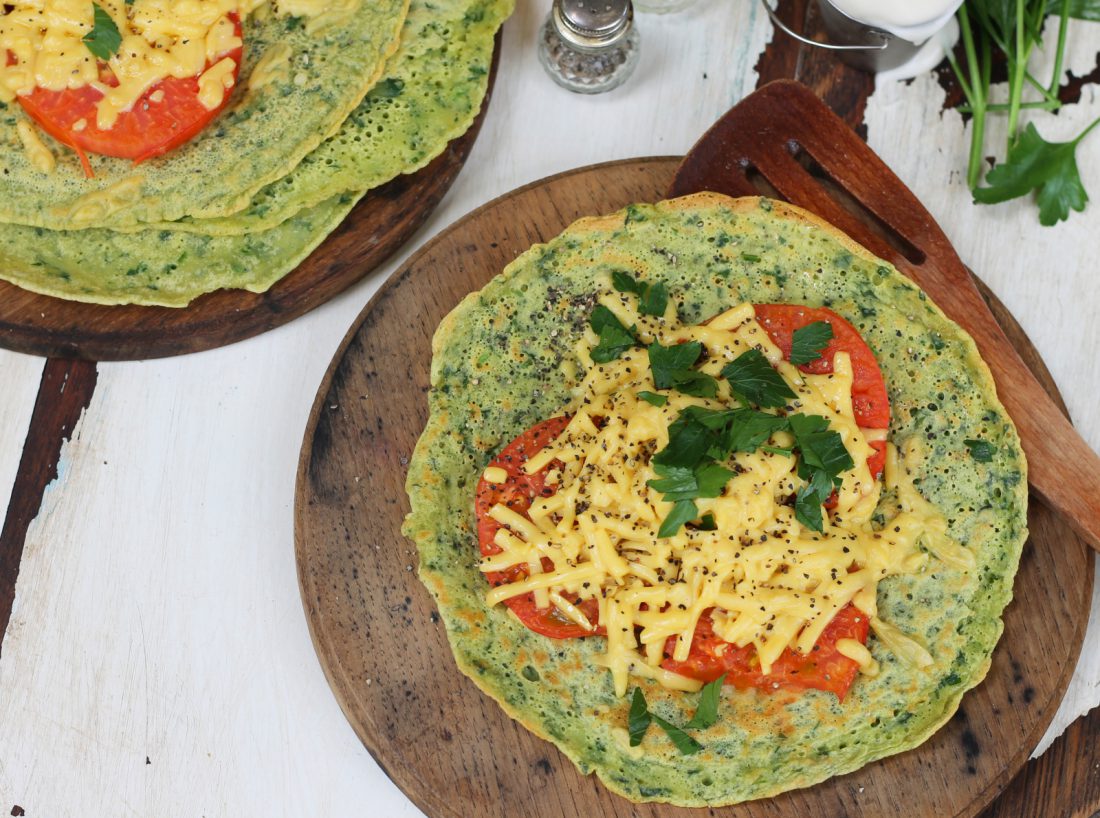 Looking for a quick filling lunch with a difference? Then look no further at this recipe. It's pretty cheap and it's adaptable – try adding a handful or two of leftover cooked vegetables to the batter, eg peppers, broccoli, courgettes, diced potatoes, peas…
For a soya-free version, use rice, coconut or other plant milk – and a soya-free vegan cheese such as VBites.
We also offer a Can't Cook, Won't Cook version of the recipe elsewhere on this website – just click here for the link.
Not too tricky
Quick meal
Cheap
Meal
sides-light-meals-and-salads
Ingredients
Batter
175ml/6fl oz soya or other plant milk
175ml/6fl oz water
175g/6oz plain flour (use all white or half each of fine wholemeal and white)
2 tbsp chickpea flour (also known as gram or besan flour – available from large supermarkets, health food shops and Asian grocers)
1 tsp baking powder
1 tbsp sunflower oil
Pinch of salt
Additional oil for frying – or low-cal spray if using non-stick pan
Pinch ground nutmeg
Black pepper
Optional: 2-3 tbsp nutritional yeast flakes
Optional: Vegan Worcester Sauce (eg Biona)
Stuffing
2 large handfuls of well-washed spinach or chard, chopped fine. You can do this with a knife, your fingers or a pair of kitchen scissors. Basically, it needs to be shredded so that it cooks quickly when you fry the pancakes. If the stalks are thick, chop them very fine.
4 tomatoes, sliced
Small block of vegan cheese, grated OR use vegan cream cheese, such as Sheese, Tesco, Tofutti, Vbites, Vegusto, Violife..
Instructions
Make the batter. Place all of the batter ingredients, except the oil for frying, in a blender and blend until smooth. Alternatively whisk by hand until there are no lumps. Add the finely shredded spinach/chard, mix in and set aside.
Pre-heat your grill to medium.
Heat the frying pan until a small drop of water dropped on it spits! Then add a little oil. Drain off any excess (or use low-cal spray, as above). A hot frying pan makes the first pancake better!
Make the pancake(s). Pour enough of the batter mixture in to the frying pan to cover the bottom. Smooth out the mixture using a spatula.
Fry each pancake on one side for a couple of minutes. Loosen the edges with a spatula and if you are able to, carefully flip. Fry the flip side for another minute or until done (alternatively, if the pancake is too thick to flip, place the pan under the grill for a couple of minutes to cook the top or use a microwave/grill combi oven).
Arrange a portion of the sliced tomatoes on the top of each pancake. Splash some vegan Worcester sauce over the tomatoes (optional). Sprinkle with grated vegan cheese (or small dollops of vegan cream cheese) plus salt and pepper to taste. Place back under the grill to soften the cheese and lightly brown the tomatoes.
Repeat stages 2-5 to make four pancakes, keeping each one warm in the meantime. Serve with some vegan mayo or chutney. Plain vegan yoghurt also works nicely.
Did you know that V30 is run by a charity?
We create vital resources to help educate everyone – vegan veterans, novices and the v-curious alike – about vegan food, health and nutrition; as well as the plight of farmed animals and the devastating environmental impact of farming.
Through this work we have helped thousands of people discover veganism; but we want to reach millions more! We rely entirely on donations as we don't get any government funding. If you already support us, thank you from the bottom of our hearts, you are really making a difference! Please share our details with your friends and loved ones too, as every donation enables us to keep fighting for change.