Scrambled Tofu with Fresh Tomatoes & Basil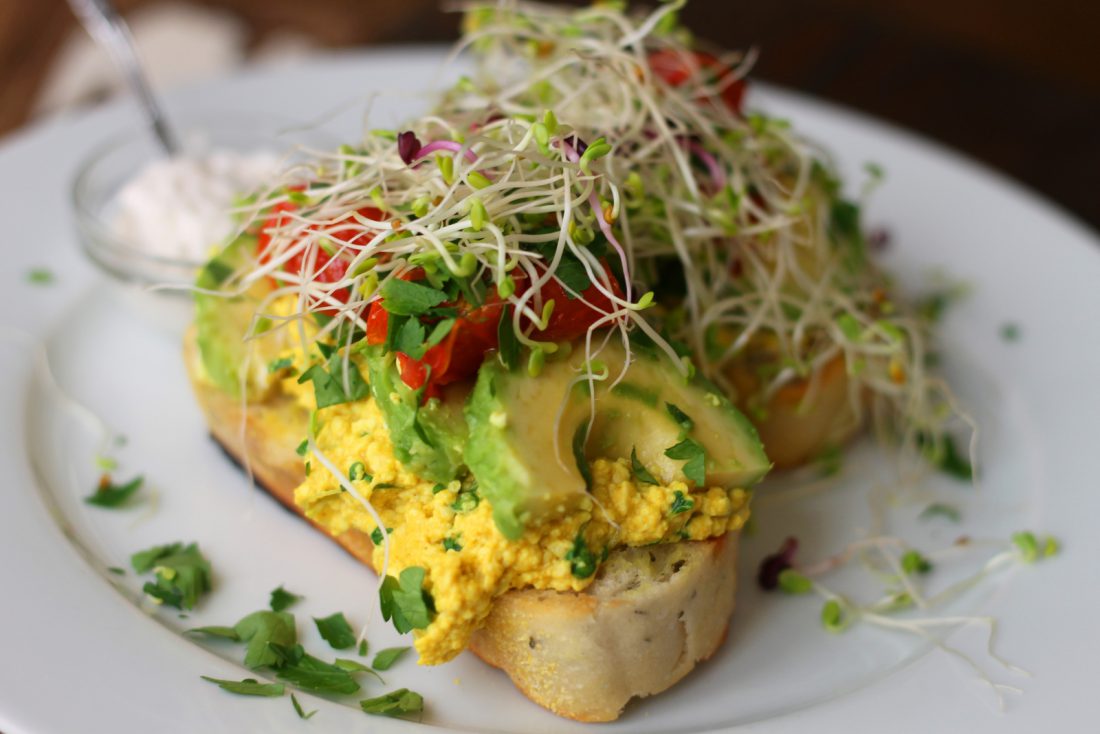 Who needs eggs when there is this delicious scrambled tofu recipe? This is one of Viva!'s favourite quick meals – we like it for breakfast, lunch or supper! It can easily be extended with a big mixed salad, baked potato, fried mushrooms or whatever you fancy really – it's a lovely simple vegan recipe that is both nutrient-dense as well as fresh, fabulous and quick. For a gluten-free option, use GF flour and GF toasted bread.
Easy
Gluten free
Wheat free
Reduced sugar, diabetic friendly
Quick meal
Cheap
Kids recipe
Meal
breakfasts
sides-light-meals-and-salads
Ingredients
1 tbsp olive oil
½ onion
1 garlic clove
1 tbsp plain white flour (use GF if desired)
120ml/½ cup unsweetened plant milk eg soya or almond
1 block plain firm tofu (200- 250g) crumbled – eg Cauldron
½ tsp dried mixed herbs
½ tsp turmeric
2-3 medium vine tomatoes, finely chopped
2 tsp Dijon mustard (or 1 tsp English)
Salt and freshly ground black pepper – for a more 'eggy' taste, use Himalayan black salt. It's actually pink in colour but most importantly, it has a similarly sulphurous smell and taste to eggs
6 basil leaves chopped with scissors
Optional: 2 handfuls of spinach leaves (add at stage 3 below), handful of nutritional yeast flakes, super sprouts, sunflower seeds, avocado
ALL KITTED OUT:
Chopping board and knife; medium saucepan, bowl for crumbling tofu; measuring spoons; cooking spoon; scissors; measuring jug
Instructions
Fry the onion and garlic on a low heat until soft.
Stir in the flour, followed by the soya milk. Stir in well to get rid of lumps and cook in for a minute or two.
Add the tofu, tomatoes, herbs, turmeric and mustard and stir for 5 minutes. Add the yeast flakes now if using.
Serve with fresh basil leaves, with brown sauce or soya sauce on the side and salt and pepper to taste. It's also really nice with added fresh spinach leaves and toasted seeds!
Did you know that V30 is run by a charity?
We create vital resources to help educate everyone – vegan veterans, novices and the v-curious alike – about vegan food, health and nutrition; as well as the plight of farmed animals and the devastating environmental impact of farming.
Through this work we have helped thousands of people discover veganism; but we want to reach millions more! We rely entirely on donations as we don't get any government funding. If you already support us, thank you from the bottom of our hearts, you are really making a difference! Please share our details with your friends and loved ones too, as every donation enables us to keep fighting for change.