Simple Chilli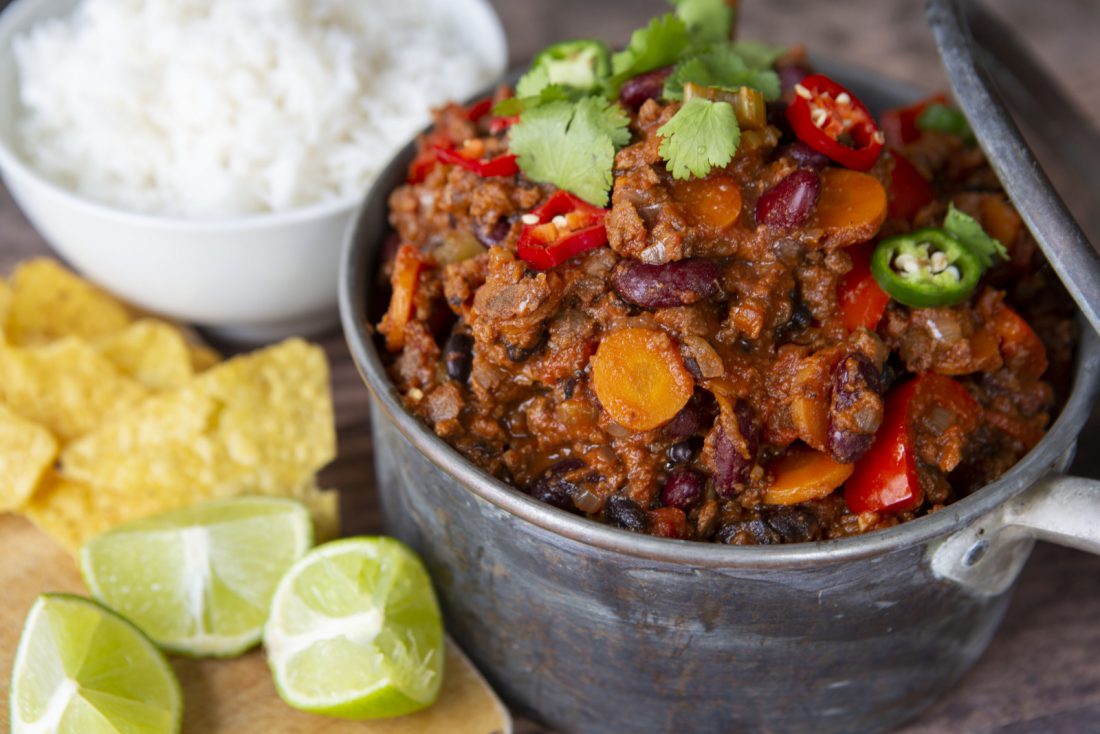 This is a great one for making at the start of the week and freezing for quick meals!
Easy
Quick meal
Kids recipe
Cuisine
Mexican, Central and South American
Ingredients
1 large onion, finely diced (or use frozen)
2 cloves garlic, finely chopped (or use frozen)
2 red pepper, roughly chopped
2 sticks celery, sliced
2 medium carrots, peeled and sliced
2 tsp ground cumin
2 tsp ground coriander
1-2 tsp chilli powder
450-500g/2 cups soya mince (supermarkets and health food shops will have this… see freezer section)
3 stock cubes (mixed with tiny bit of boiling water to dissolve)
Salt and pepper, to taste
125ml/ ½ cup red wine or boiling water
1-2 tbsp tomato purée (optional)
1-2 tsp sugar (optional)
Serving suggestions: avocado, baked sweet potato, brown rice, fresh coriander, guacamole, jacket potato, lemon or lime, refried beans, salad, salsa, tortilla chips, vegan cheese, vegan natural yoghurt, vegan sour cream, wraps
Instructions
Fry the onion in a little oil until soft.
Add the celery, carrot, pepper and spices and fry for a further 5-10 minutes.
Add the garlic and fry for 1 more minute.
Add all of the remaining ingredients, bring to the boil then leave to simmer for around 20-25 minutes, stirring occasionally.
Did you know that V30 is run by a charity?
We create vital resources to help educate everyone – vegan veterans, novices and the v-curious alike – about vegan food, health and nutrition; as well as the plight of farmed animals and the devastating environmental impact of farming.
Through this work we have helped thousands of people discover veganism; but we want to reach millions more! We rely entirely on donations as we don't get any government funding. If you already support us, thank you from the bottom of our hearts, you are really making a difference! Please share our details with your friends and loved ones too, as every donation enables us to keep fighting for change.