Simple Roast Dinner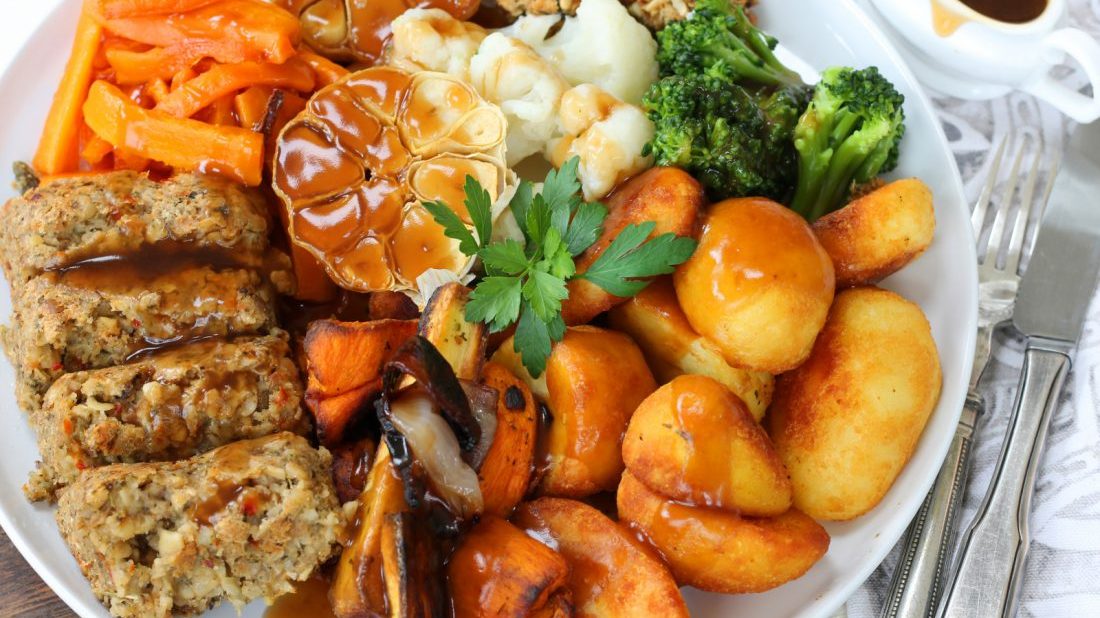 It's pretty easy to create a delicious vegan roast dinner from ready mades! Here's the low-down…
Roast – they tend to come in three types
Roast Potatoes – Aunt Bessie's Roasts (avoid the duck/goose fat type!) and other supermarket own-brands are vegan, but not all, so ask
Side Veg – frozen are usually vegan, just check there's no added dairy (butter, milk etc) – do the same with ready-prepped, chilled veg too
Gravy – Lots of dried varieties are vegan, eg Sainsbury's Vegetarian Gravy Mix – green tub; Bisto red tub; Free & Easy free-from gravy mix in a tub. Free and Easy also make a ready-to heat liquid Caramelised Red Onion Gravy!
Easy
Gluten free
Wheat free
Ingredients
Roast of choice
Roast potatoes and other roasting veg of choice
Side vegetables
Gravy
Instructions
Choose your roast. Read the packet instructions re time, cooking methods and oven temperature.

Dried packet type
Frozen roasts
Meat alternative whole roast

Do the same for the potatoes and any other oven-cooked vegetables, eg roast veg assortment
Choose your side vegetables and calculate steamery or microwave time.
Gravy. Choose the type then check how long it will take – and how you make it, eg heat up in a pan, mix in a jug with boiling water etc.
Now switch on the oven(s) to the necessary temperature, assemble cooking equipment, eg roasting trays, saucepans, cooking and serving spoons, measuring spoons, fish slice, knife, kettle, measuring jug plus oil and salt.
Cook it all up, heat up the dinner plates, lay the table, serve and eat!
Optional extras / notes
Timings depend on the type of roast used – and most of this will be oven based so fairly hassle-free!
Did you know that V30 is run by a charity?
We create vital resources to help educate everyone – vegan veterans, novices and the v-curious alike – about vegan food, health and nutrition; as well as the plight of farmed animals and the devastating environmental impact of farming.
Through this work we have helped thousands of people discover veganism; but we want to reach millions more! We rely entirely on donations as we don't get any government funding. If you already support us, thank you from the bottom of our hearts, you are really making a difference! Please share our details with your friends and loved ones too, as every donation enables us to keep fighting for change.