Simple Speedy Dhal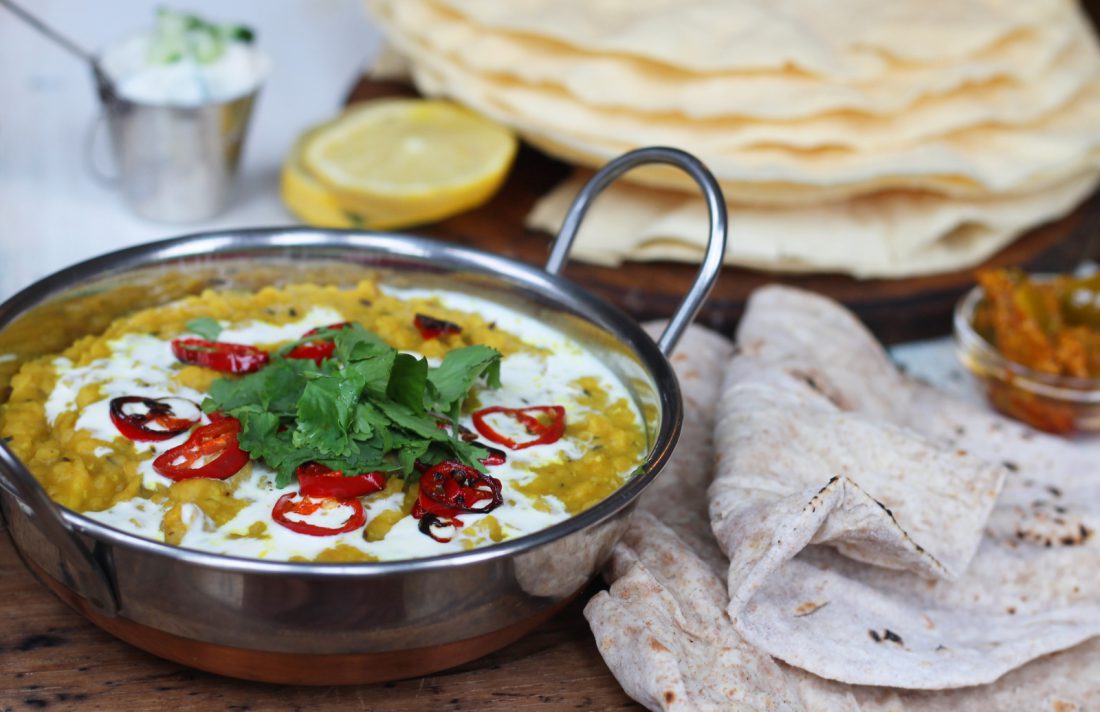 We've made this in bulk for innumerable events but here it is in smaller quantities! It's cheap, cheerful and easy and goes well with just about any type of curry dish or even simple stir-fries and rice.
Our picture shows added spinach – easy enough to do! Just bung in about 4 or 5 frozen spinach chunks or a bag of washed spinach. If it's baby spinach, no chopping required. If it's big leaves (nicest) then it will need some rough chopping. Swiss chard also works well, as does chopped kale, though it will need to cook a little longer.
Which dahl to use? Dhal, dal or dahl – might be spelled differently but all means the same thing – split pulses. These are sold in several varieties. The most common are red lentils, channa dahl (split chickpeas) and moong dahl – pictured. They each have their particular charms but red lentils are the most widely available and also cook quicker. Moong gives a very velvety dhal and is my personal favourite. You will find it and others like channa in Indian Sub-continent grocers or world food aisles in larger supermarkets.
Easy
Gluten free
Wheat free
Reduced sugar, diabetic friendly
Quick meal
Low fat, low sugar
Freezable
Cheap
Kids recipe
Cuisine
Indian and Indian Subcontinent
Meal
mains
lunches
sides-light-meals-and-salads
vegetable-side-dishes
* Nutritional information per serving.
Ingredients
Oil spray or 1 tbsp plain vegetable oil
½ tsp of asofoetida – also known as hing. If you can't find it, use ground fenugreek
2 tsp cumin seeds
2 tsp black or brown mustard seeds
3 cloves garlic, crushed
1250ml/5 cups water (add more if necessary)
300g/1½ cups red lentils or other dahl, washed in a sieve
2cm/1 inch fresh ginger, grated
2 tsp vegan bouillon powder, eg Marigold red or purple tub or a vegan stock cube
3-4 tbsp lemon juice, fresh or bottled
½-1 tsp salt or to taste
Optional
Added spinach, chard or kale. This adds lovely taste and lots of useful nutrients, especially the kale. Spinach can be fresh or frozen, 4-5 lumps frozen or one regular bag of fresh baby leaf spinach. If using baby leaf, no need to chop but if using the tastier, larger leaves, chop them roughly. Alternatively, a couple of handfuls of chopped kale or chopped chard will do nicely.
Instructions
Using the oil spray or oil, gently fry the spices until the mustard seeds start to pop, then add the garlic, making sure you stir it so that it doesn't burn – it will taste bitter. If the mixture starts to catch, add a splash or two of water.
Now add the rest of the water, the washed lentils, the ginger and the bouillon/stock cube.
Bring to the boil then reduce to a simmer. Cook for 15-20 minutes, or until the lentils are soft and the mixture resembles a thick soup. Red are the quickest, followed by moong. Other types take longer. Add more water if it starts to stick. If you're using the spinach/chard or kale option, add this about 5-7 minutes before the end of cooking.
Once the lentils have cooked, add the lemon juice to taste – and add extra salt if desired.
Did you know that V30 is run by a charity?
We create vital resources to help educate everyone – vegan veterans, novices and the v-curious alike – about vegan food, health and nutrition; as well as the plight of farmed animals and the devastating environmental impact of farming.
Through this work we have helped thousands of people discover veganism; but we want to reach millions more! We rely entirely on donations as we don't get any government funding. If you already support us, thank you from the bottom of our hearts, you are really making a difference! Please share our details with your friends and loved ones too, as every donation enables us to keep fighting for change.