Smoked Tofu Rashers & Grilled Tomatoes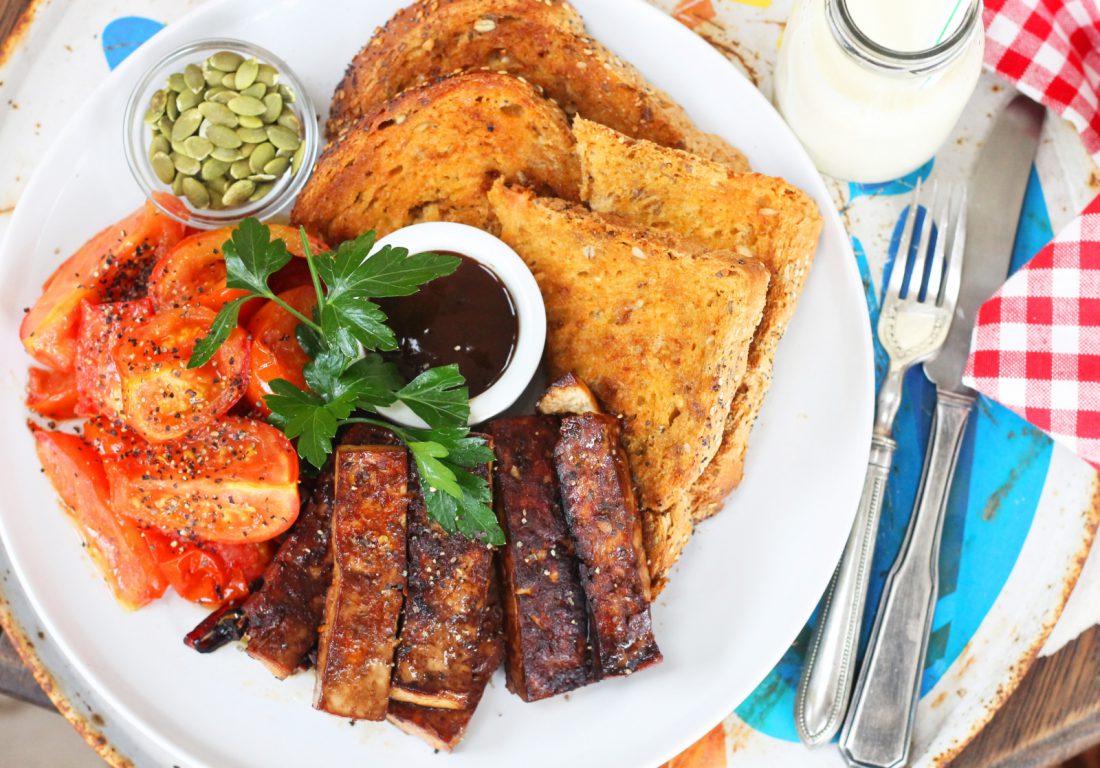 Simple and quick if using smoked tofu – but we offer an easy variant using firm plain tofu also.
Not too tricky
Gluten free
Wheat free
Meal
breakfasts
lunches
sides-light-meals-and-salads
Ingredients
Grilled Tomatoes
Half or 1 tomato per person plus olive oil and garlic
Smoked Tofu Rasher Option
1 pack smoked firm tofu, eg Taifun


Oil to fry
Marinade
Soya sauce, eg shoyu or tamari
½ tsp smoked paprika

¾

tsp liquid smoke if you can get it (Tesco sell it)
To add at the end of frying
1 tbsp nutritional yeast flakes and black pepper to taste
---
Plain Tofu Rasher Option
250g/9oz of the firmest plain tofu you can find – drain and press overnight or for several hours if possible. (Use a plate and weights on top and a colander underneath plus a clean tea towel/kitchen roll OR a dedicated tofu press)

2 tbsp plain vegetable oil
Marinade
2 tbsp good quality soya sauce (see above)


1 tsp brown sugar

1½ tsp tomato puree

½ tsp balsamic vinegar

¾ tsp liquid smoke
To add at the end of frying
Instructions
If serving with grilled tomatoes, put on the grill first and heat to medium-high. Chop each tomato in half, drizzle a little olive oil and crushed garlic over each half. Stick under the grill but keep an eye on them and reduce heat if they're starting to catch. Alternatively, fry them up in a wok. Flavour with fresh herbs, salt and pepper.
Smoked Tofu Option
Slice the smoked tofu as thinly as you can. Set aside.
In a small bowl, make the marinade by mixing the soya sauce with the smoked paprika and liquid smoke if using. Place the rashers in a large baking tray and drizzle with the marinade – using a pastry brush will distribute it more evenly – and let it sit for a few minutes.
Using a good (non-stick) frying pan, heat up some oil in the pan on a high heat until it is very hot.
Fry the tofu slices until quite crispy. Add the yeast flakes and black pepper and fry quickly so it goes a bit crispy.
Serve hot with the tomatoes – and toast if you wish.
---
Plain Tofu Option
Make sure the tofu is well pressed (see ingredients list).
Slice it into rashers about 2-3mm (about ¼ inch).
Place in a large tray and pour the marinade over the top, using a pastry brush to distribute evenly. Leave for as long as you can – four hours is best – but cover with a plastic bag if marinading for more than an hour. This stops the marinade from drying out.
When it is ready, heat up a frying pan with the oil, like the Smoked Tofu option. Fry the rashers until crispy, add the nutritional yeast flakes as above and serve with the tomatoes.
Optional extras / notes
Add on another hour or two if using the plain tofu option
Did you know that V30 is run by a charity?
We create vital resources to help educate everyone – vegan veterans, novices and the v-curious alike – about vegan food, health and nutrition; as well as the plight of farmed animals and the devastating environmental impact of farming.
Through this work we have helped thousands of people discover veganism; but we want to reach millions more! We rely entirely on donations as we don't get any government funding. If you already support us, thank you from the bottom of our hearts, you are really making a difference! Please share our details with your friends and loved ones too, as every donation enables us to keep fighting for change.