Smoky Baked Beans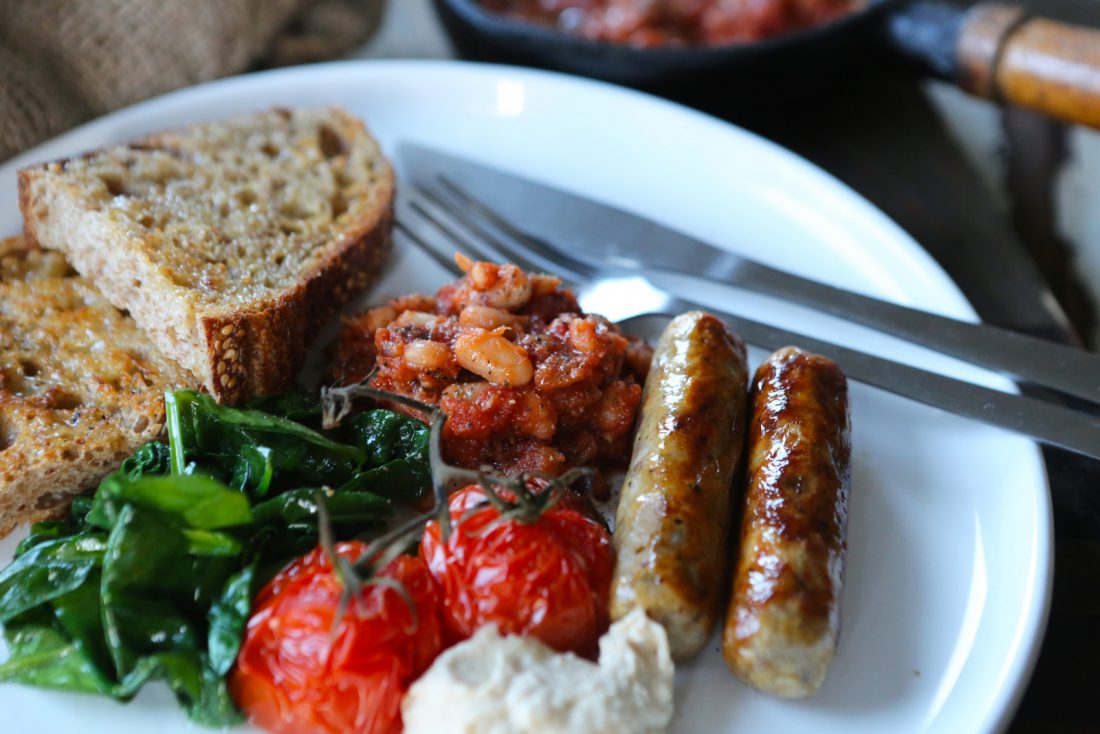 Of course baked beans on toast is a quick and easy vegan staple but they're actually very quick and easy to make! Enjoy them as a main served with toast or as a side served with all the breakfast bits of your choice 🙂

Easy






Ingredients
1 tbsp vegetable oil
½ small onion, diced
1 garlic clove, peeled and finely chopped
1 tin chopped tomatoes
1 tsp smoked paprika
2 tsp red wine vinegar
1 tin butterbeans, cannellini beans or chickpeas, drained and rinsed
¼ tsp sugar or ½ tsp syrup (eg maple or agave etc) – optional
½ tsp mixed herbs (optional)
Salt and pepper to taste
2 slices of wholewheat toast with vegan butter/spread (use GF if necessary)
Instructions
Heat the oil in a small saucepan and add the onion and garlic, frying until soft.
Add the tomatoes, paprika, vinegar, beans, sugar and herbs and stir. Season to taste.
Bring to a simmer then cook for 10-15 mins or until it thickens.
Serve on toast, spread with vegan margarine.
Option to serve with vegan sausages, wilted spinach, roast tomatoes, hash browns, fried mushrooms, mixed seeds, hummus.
Keywords
Almost instant meals
Articles
Blog
Breakfasts
Budget recipes
Cakes and baking
Family recipes
Guest chef
Health, nutrition & slimming
Healthy recipes
International recipes
Juices & smoothies
Know-how: kitchen skills, shopping tips, cooking techniques etc
News
Recipes
Sauces
Sports nutrition
Students
V30 facts
Easy
British
Breakfasts
Lunches
Gluten-free/optional
Wheat-free/optional
Soya-free/optional
Nut-free/optional
Reduced fat
Reduced sugar
Sesame-free/optional
Quick meals
Healthy recipes
Plastic-free adaptable
Store cupboard
Low fat/sugar
Budget
Freezable
Fast and healthy
Christmas
Vegan Easter
Father's Day
Mother's Day
Valentine's Day
Did you know that V30 is run by a charity?
We create vital resources to help educate everyone – vegan veterans, novices and the v-curious alike – about vegan food, health and nutrition; as well as the plight of farmed animals and the devastating environmental impact of farming.
Through this work we have helped thousands of people discover veganism; but we want to reach millions more! We rely entirely on donations as we don't get any government funding. If you already support us, thank you from the bottom of our hearts, you are really making a difference! Please share our details with your friends and loved ones too, as every donation enables us to keep fighting for change.