Speedy Scone Base Pizza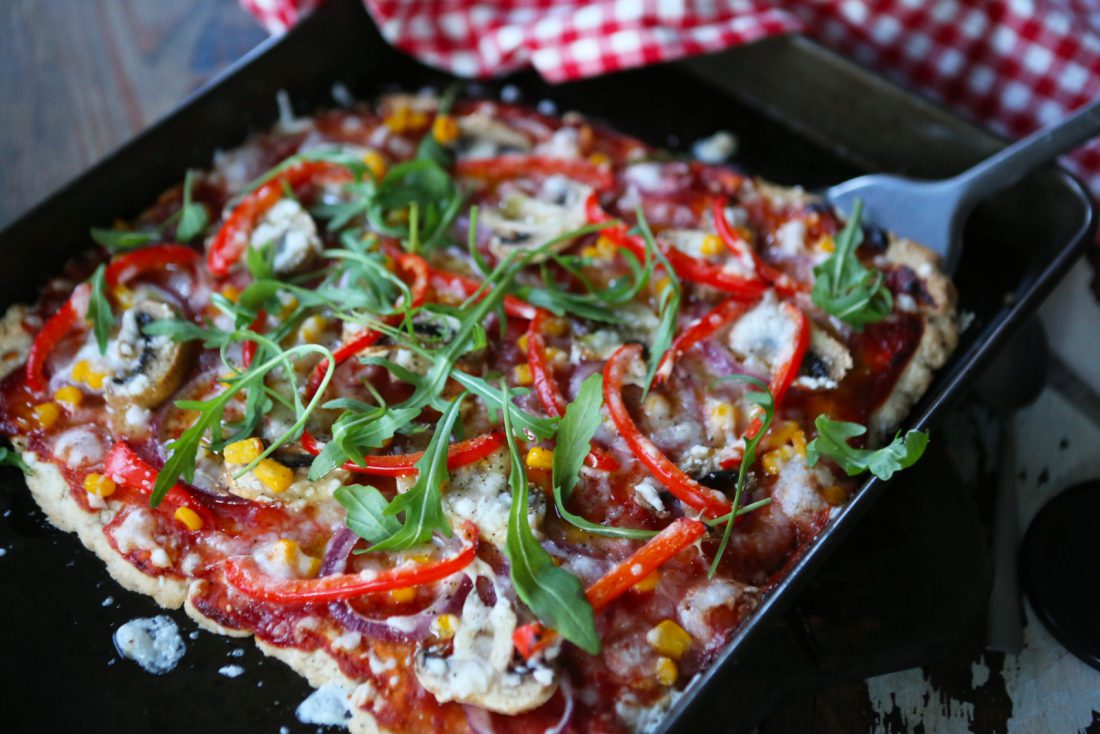 It's so easy to make this base… under 10 mins and no yeast or proving! At just 28p per portion this is one of our budget delights.
Easy
Quick meal
Low fat, low sugar
Cheap
Kids recipe
Ingredients
For the scone base
250g plain flour
1 tsp salt
1 tsp baking powder
55g vegan margarine
2 tbsp milled flax seed, mixed with 4 tbsp of water
4 tbsp plant milk of your choice (add a little more if necessary)
For the topping
1 tbsp olive oil
½ red pepper, quartered, deseeded and thinly sliced
5 fresh mushrooms, chopped into small pieces
½ red onion, thinly sliced
2 tbsp of sweetcorn from a tin
2 tbsp tomato ketchup mixed with 2 tbsp tomato purée
85g grated vegan cheese or 3 tbsp nutritional yeast flakes (optional)
Dash of vegetable or olive oil
Handful of rocket to serve (optional)
Instructions
Heat oven to 180°C (fan)/350°F/Gas Mark 4.
Mix the flour, salt and baking powder in a bowl, then rub in the margarine until it disappears. Combine the flax mixture and milk together, then stir into the dry ingredients to make a soft dough. Shape into a round on a lightly floured surface.
Lift onto a non-stick, lightly oiled baking or pizza tray, then press out to a circle about 24cm across to make the pizza base.
Heat the oil in a frying pan, then stir-fry the pepper, mushroom and onion until they are soft. Remove from the heat. (You can miss out this stage depending on how cooked you like your veggies).
Spread the ketchup over the pizza base, then evenly distribute the pepper, mushroom, onion and sweetcorn across the top.
Scatter over the vegan cheese or yeast flakes if using. Drizzle a little vegetable or olive oil over the top to stop the pizza drying out.
Bake for 15 mins until golden. Top with rocket and green or black olives (optional extras).
Serve with potato wedges, garlic bread, or salad.
Did you know that V30 is run by a charity?
We create vital resources to help educate everyone – vegan veterans, novices and the v-curious alike – about vegan food, health and nutrition; as well as the plight of farmed animals and the devastating environmental impact of farming.
Through this work we have helped thousands of people discover veganism; but we want to reach millions more! We rely entirely on donations as we don't get any government funding. If you already support us, thank you from the bottom of our hearts, you are really making a difference! Please share our details with your friends and loved ones too, as every donation enables us to keep fighting for change.