Spicy Sweet Potato Salad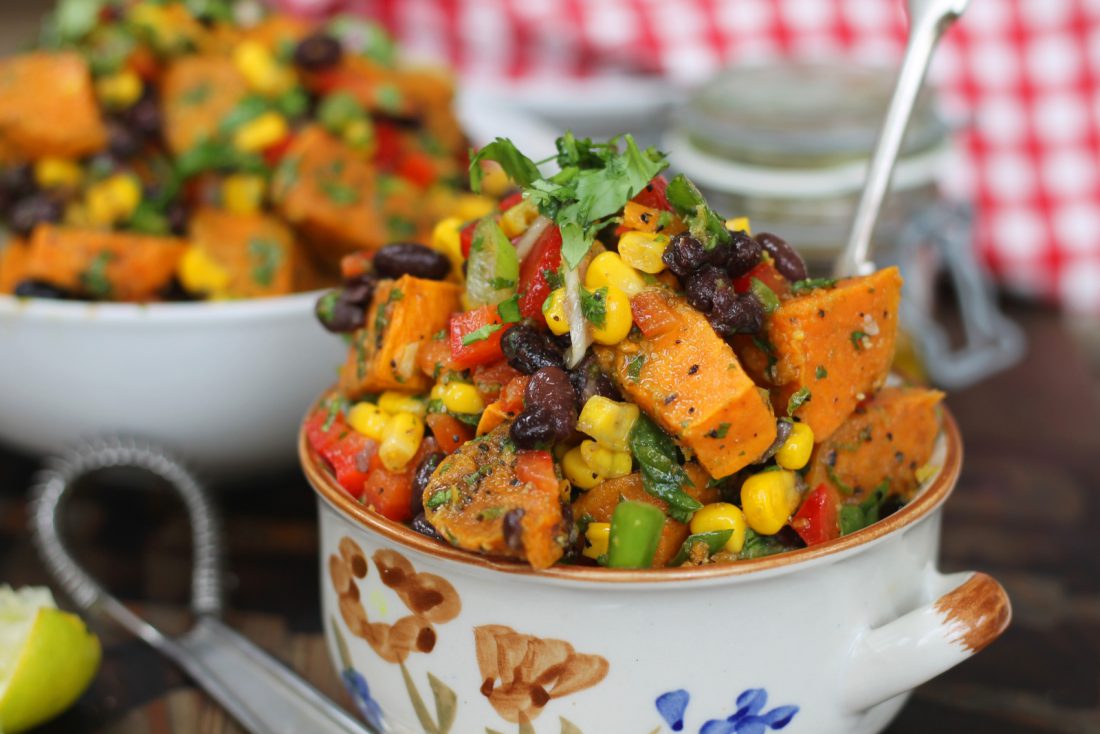 This lovely salad doesn't have to be overly spicy hot – see our suggestions below. The idea is to offset the flavour of the sweet potatoes with tangy, spicy flavours – including the lime! You could also add some black beans to boost nutrients (protein, calcium, iron) and make it more substantial.
Top Tip
Using a good vegetable peeler makes prepping veg SO much easier. We favour this type over the long variety – and they're inexpensive to buy. You'll find yourself whizzing your way through a pile of root veg in no time!

Not too tricky






Cuisine
United States and Canada
Meal
mains
lunches
sides-light-meals-and-salads
vegetable-side-dishes
Ingredients
Sweet Potato Mix
225g/8oz sweet potatoes, peeled and cut into 1cm/½ inch cubes (see tip above about veg peelers!)
1 tbsp oil – rapeseed, olive or plain
In a small bowl mix:
1 tsp cumin + ¼ tsp cayenne/mild chilli + salt and black pepper to taste (replace the cayenne or chilli with paprika if you prefer – regular or smoked)
Salad Mix
250g/9oz/1½ cups cooked sweetcorn (frozen, drained tinned or fresh)
½-1 tin black beans, rinsed and drained
2 spring onions, trimmed and sliced
1 red, orange or yellow pepper, chopped quite fine
1 good handful of coriander or parsley. Chop it fine
Salad Dressing
2 tbsp olive or cold-pressed rapeseed oil
1 small garlic clove, crushed
Zest and juice of ½ -1 lime, depending on taste
Salt and black pepper to taste
OPTIONAL:
A few pieces of jalapeno pepper from a jar chopped roughly OR ½ a large green chilli, seeds removed and chopped fine
Instructions
Preheat the oven to 200°C/400°F/Gas Mark 6.
Line a baking tray with foil and place the sweet potatoes on it. Drizzle the oil and toss well to coat the potato cubes. Sprinkle the cumin, cayenne/chilli, salt and pepper mixture and toss to coat this also. Bake for 20-25 minutes. Set aside to cool.
Meanwhile, make the salad mix. Steam or microwave the sweetcorn if necessary. Then, in a medium bowl, add the cooked sweetcorn, black beans, spring onions, peppers – and jalapenos/fresh chilli if using. Toss to combine. (Save the coriander/parsley until you're ready to serve).
Mix the dressing ingredients with a fork in a small bowl to combine.
Mix the sweet potatoes into the bowl of salad, stir in the dressing and toss well. Fridge until ready to eat. Sprinkle the fresh herbs on at the very last minute and serve with an extra wedge of lime if you wish.
Optional extras / notes
It can be made the night before and fridged for lunch the next day
Keywords
Almost instant meals
Articles
Blog
Breakfasts
Budget recipes
Cakes and baking
Family recipes
Guest chef
Health, nutrition & slimming
Healthy recipes
International recipes
Juices & smoothies
Know-how: kitchen skills, shopping tips, cooking techniques etc
News
Recipes
Sauces
Sports nutrition
Students
V30 facts
Not too tricky
United States and Canada
Mains
Lunches
Sides, light meals and salads
Vegetable side dishes
Gluten-free/optional
Wheat-free/optional
Soya-free/optional
Nut-free/optional
Reduced fat
Reduced sugar
Sesame-free/optional
Diabetic friendly
Teenagers
Quick meals
Store cupboard
Low fat/sugar
Budget
Boost your mood
Did you know that V30 is run by a charity?
We create vital resources to help educate everyone – vegan veterans, novices and the v-curious alike – about vegan food, health and nutrition; as well as the plight of farmed animals and the devastating environmental impact of farming.
Through this work we have helped thousands of people discover veganism; but we want to reach millions more! We rely entirely on donations as we don't get any government funding. If you already support us, thank you from the bottom of our hearts, you are really making a difference! Please share our details with your friends and loved ones too, as every donation enables us to keep fighting for change.