Spinach & Potato Rosti with Tofu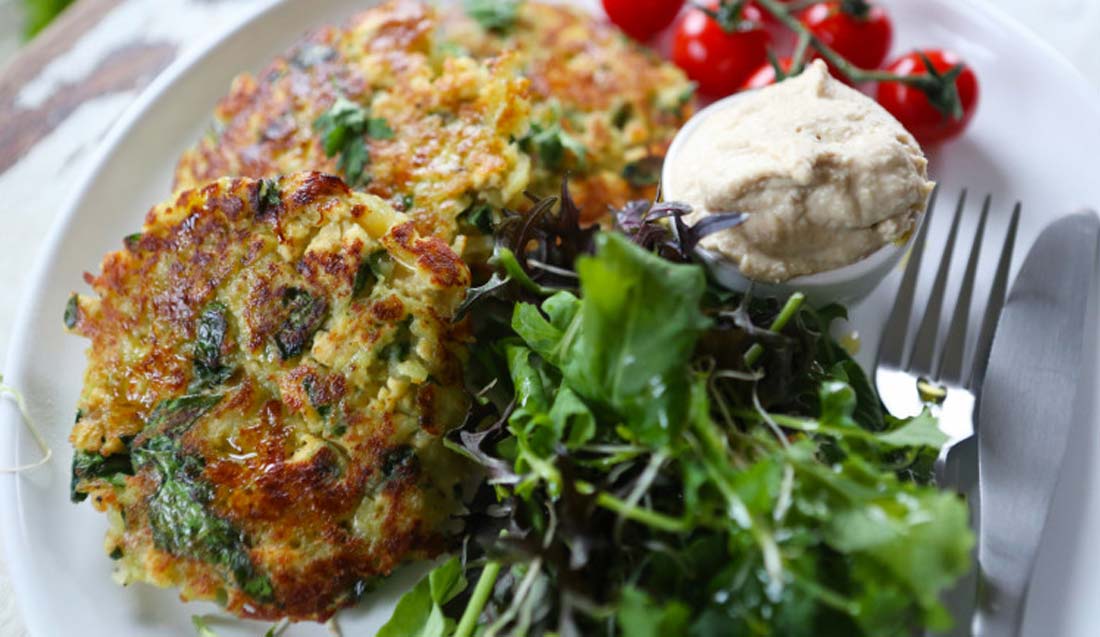 We literally cannot get enough of these potato rosti! Perfect for people on a budget, they're cheap, delicious, easy and a great source of protein. Make a big batch and then freeze for simple evening meals. Two rosti serves one person for a main meal (served with salad, steamed veg, hummus, quinoa etc). Thanks very much to Viva! podcast presenter Helen Wilson for this one!

Easy







Ingredients
500g/16oz potatoes, peeled and grated
200g/7oz firm tofu, patted dry and crumbled into small pieces
Handful of fresh spinach or rocket, roughly chopped (or use frozen, defrosted)
3 tbsp gram (chickpea) flour, mixed with 3 tbsp warm water in a small bowl
2 tbsp plain flour
1 tsp cumin or caraway seeds
2 tbsp vegetable oil
1-2 tsp salt
1 tsp freshly ground black pepper (optional)
Instructions
Pat dry the tofu, before crumbling it into a mixing bowl with the grated potato.
Add the spinach or rocket, gram flour mixture, cumin, plain flour, salt and pepper and stir the ingredients.
Shape the mixture into 6 round rosti, be firm with it but try not to over handle. If it is too wet to hold its shape, add a little more flour.
Add a little oil to a large, non-stick frying pan and fry on a medium heat, turning half way through, until golden. Press down the rosti and encourage them to keep their shape using a fish slice.
Serve with a small side salad or leaves and tomatoes and a tablespoon of hummus (optional).
Keywords
Almost instant meals
Articles
Blog
Breakfasts
Budget recipes
Cakes and baking
Family recipes
Guest chef
Health, nutrition & slimming
Healthy recipes
International recipes
Juices & smoothies
Know-how: kitchen skills, shopping tips, cooking techniques etc
News
Recipes
Sauces
Sports nutrition
Students
V30 facts
Easy
Mains
Lunches
Gluten-free/optional
Wheat-free/optional
Nut-free/optional
Reduced fat
Reduced sugar
Sesame-free/optional
Kids
Teenagers
Quick meals
Healthy recipes
Store cupboard
Low fat/sugar
Budget
Freezable
Fast and healthy
Veganuary
Did you know that V30 is run by a charity?
We create vital resources to help educate everyone – vegan veterans, novices and the v-curious alike – about vegan food, health and nutrition; as well as the plight of farmed animals and the devastating environmental impact of farming.
Through this work we have helped thousands of people discover veganism; but we want to reach millions more! We rely entirely on donations as we don't get any government funding. If you already support us, thank you from the bottom of our hearts, you are really making a difference! Please share our details with your friends and loved ones too, as every donation enables us to keep fighting for change.