Stir-Fried Vegetables, Rice & Tofu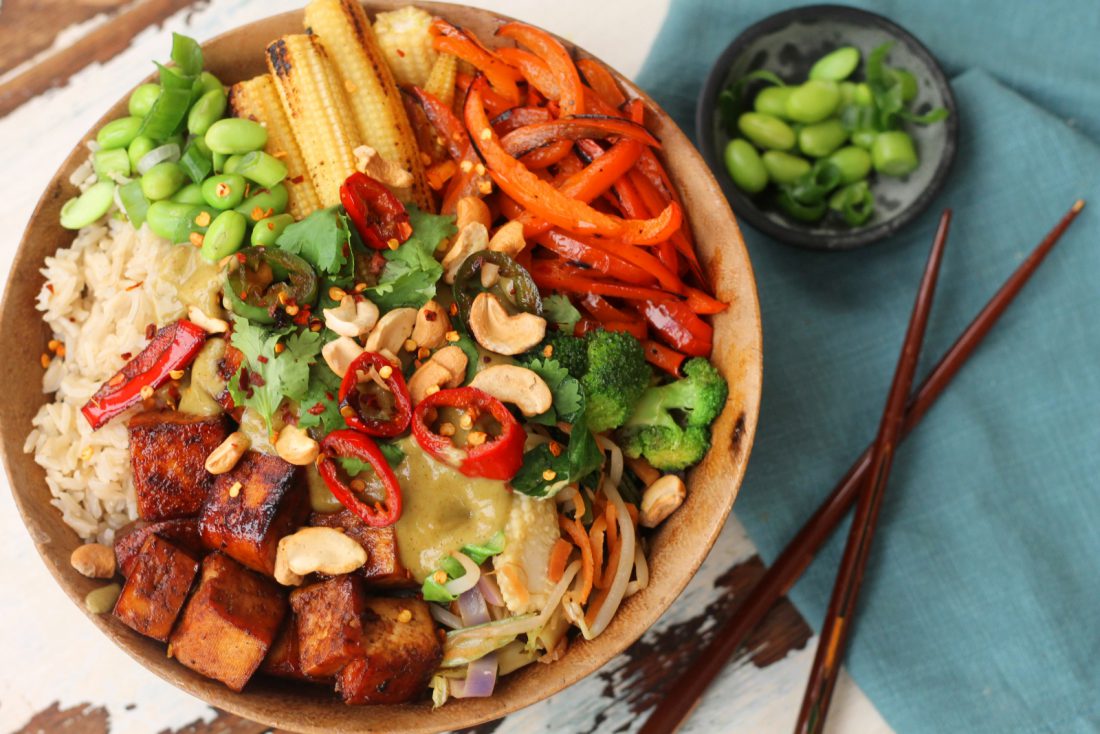 Gorgeous – a favourite with everyone who's tried it. It's easy to make the stir-fry and sauce while the rice is simmering. Make it from scratch or use our shortcut ideas!
Cheat Sheet – for those nights when you're time poor but very hungry!
use ready-cooked pouches of brown rice, eg Sainsbury's, Tilda or Uncle Ben
use a big pack of stir-fried vegetables
use Cauldron marinated tofu pieces
Not too tricky
Gluten free
Wheat free
Quick meal
Cheap
Kids recipe
Meal
mains
lunches
sides-light-meals-and-salads
vegetable-side-dishes
* Nutritional information per serving.
Ingredients
Rice (or see shortcut above)
350g/12oz long grain brown rice
700ml/25 fl oz water
2 tsp vegan bouillon powder
Stir Fry (or see shortcut above)
12 spring onions, sliced
200g/7oz baby sweetcorn, halved
2 red peppers, thinly sliced
1 medium carrot, sliced into thin sticks
200g/7oz oriental greens such as Pak Choi or Chinese leaves, shredded
Other suitable veg, eg asparagus, cauliflower or broccoli florets, shredded pak choi…
Tofu (or see shortcut above)
Sauce
60g/4 level tbsp cup smooth peanut or other nut butter. Tahini also works well
2 tbsp fresh lemon juice
1 tbsp prepared English mustard
Large handful of parsley (curly or flat-leaf), thick stalks removed
2 tbsp water
1 tsp syrup (eg agave, maple or date) – optional
1 small clove garlic, crushed
Pinch salt
Optional: 1tbsp tamari and 1tbsp sesame oil
Instructions
Press the tofu if not already done. If using pre-cooked rice, go to Stage 3.
Bring to boil and simmer for 25-35 minutes until rice is tender and water is absorbed.
Meanwhile, chop vegetables for stir-fry and put aside. If using a stir-fry pack, go to Stage 4.
Fry tofu chunks in a little oil or low-cal spray in a nonstick pan until golden brown on all sides. If using marinated tofu pieces, go to Stage 6.
Add a little shoyu (soy sauce) until the tofu is coated. Drain on kitchen paper and put aside.
Make sauce by blending all ingredients together – then warm through gently.
Stir-fry the vegetables in the oil.
Chop cooled tofu into bite-sized pieces and heat through with vegetables.
Serve. Place cooked, drained rice on plates, top with the vegetable-tofu mix, then the sauce.
Optional extras / notes
Time can be reduced if you follow suggested shortcuts.
Did you know that V30 is run by a charity?
We create vital resources to help educate everyone – vegan veterans, novices and the v-curious alike – about vegan food, health and nutrition; as well as the plight of farmed animals and the devastating environmental impact of farming.
Through this work we have helped thousands of people discover veganism; but we want to reach millions more! We rely entirely on donations as we don't get any government funding. If you already support us, thank you from the bottom of our hearts, you are really making a difference! Please share our details with your friends and loved ones too, as every donation enables us to keep fighting for change.