Street Noodle Salad with Peanut or Sesame Sauce, Supermarket-style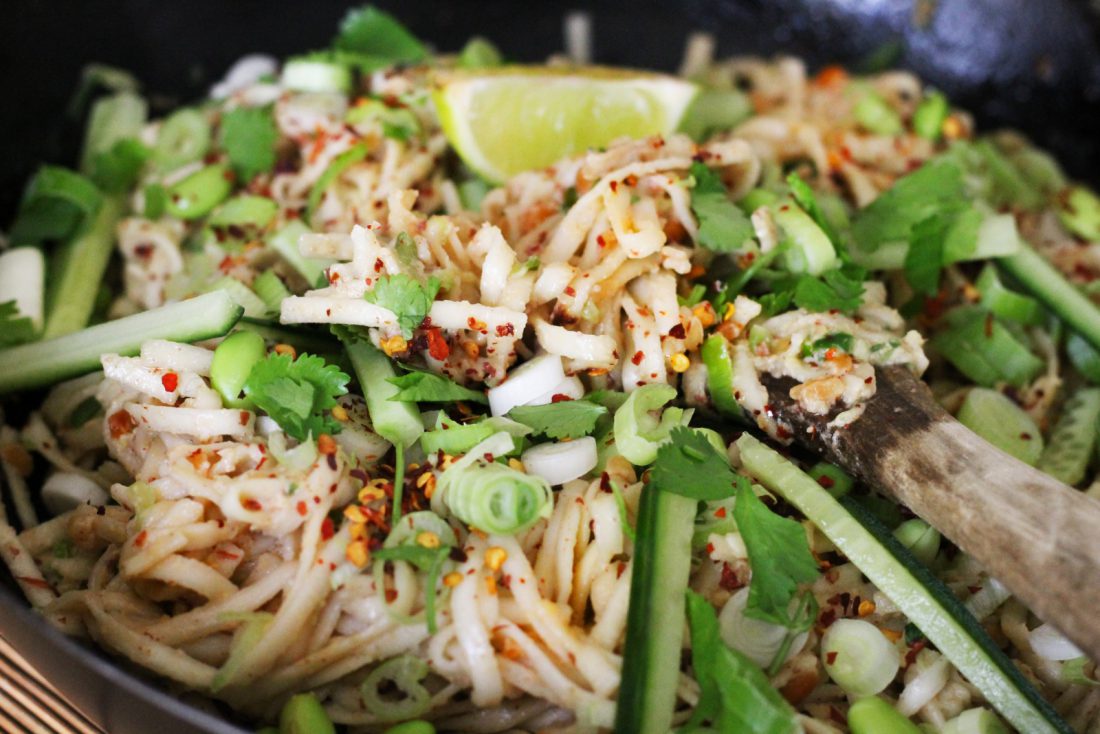 Use ready-made ingredients to make this if you don't have time for the original recipe!
Easy
Gluten free
Wheat free
Quick meal
Cheap
Kids recipe
Ingredients
Noodles
1 pack of ready to wok egg-free noodles, eg Amoy udon or any type of rice noodles
Satay sauce from a jar (Thai Taste, Sainsbury's and Yeo's are vegan – other brands may contain fish or shrimp)
Fresh peas (if not in season, use quickly microwaved frozen peas or soya beans)
Salad leaves
Beansprouts
Black pepper to taste
Lime chunks
Salt and black pepper
Optional: ¼ cucumber, grated on big holes plus chilli sauce or flakes to taste
Instructions
Microwave the frozen soya beans or peas until just tender – a minute or so.
Meanwhile, mix the noodles, satay sauce and beansprouts together. Add the salad leaves too.
Mix in the peas or soya beans. Add the grated cucumber if using now. Taste and season if necessary.
Serve with lime chunks and eat.
Did you know that V30 is run by a charity?
We create vital resources to help educate everyone – vegan veterans, novices and the v-curious alike – about vegan food, health and nutrition; as well as the plight of farmed animals and the devastating environmental impact of farming.
Through this work we have helped thousands of people discover veganism; but we want to reach millions more! We rely entirely on donations as we don't get any government funding. If you already support us, thank you from the bottom of our hearts, you are really making a difference! Please share our details with your friends and loved ones too, as every donation enables us to keep fighting for change.