Super Stuffed Tempeh Sandwich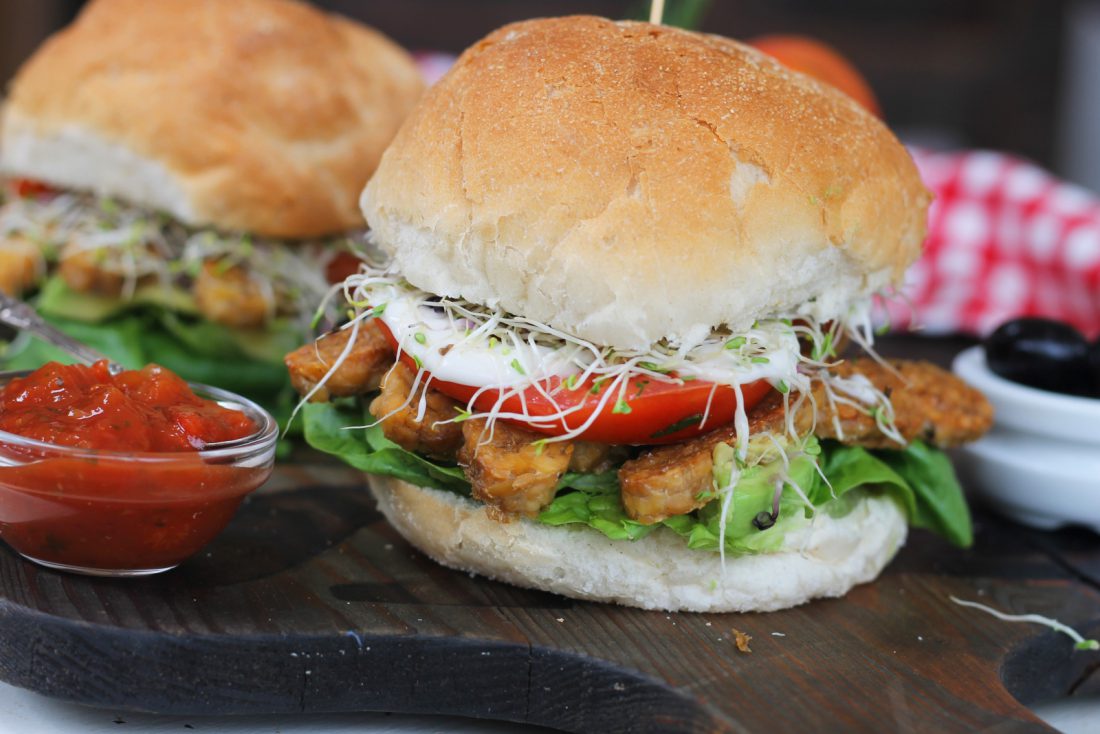 Tempeh is made from fermented soya beans and is sold in ready-to-eat rashers. It's tasty and a great source of nutrients – and easy to cook. Find it in health food shops, high street or online.
It can also be bought in a block – chilled or frozen, sliced up, marinated and fried (see our recipe here).
Cram it with as much goodness as you can – avocado, tomatoes. leaves, sprouts… whatever takes your fancy. And some seriously good bread.
Easy
Reduced sugar, diabetic friendly
Quick meal
Low fat, low sugar
Kids recipe
Ingredients
Packet ready-marinated tempeh strips OR home-marinated and fried tempeh rashers
1 medium tomato, sliced thinly
Salad leaves
Condiments: tomato ketchup and/or vegan mayonnaise/mustard etc
2 slices wholemeal or multigrain bread
Optional
Avocado – sliced or mashed
Sprouts, eg alfalfa…
Instructions
Brown tempeh strips under grill till warmed through. They can also be fried in a little oil or microwaved for a few seconds.
Assemble all ingredients between slices of bread.
Eat without dribbling ketchup/mayo down your chin!
Did you know that V30 is run by a charity?
We create vital resources to help educate everyone – vegan veterans, novices and the v-curious alike – about vegan food, health and nutrition; as well as the plight of farmed animals and the devastating environmental impact of farming.
Through this work we have helped thousands of people discover veganism; but we want to reach millions more! We rely entirely on donations as we don't get any government funding. If you already support us, thank you from the bottom of our hearts, you are really making a difference! Please share our details with your friends and loved ones too, as every donation enables us to keep fighting for change.