Sweet & Sour Tofu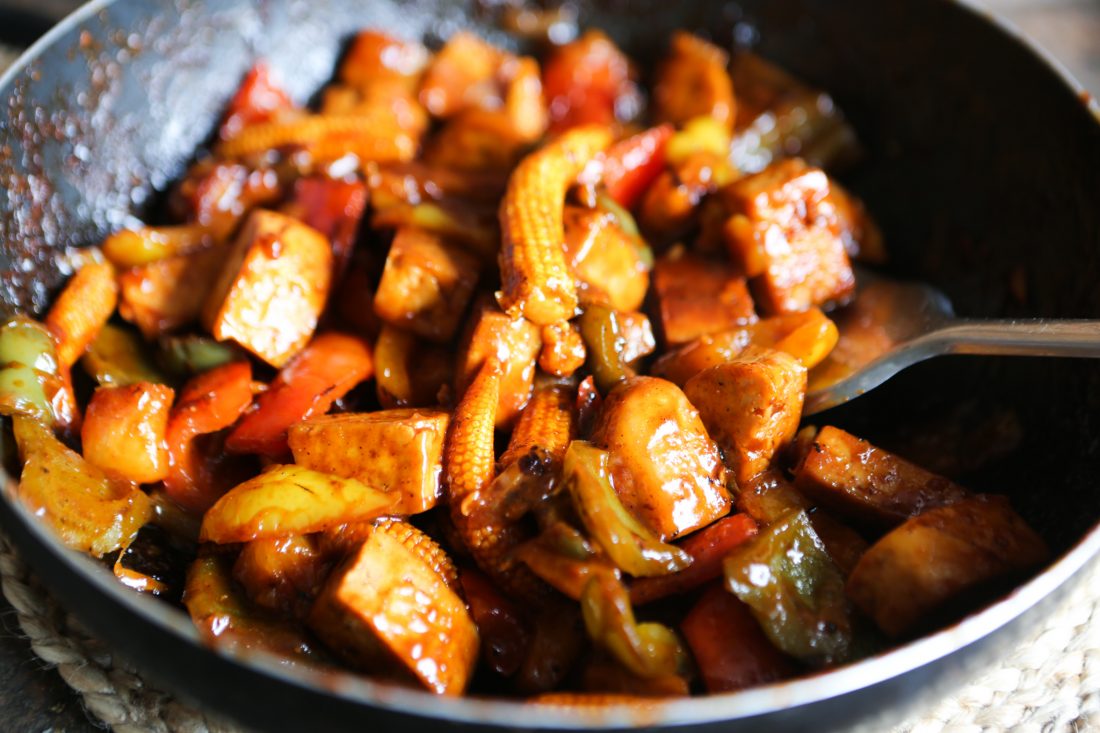 Get your Chinese fakeaway here! Don't be put off by the list of ingredients as it's actually very simple – super-quick convenience options also provided 🙂
Easy
Gluten free
Wheat free
Freezable
Kids recipe
Ingredients
Sweet & sour sauce
If you're short of time you can use a vegan shop-bought sweet & sour sauce instead
6 tbsp ketchup
4 tbsp syrup (eg maple, agave etc)
6 tbsp soy sauce
6 tbsp rice or cider vinegar
1 tbsp toasted sesame oil
1 tbsp cornflour
Tofu
If you're short of time you can use pre-marinated tofu chunks or tofu puffs (found in world food supermarkets) instead
450g firm tofu, drained, patted dry and cut into 1″ cubes (you can also use any meat alternative of your choice eg vegan 'chicken' or 'prawns')
1 tsp garlic granules
2 tbsp nutritional yeast
3 tbsp soy sauce
Curry
If you're short of time you can use 2 x packets ready-to-use stir fry vegetables instead
1 onion, cut into 1″ cubes
1 x thumbnail of ginger, grated or finely chopped
½ red pepper, cut into chunky bite-sized pieces
½ green pepper, cut into chunky bite-sized pieces
½ yellow pepper, cut into chunky bite-sized pieces
100g baby sweetcorn (optional)
2 cloves garlic, finely chopped
1 tsp Chinese five spice
300g fresh or tinned pineapple chunks, drained and rinsed
2 tbsp lime juice
Optional serving suggestions: sprinkling of sesame seeds, fresh coriander, brown rice, vegan Thai crackers (eg Sainsbury's, Sharwood's), steamed broccoli, whole wheat noodles, dried pineapple, sprinkling of chilli flakes
Instructions
Sweet & sour sauce
Thoroughly stir all ingredients together and set aside.
Tofu
On a medium heat, fry the tofu in the oil until golden, turning frequently.
Add the soya sauce and syrup then fry for a couple more minutes.
Add the nutritional yeast and garlic granules and fry for a further minute.
Set aside.
Curry
In a large pan fry the onion, ginger, peppers and baby sweetcorn until slightly soft.
Stir in the garlic and heat for a further minute.
Add the Chinese five spice and heat for another minute.
Add the sweet & sour sauce, bring to the boil and then simmer for around 10 minutes.
Stir through the tofu pieces, pineapple chunks and lime juice. Heat for 5 more minutes before serving.
Did you know that V30 is run by a charity?
We create vital resources to help educate everyone – vegan veterans, novices and the v-curious alike – about vegan food, health and nutrition; as well as the plight of farmed animals and the devastating environmental impact of farming.
Through this work we have helped thousands of people discover veganism; but we want to reach millions more! We rely entirely on donations as we don't get any government funding. If you already support us, thank you from the bottom of our hearts, you are really making a difference! Please share our details with your friends and loved ones too, as every donation enables us to keep fighting for change.