Thai Yellow Curry, Convenience-style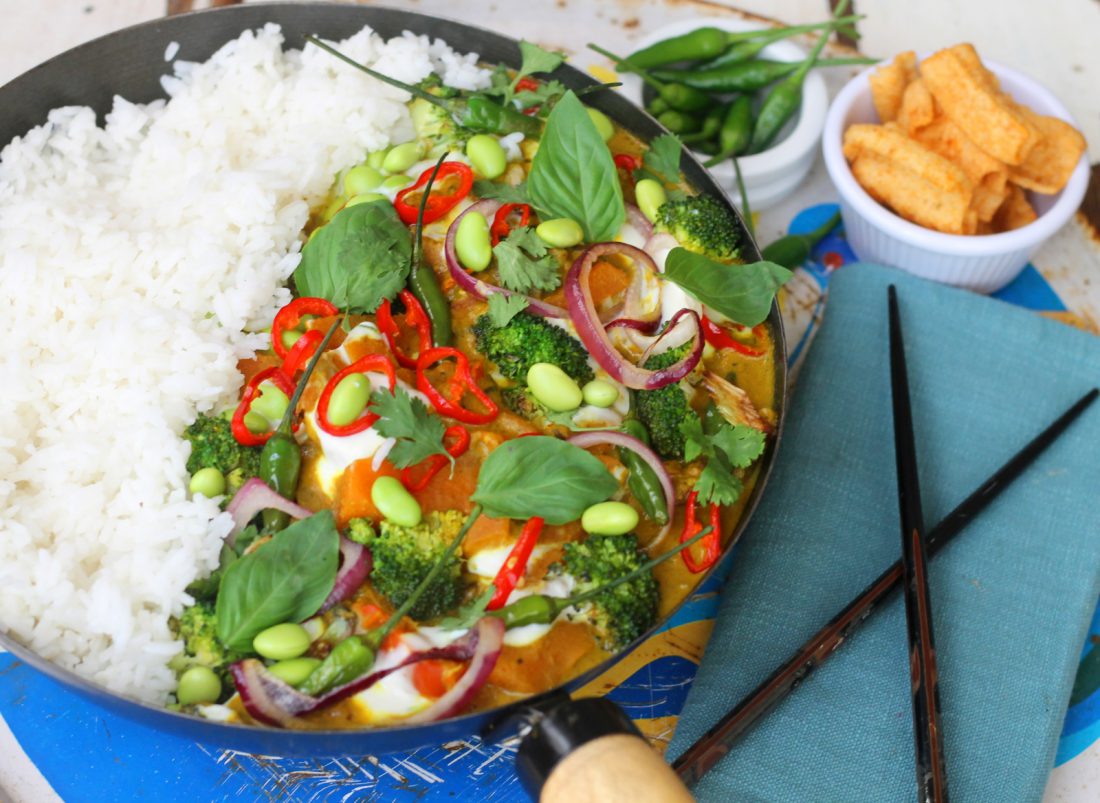 A lovely quick curry – it's the 'cheating' version of another recipe elsewhere on this site, basically! If you want to add more protein, try fresh soya beans; peas; tofu pieces – or even serve with a tinned dahl – not strictly Thai but very tasty nonetheless.
While many Thai curry pastes and sauces include fish or shrimp, the good news is that there are several that are vegan! Read labels, as ever. In the meantime, we've found a few for you!
Not all Mae Ploy pastes are vegan but this one is!
Thai Taste's website lists a lot of vegan products
Not too tricky
Gluten free
Wheat free
Meal
mains
vegetable-side-dishes
Ingredients
2 tbsp vegetable oil
1 big pack or 2 smaller ones of mixed stir-fry veg – try to find one with onions, carrots, red peppers and mushrooms if possible. If not, add them, eg prepped carrot sticks or similar. Basically, cram as many yellow or orange veg in there as you can!
4 tsp garlic paste
100ml/5fl oz/¼ cup+ 2 tbsp vegetable stock
1 tbsp peanut butter or other nut/seed butter, eg cashew, almond or tahini
4 tbsp shop-brought Yellow Curry Paste (check it is vegan as some brands contain fish sauce. Thai Taste, Tesco and Yeo's each do a vegan version)
8 kaffir lime leaves
½ tin coconut milk (about 200 ml/¾ cup+ 1 tbsp)
1-2 limes
Instructions
Open the pouches of rice and add them to a microwave dish or stove-top steamer. Heat according to packet instructions. Use Thai sticky rice or jasmine rice if you can – or brown basmati!
Heat the oil in a large saucepan or wok and add the vegetables. Fry until just tender – 2-3 minutes or so – stirring to stop it sticking.
Now add the stock, peanut butter and curry paste. Stir well, bring to boil, and then turn down to simmer for a few minutes.
Add in the coconut milk and lime leaves and warm through. If it is too dry add a splash more stock or hot water.
Serve with lime juice squeezed over the top, with some of the rind grated over for decoration if you wish and lime chunks on the side.
NB this is the sort of curry that will 'age' well and taste even better a few hours later or the day after!
Optional Toppings
Fried red/green chilli, basil, corriander, soya yoghurt, edamame beans, red onion, quinoa crisps (instead of Thai crackers).
Did you know that V30 is run by a charity?
We create vital resources to help educate everyone – vegan veterans, novices and the v-curious alike – about vegan food, health and nutrition; as well as the plight of farmed animals and the devastating environmental impact of farming.
Through this work we have helped thousands of people discover veganism; but we want to reach millions more! We rely entirely on donations as we don't get any government funding. If you already support us, thank you from the bottom of our hearts, you are really making a difference! Please share our details with your friends and loved ones too, as every donation enables us to keep fighting for change.