This Isn't Chicken Vietnamese Curry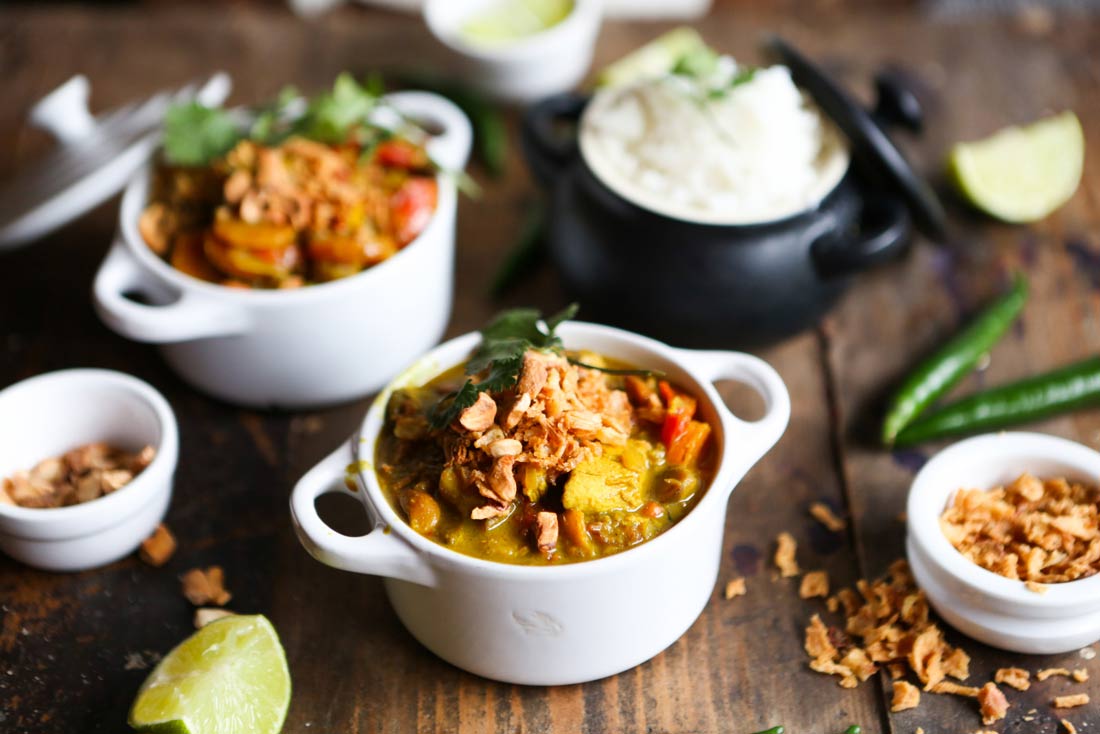 This is our version of a PHO favourite! Lots of delicious veggies, creamy coconut milk, fragrant spices, toasted cashews, crispy onions and THIS Isn't Chicken… what more could you want?!
Easy
Gluten free
Wheat free
Freezable
Ingredients
1 onion, finely diced
2 cloves garlic, finely chopped
3cm ginger, peeled and grated
3 pepper (we used 2 red and 1 yellow), cored and roughly chopped into chunky bite-sized pieces
2 medium carrots, thickly sliced
300g mushrooms, thickly sliced
190g THIS Isn't Chicken (or other chicken substitute)
2 x 400ml tins coconut milk
1 stick lemongrass (optional), bashed to release the aromatic oils
1 tbsp soy sauce
1½ tbsp coconut sugar (or any brown sugar)
1-2 tsp salt (taste and adjust according to preference)
Juice of ½ lime
100g toasted (in the oven at 180ºC for around 10 minutes) cashew nuts plus more for decoration (optional)
Handful fresh coriander
Handful crispy onions
Spice blend
1 tsp coriander seeds, dry fried then ground
1 tsp cumin seeds, dry fried then ground
½ tsp fennel seeds, dry fried then ground
Pinch cloves, dry fried then ground
½ tsp cinnamon
1 tsp ground turmeric
¼ – ½ tsp cayenne pepper (depending on how much heat you like)
OR
Quick spice blend 
2 tsp ground cumin
2 tsp ground coriander
½ tsp cinnamon
1 tsp turmeric
¼-½ tsp cayenne pepper
Pinch ground cloves
Serving suggestions: basmati rice, coconut yoghurt, fresh chillies, Thai crackers (Sainsbury's do a fish-free version)
Instructions
Fry the onion until soft.
Add the garlic and ginger and fry for a further few minutes.
Add the spices and stir through thoroughly.
Add the pepper, mushroom and THIS Isn't Chicken and fry for around 5 minutes.
Add the carrots, coconut milk, lemongrass, soy sauce, lime juice, salt and sugar. Bring to the boil then simmer on a low heat for around 15-20 minutes.
Stir the cashews through before serving and remove the lemongrass. Enjoy with some or all of the added serving suggestions 🙂
Did you know that V30 is run by a charity?
We create vital resources to help educate everyone – vegan veterans, novices and the v-curious alike – about vegan food, health and nutrition; as well as the plight of farmed animals and the devastating environmental impact of farming.
Through this work we have helped thousands of people discover veganism; but we want to reach millions more! We rely entirely on donations as we don't get any government funding. If you already support us, thank you from the bottom of our hearts, you are really making a difference! Please share our details with your friends and loved ones too, as every donation enables us to keep fighting for change.