Time is Tight Tacos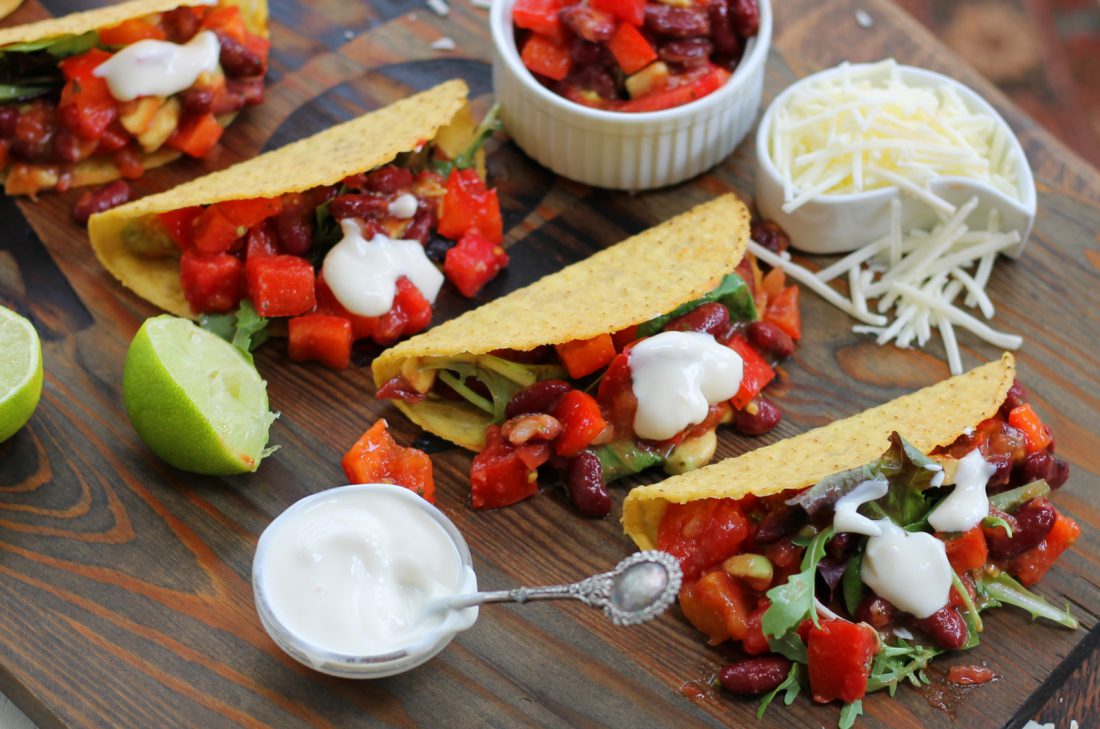 For a quick tasty meal in hurry! Juicy tomatoes are just lovely teamed with crunchy tacos. If you're making these for kids then just leave out the hot and spicy ingredients!
Easy
Gluten free
Wheat free
Reduced sugar, diabetic friendly
Quick meal
Low fat, low sugar
Cheap
Kids recipe
Cuisine
Mexican, Central and South American
Meal
mains
sides-light-meals-and-salads
Ingredients
4-8 taco shells, eg Santa Maria or Old El Paso
1 tin black or kidney beans, rinsed, drained and slightly mashed
115ml/4fl oz ready-made tomato salsa (available in fresh tubs or jars)
1 red pepper, finely diced
¼-½ tsp chilli powder, according to taste (or use a dash of Tabasco/hot pepper sauce)
1 small clove garlic, crushed OR 1 tsp garlic paste
1 tsp ground cumin
1 avocado, peeled and chopped into chunks
1 large tomato, chopped into small pieces
1 tbsp fresh lime juice
Green leaves of your choice, finely shredded – approximately a small handful per person. A mixture of rocket, cos, lambs lettuce or similar would be nice. Just avoid the iceberg variety!
Optional: grated vegan cheese, (many brands available and most larger supermarkets sell at least one range)
Instructions
Pre-heat the oven to 200ºC/400ºF/Gas Mark 6.
Warm the taco shells in the oven for 5-10 minutes. If using grated cheese, place this inside the shells now.
Meanwhile, mix all ingredients together except for the taco shells and the leaves.
Divide the mixture into four and place inside the taco shells – if there is too much, just pile the extra on top of the shells.
Decorate with shredded leaves.
Did you know that V30 is run by a charity?
We create vital resources to help educate everyone – vegan veterans, novices and the v-curious alike – about vegan food, health and nutrition; as well as the plight of farmed animals and the devastating environmental impact of farming.
Through this work we have helped thousands of people discover veganism; but we want to reach millions more! We rely entirely on donations as we don't get any government funding. If you already support us, thank you from the bottom of our hearts, you are really making a difference! Please share our details with your friends and loved ones too, as every donation enables us to keep fighting for change.