Tofu Caprese Salad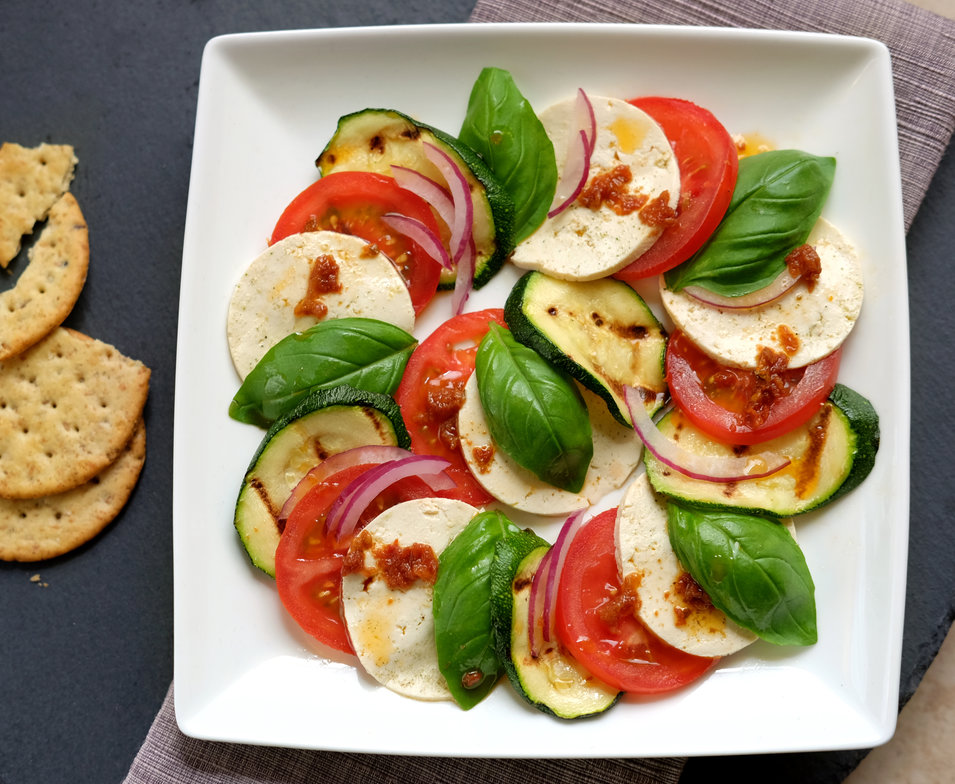 A lovely fresh recipe from Flavourphoto's Chava Eichner that uses tofu instead of the traditional mozzarella. This high-protein salad can easily be made more substantial with cooked wholegrains, more salad, bread, crackers – you choose. Alternatively, a good vegan mozzarella – eg Mozzarisella – will make the recipe quicker but not so protein-packed!
Using pressed tofu in this recipe allows it to absorb the marinade a lot better. It also makes it much easier to slice thinly. Most supermarket plain tofu – eg Cauldron – is only medium firm, although it will work. However, some health food shops and most Oriental stores sell extra-firm tofu, which is fantastic for recipes like this.
Use a press of any type – the home-made version involves wrapping the tofu in kitchen roll or similar then placing it in a colander or sieve. Top all this with a plate and heavy weights, eg tinned food or scale weights. Alternatively, use a ready-made pressing box, like the green and white box pictured, and cover that with heavy weights.
Easy
Gluten free
Wheat free
Quick meal
Meal
soups-starters
sides-light-meals-and-salads
Ingredients
1 block of firm tofu (e.g. Cauldron)
3 tbsp olive oil
2 tbsp white wine vinegar
a pinch of sugar
herb salt or sea salt and ½ tsp of dried mixed herbs
3 tomatoes
1 courgette, sliced
½ red onion, finely sliced
basil leaves
For the dressing
1 tsp sundried tomato paste (e.g. Sacla)
1 tbsp oil
1 tbsp balsamic vinegar
salt and pepper
Instructions
Press the tofu overnight to remove all excess water.
If you want to opt for the authentic mozzarella shape, cut the tofu in very fine slices and use a circular cutter to stamp out some circles. (Any cut offs can be used for other dishes.) Alternatively, simply cut the tofu block in half and slice thinly.
Prepare the tofu marinade by blending together 3 tablespoons of olive oil, the white wine vinegar and a generous pinch of sugar. Pour a third of the dressing on a large platter and place the tofu slices on top. Using the back of a tablespoon spread most of the remaining marinade evenly over the tofu. Season with the herb salt (see tip). Set aside and let the tofu absorb the flavours for at least an hour, longer if possible.
In the meantime grill the courgette slices in a griddle pan. Brush with any of the leftover marinade and season with black pepper and salt.
Arrange tomato slices, grilled courgette, marinated tofu and basil leaves on a big serving plate.
Blend all dressing ingredients together and drizzle over the salad. Serve with crackers or fresh, crusty bread.
* Tip: Herb salt makes a really nice addition to your spice rack. My favourite is Herbamare from Holland and Barrett and other independent health food shops.
Optional extras / notes
Overnight pressing of tofu needed so start early – the salad itself takes very little time. Servings are for starter-sized or side portions
Did you know that V30 is run by a charity?
We create vital resources to help educate everyone – vegan veterans, novices and the v-curious alike – about vegan food, health and nutrition; as well as the plight of farmed animals and the devastating environmental impact of farming.
Through this work we have helped thousands of people discover veganism; but we want to reach millions more! We rely entirely on donations as we don't get any government funding. If you already support us, thank you from the bottom of our hearts, you are really making a difference! Please share our details with your friends and loved ones too, as every donation enables us to keep fighting for change.