Tofu Katsu Curry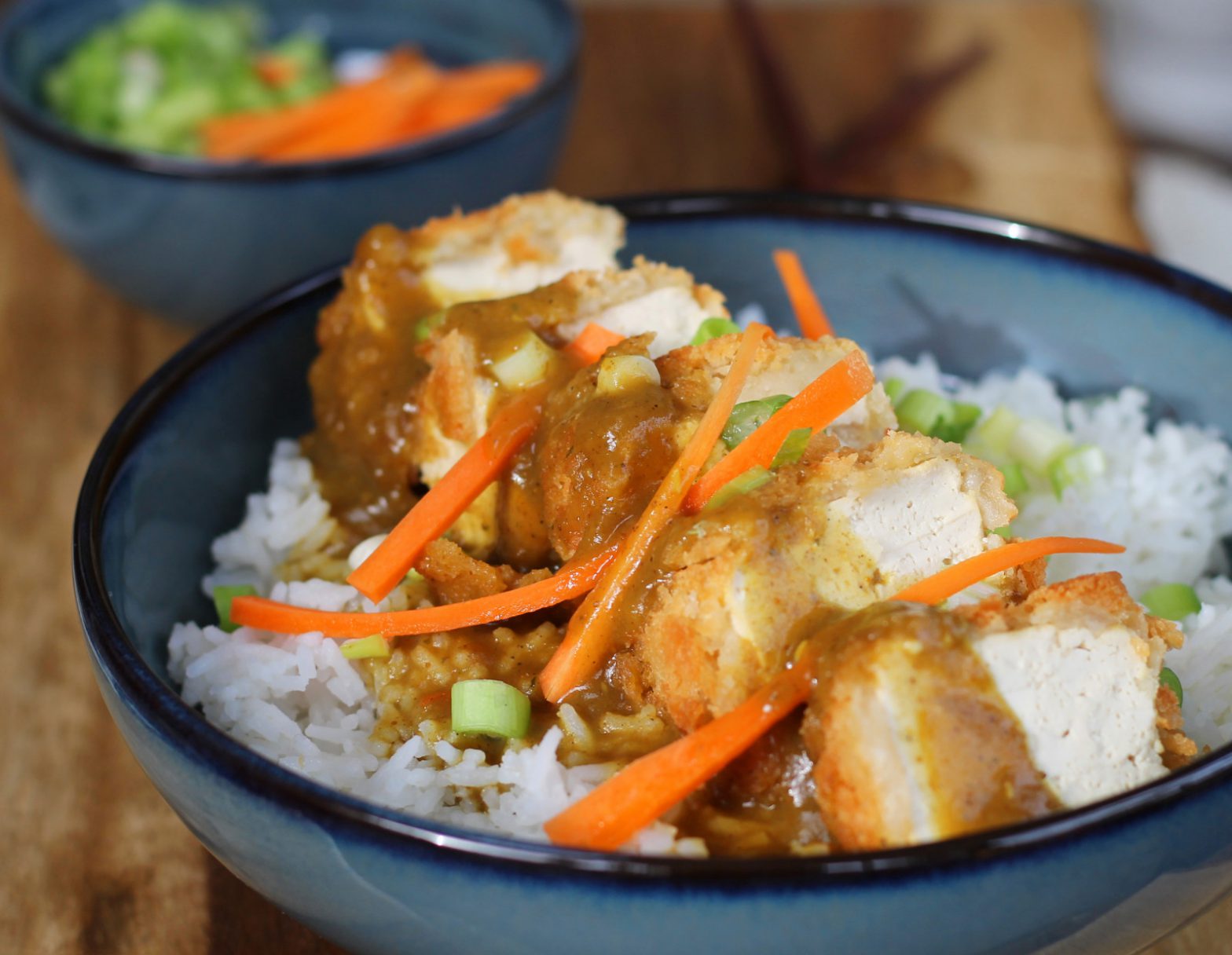 This is truly delicious and one of Japan's most popular dishes… we can see why! If you're short of time and fancy a quick version of this recipe then try our 'Cheatin' Tofu Katsu Curry'
This recipe is taken straight from our lovely Winter Recipe Guide. Available here for just £3 (over 25 recipes)!
Not too tricky
Gluten free
Wheat free
Ingredients
400g brown/wholegrain rice
Sauce
1 tbsp vegetable oil
2 onions (finely diced)
5 cloves garlic (finely diced)
4 carrots, peeled and chopped
4 tbsp plain flour
2 tbsp medium curry powder
1 tsp garam masala
1200ml/5 cups stock
1 tbsp vegan syrup (eg maple, agave)
2 bay leaves
2 tbsp soya sauce
Tofu
800g/28-30oz firm tofu (eg 2 packets of Cauldron or similar)
240g/8-9oz panko breadcrumbs (eg 2 packets of Blue Dragon or use GF breadcrumbs if necessary)
5 tbsp plain flour (or use GF if necessary)
5 tbsp water
Vegetable oil for deep frying
Instructions
Sauce
Fry the onion in a little oil until soft and golden.
Add the carrots and sweat for 10-15 minutes (with the lid on) until they soften and begin to caramelise.
Add the garlic and stir for a further minute.
Stir in the flour, garam masala and curry powder and cook for a minute.
Pour in the stock slowly and gradually to avoid lumps.
Add the soya sauce, vegan syrup and bay leaf. Bring to the boil then reduce the heat and simmer for 20-30 minutes so the sauce has thickened but is still pouring consistency.
You can either keep the sauce chunky or pass through a sieve if you'd like it smooth.
Tofu
Unwrap the tofu, drain and place in a colander. Cover with a clean tea towel or kitchen towel, then a plate. Place weights or tins of food on top. Let it drain over the sink and leave for 30 minutes minimum.
Slice each block of tofu in half lengthways.
Mix the flour and water into a paste in a wide bowl and set aside. Add a little more flour or water if necessary, to create a thick, smooth paste.
Empty the panko breadcrumbs into a wide bowl and set aside.
Dip each chunk of tofu into the flour/water paste and make sure it is thoroughly covered.
Immediately dip the tofu chunks into the bowl of panko breadcrumbs. Again cover thoroughly, pressing the breadcrumbs into the tofu.
If you don't want to deep fry your tofu then heat the oven to 180ºC (fan)/350ºF/Gas Mark 4 and cook for 20 minutes (or until golden), turning once. OR
Heat a medium saucepan half full of vegetable oil on med-high heat or use a deep fat fryer.
Lower the tofu chunks into the hot fat and cook for a few minutes or until golden brown and crisp.
Remove each piece with a slotted turner and place on kitchen roll to soak up the excess oil until ready to serve.
Assembly
Serve on a bed of rice.
Slice the tofu and drizzle with the curry sauce.
Optional: garnish with chillis, carrot and spring onion.
Did you know that V30 is run by a charity?
We create vital resources to help educate everyone – vegan veterans, novices and the v-curious alike – about vegan food, health and nutrition; as well as the plight of farmed animals and the devastating environmental impact of farming.
Through this work we have helped thousands of people discover veganism; but we want to reach millions more! We rely entirely on donations as we don't get any government funding. If you already support us, thank you from the bottom of our hearts, you are really making a difference! Please share our details with your friends and loved ones too, as every donation enables us to keep fighting for change.