Tofu Tahini Stir Fry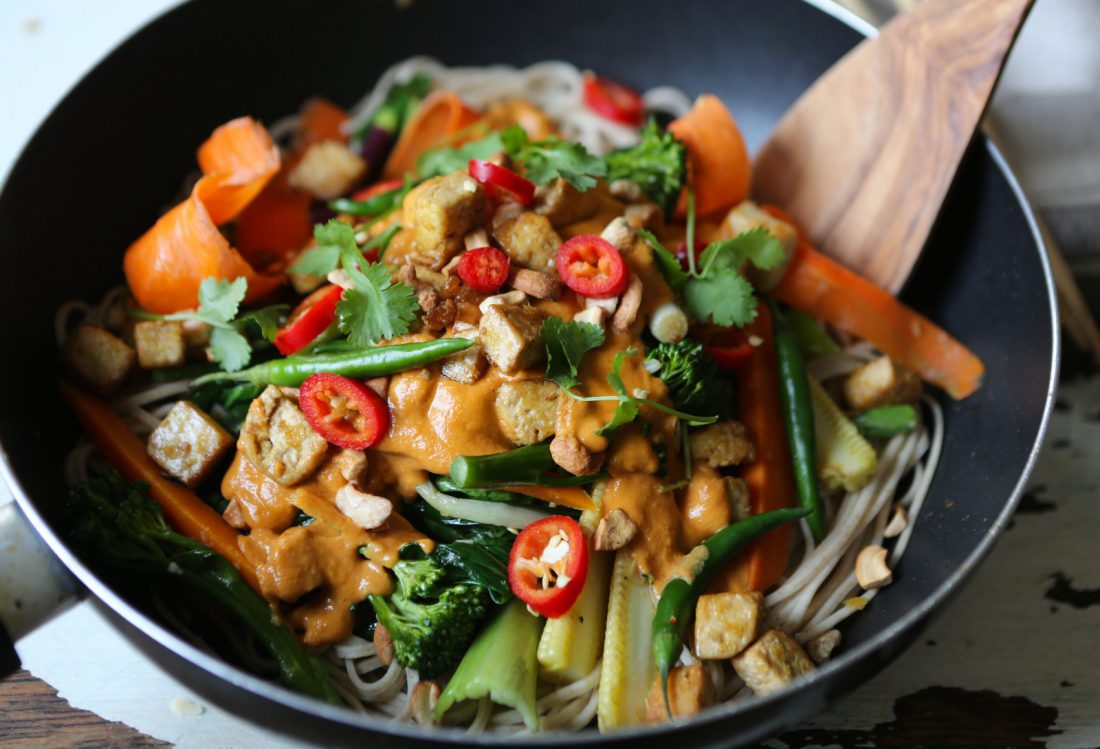 This recipe was inspired by Viva! staff member, Siobhan as this is very similar to one of her favourite go-to quick evening meals! Easy to make, healthy and really tasty… we agree, you can't go wrong with this dish!
Easy
Gluten free
Wheat free
Quick meal
Ingredients
Tofu
(if you'd like an even quicker version then use pre-marinated tofu and add it together with the vegetables)
280g (approx.) firm tofu, cubed
Sesame oil for frying (but any oil fine)
1 tbsp soy sauce
1 tbsp nutritional yeast
Vegetables
Either use 1 packet of your favourite stir fry mix or 3 handfuls of stir fry veg (eg broccoli, baby corn, carrot battons, pak choi, edamame beans etc)
Noodles
Either use 150g (approx.) straight-to-wok noodles or dry noodle nests (follow instructions on packet)… we used dry wholemeal noodles
Sauce
60g/¼ cup tahini
2 tbsp syrup (eg maple or agave) – optional
1 tbsp soy sauce
1 tbsp rice vinegar (use cider vinegar as an alternative)
1 tbsp lime juice
1-2 tbsp sriracha (depending on how hot you like it!)
3-5 tbsp water
Instructions
NB if you'd rather keep the layers separate (like in the picture) then cook everything separately and layer noodles first, then veg, then tofu then sauce.
Tofu
Fry the tofu in sesame oil until golden, stirring occasionally.
Add the soy sauce and nutritional yeast, stir through and fry for a further 1-2 minutes. Set aside.
Vegetables and noodles
Fry the vegetables on a medium-high heat for a few minutes.
Add the noodles and stir through.
Add the tofu and stir through.
Sauce
In a small saucepan, heat all of the ingredients on a medium heat.
Pour over the noodles, veg and tofu and decorate with toasted cashews, fresh chillies, seeds, fresh coriander and anything else you fancy.
Did you know that V30 is run by a charity?
We create vital resources to help educate everyone – vegan veterans, novices and the v-curious alike – about vegan food, health and nutrition; as well as the plight of farmed animals and the devastating environmental impact of farming.
Through this work we have helped thousands of people discover veganism; but we want to reach millions more! We rely entirely on donations as we don't get any government funding. If you already support us, thank you from the bottom of our hearts, you are really making a difference! Please share our details with your friends and loved ones too, as every donation enables us to keep fighting for change.