Tomato, White Bean & 'Feta' Salad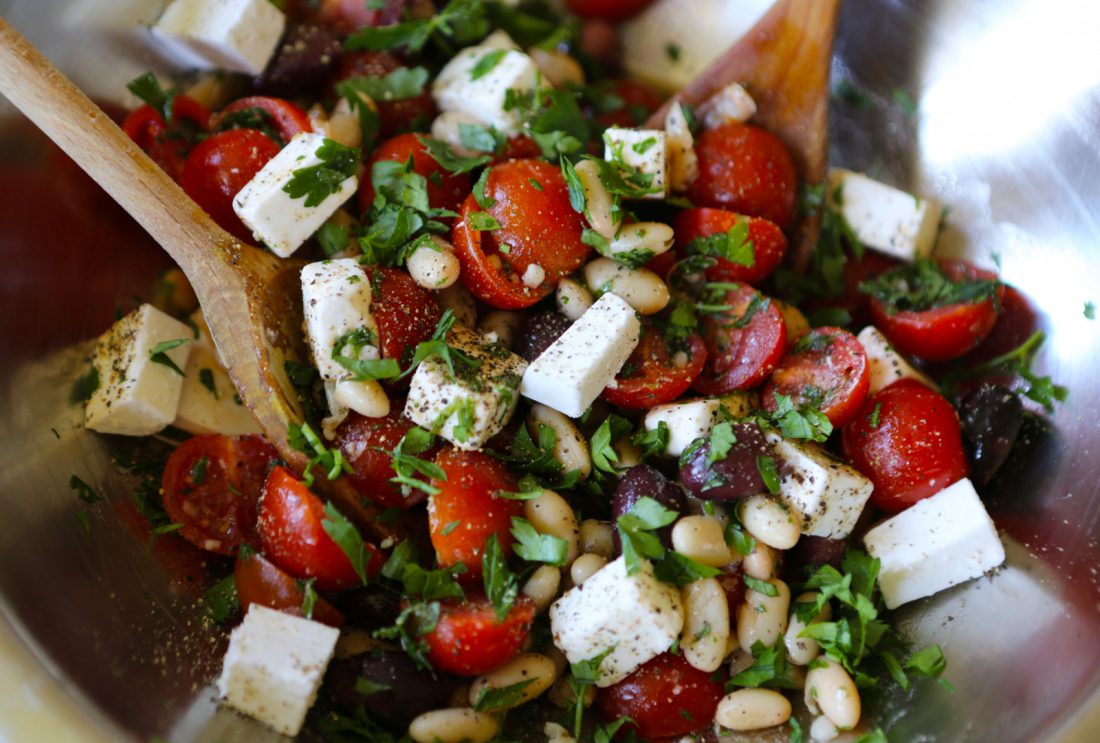 A nice filling twist on this classic Greek salad. Very quick, easy and perfect for sunny days, picnics and barbecues.
Easy
Gluten free
Wheat free
Reduced sugar, diabetic friendly
Quick meal
Low fat, low sugar
Cheap
Meal
lunches
sides-light-meals-and-salads
Ingredients
1 tin white beans (eg cannellini or butter beans), drained and rinsed
300g (approx) cherry tomatoes, halved
Handful olives
1 clove garlic, finely chopped (optional)
Handful fresh parsley, roughly chopped
100g (approx) vegan 'feta' or Greek Style, cut into 2cm cubes (our absolute favourite is Violife Greek White Block… amazing taste and texture! You can find a Greek Style cheese in most supermarkets, health food shops and online)
Salt and pepper, to taste
Dressing
2 tbsp olive oil
2 tbsp lemon juice
1 tbsp red wine vinegar (use this ideally but if you don't have any, cider vinegar is also ok)
Instructions
In a large bowl gently mix all of the ingredients together and add salt and pepper to your taste.
Dressing
Stir in a mug, shake up in a jar or just add straight onto the salad and stir through.
Did you know that V30 is run by a charity?
We create vital resources to help educate everyone – vegan veterans, novices and the v-curious alike – about vegan food, health and nutrition; as well as the plight of farmed animals and the devastating environmental impact of farming.
Through this work we have helped thousands of people discover veganism; but we want to reach millions more! We rely entirely on donations as we don't get any government funding. If you already support us, thank you from the bottom of our hearts, you are really making a difference! Please share our details with your friends and loved ones too, as every donation enables us to keep fighting for change.