Tony's Sundried Tomato & Asparagus Pasta with Pesto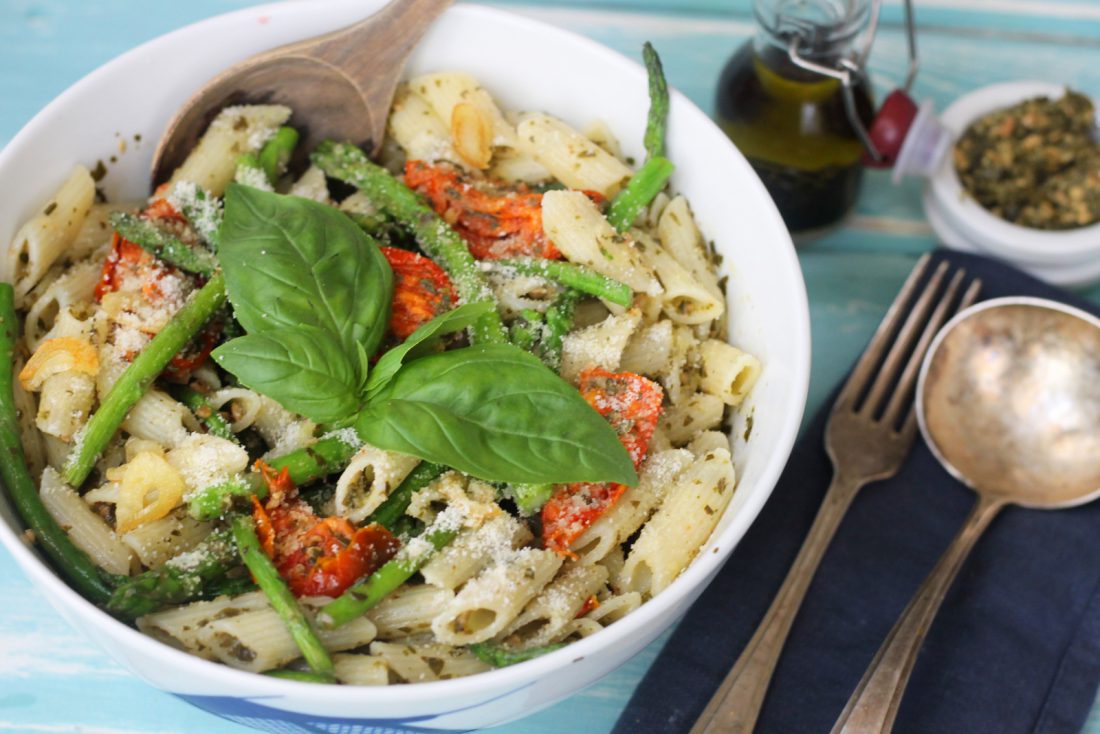 Viva!'s own Tony Wardle invented this superb dish – it was a mainstay at our events for years! Gorgeous hot or cold.
Serving suggestions
White Bean, Sweetcorn & Carrot Salad with Tomato Herb Dressing
Edamame or Broad Bean Salad
Shopping
There are several brands of vegan pesto available, in supermarkets (sometimes the free-from shelves) and also health food shops or online – brands to look for Meridian, Mr Organic, Organica, Sacla Free-From, Seggiana (raw basil variety), Suma, Sunita, Zest.
Or make your own from our simple, super-fast recipe. Do it while the pasta and asparagus are cooking!
Easy
Gluten free
Wheat free
Quick meal
Kids recipe
Meal
mains
lunches
sides-light-meals-and-salads
vegetable-side-dishes
Ingredients
Half a jar of sundried tomatoes in oil OR half a pack sundried tomatoes, soaked in hot water then chopped with scissors into bite sized pieces
1 bunch asparagus
250g/8oz wholemeal fusilli or penne pasta (half of a standard 500g bag) – use GF or WF pasta if appropriate
2 tbsp extra virgin olive oil
4 garlic cloves, finely chopped but not crushed (or 8 if you are a real garlic fiend!)
Half a jar vegan pesto, eg Meridian or Zest (NB these usually contain nuts such as cashews) OR make our simple home-made version very quickly while the pasta is cooking!
Handful of finely chopped fresh basil
Freshly ground black pepper
Salt
Instructions
Boil two kettles of hot water – most of this is to cook the pasta.
If using the type that need soaking, soak the sundried tomatoes now in some of the hot water. Cover and set aside. The type in the jar don't need it.
Snap off the woody ends of the asparagus and chop the remainder into 2cm/1" pieces and steam until just tender – keep an eye on it as it only needs a few minutes.
Cook pasta in a pan of boiling water for 10 minutes or according to packet instructions/personal taste.
Meanwhile, heat the olive oil. Add the chopped garlic and fry gently over a low heat until lightly browned – don't let it catch because it will taste bitter. Set aside.
Drain the pasta and mix in the cooked asparagus pieces.
Add the cooked garlic, vegan pesto and herbs.
Drain the sundried tomato pieces and chop into small pieces with scissors and add to the pasta mixture. (The soaking water can be used for stock or soup.)
Add salt and lots of freshly ground black pepper.
Did you know that V30 is run by a charity?
We create vital resources to help educate everyone – vegan veterans, novices and the v-curious alike – about vegan food, health and nutrition; as well as the plight of farmed animals and the devastating environmental impact of farming.
Through this work we have helped thousands of people discover veganism; but we want to reach millions more! We rely entirely on donations as we don't get any government funding. If you already support us, thank you from the bottom of our hearts, you are really making a difference! Please share our details with your friends and loved ones too, as every donation enables us to keep fighting for change.