Tortilla de Patatas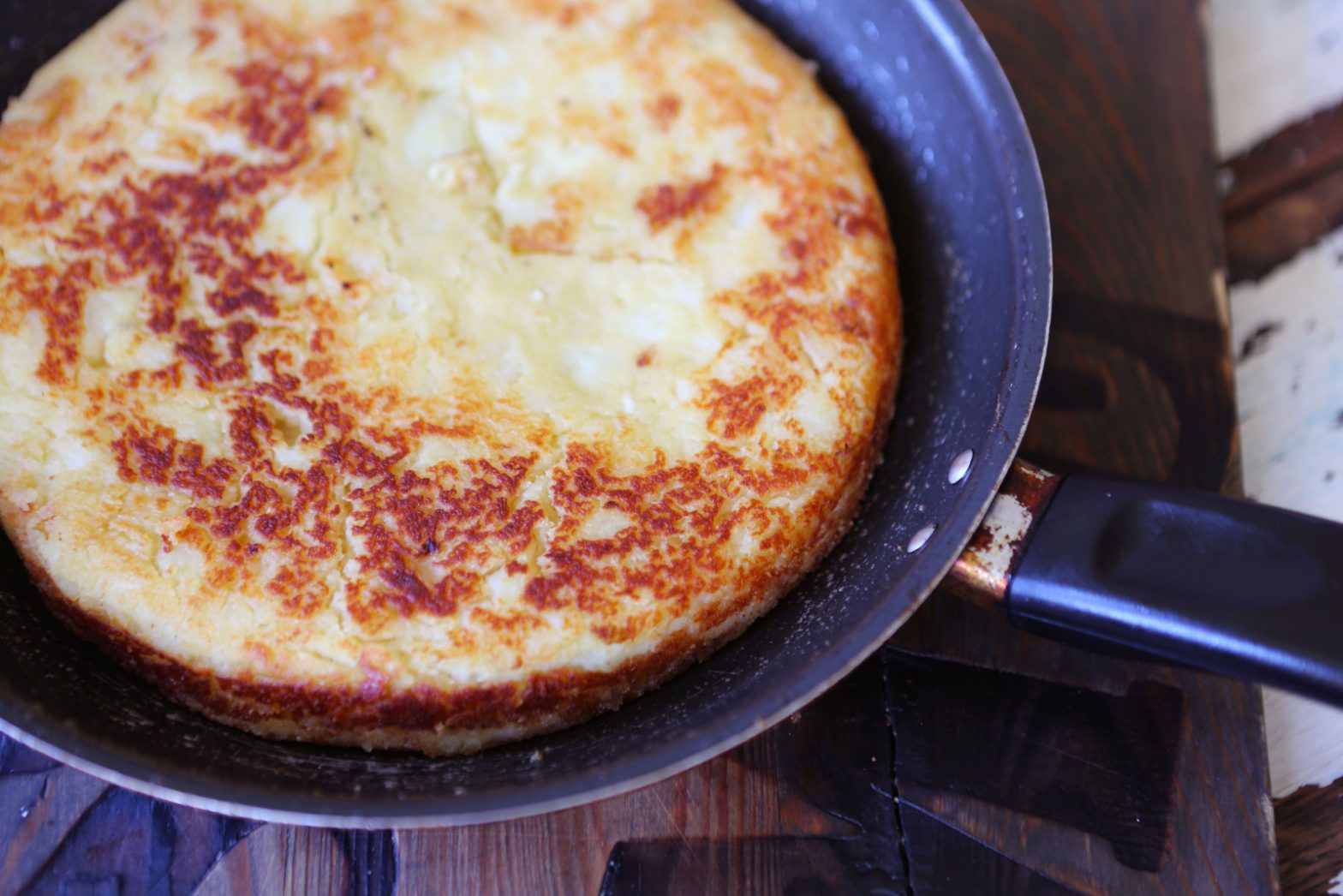 This is one of the most commonly served dishes in Spain. Bars and cafes serve it as a starter or tapa and families eat it as a light meal. This is of course a delicious vegan version and you wouldn't be able to tell the difference! We've mixed things up a bit and serve it with our (Greek!) white bean, tomato and 'feta' salad… perfect for a summer lunch or picnic.
Easy
Gluten free
Wheat free
Reduced sugar, diabetic friendly
Quick meal
Freezable
Cheap
Ingredients
100g/ 7/8 cup gram flour
160ml/⅔ cup water
800g/3½ cups potatoes, peeled and diced into 1cm cubes
1 onion, finely diced
1 clove garlic, finely chopped
1¼ tsp salt
½ tsp baking powder
Olive oil for frying
Instructions
In a large bowl mix the gram flour and water together. Cover and set aside for minimum of 1 hour but ideally overnight.
Par-boil the potatoes for a few minutes then drain.
Heat some olive oil in a medium sized frying pan. Fry the onion with the potato, stirring frequently, until the potato is lightly golden and just slightly soft (you don't want it to be too soft and mushy).
Add the garlic at the end of cooking and stir through for a minute.
Take off the heat and set aside.
Add the baking powder and salt to the gram flour and stir thoroughly.
Pour the potato mix into the gram flour batter and stir through.
In a medium non-stick frying pan and on a low heat, pop in some olive oil. Pour in the mixture until it reaches the edges of the pan. You might need to smooth it out.
Fry on one side until you get a deep golden colour.
Place a large plate over the top of the frying pan, turn the pan over and slide the tortilla back into the pan, uncooked side down. Add a little more olive oil to the pan.
Cook on this side until you get a deep golden colour.
Serve with our White Bean, Tomato & 'Feta' salad and a good dollop of vegan mayo (our favourite is Follow Your Heart Veganaise).
Did you know that V30 is run by a charity?
We create vital resources to help educate everyone – vegan veterans, novices and the v-curious alike – about vegan food, health and nutrition; as well as the plight of farmed animals and the devastating environmental impact of farming.
Through this work we have helped thousands of people discover veganism; but we want to reach millions more! We rely entirely on donations as we don't get any government funding. If you already support us, thank you from the bottom of our hearts, you are really making a difference! Please share our details with your friends and loved ones too, as every donation enables us to keep fighting for change.