Vegan BLT Sandwich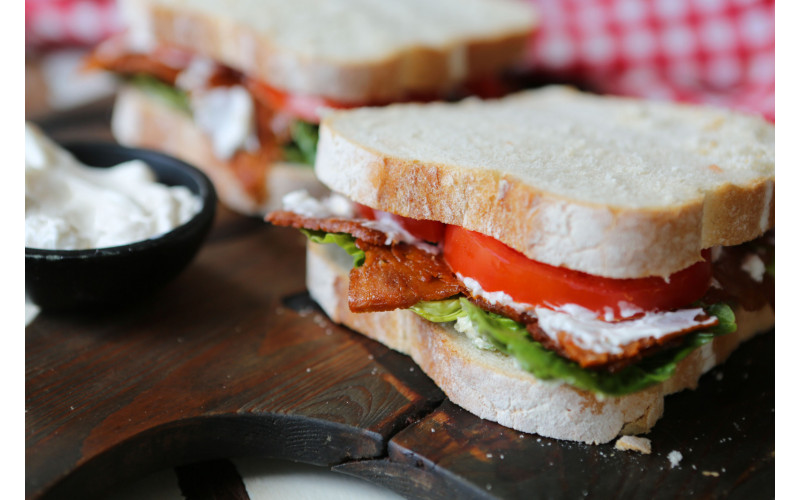 A deliciously vegan version of this classic sandwich… very tasty and super easy!
Easy
Gluten free
Wheat free
Quick meal
Kids recipe
Cuisine
United States and Canada
Ingredients
2 slices sourdough (or your favourite bread or GF where necessary)
Vegan butter (our favourite is Naturli)
4-6 rashers of vegan bacon (find in most supermarkets, health food shops and online. Our favourite is Tofurky tempeh bacon)
1 tomato, sliced
Lettuce
1 spring onion, finely sliced (optional)
1 tbsp lemon juice (optional)
Salt and pepper, to taste
Vegan mayonaise of your choice (our favourite is Follow Your Heart Veganaise)
Instructions
Fry the 'bacon' in a medium sized frying pan according to the instructions on the packet (it should only take a couple of minutes).
Spread the bread with butter and mayonaise then place the other ingredients on top, finishing off with the lemon juice, salt and pepper.
Add the 'bacon' and serve immediately. Enjoy 🙂
Did you know that V30 is run by a charity?
We create vital resources to help educate everyone – vegan veterans, novices and the v-curious alike – about vegan food, health and nutrition; as well as the plight of farmed animals and the devastating environmental impact of farming.
Through this work we have helped thousands of people discover veganism; but we want to reach millions more! We rely entirely on donations as we don't get any government funding. If you already support us, thank you from the bottom of our hearts, you are really making a difference! Please share our details with your friends and loved ones too, as every donation enables us to keep fighting for change.