Vegan Cheeseburger (supermarket style)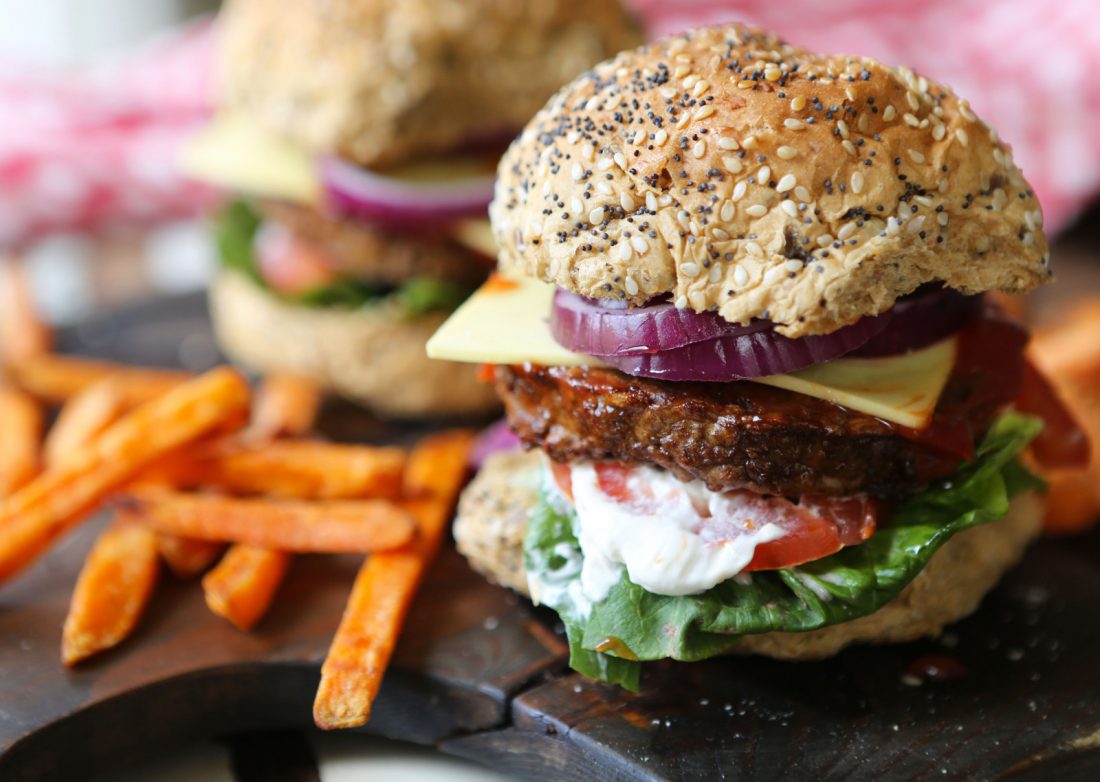 There are so many shop-bought vegan burgers out there now, you're spoiled for choice! If you're looking for the 'meaty' ones, there are Linda McCartney ¼lb burgers (available in most supermarkets), Linda McCartney Pulled Pork ¼lb Burgers, Beyond Meat Beyond Burgers (found in Tesco), No-Bull Burgers (Iceland), Move Over Meat Revolution Burgers (Waitrose), Seitan Patties (Waitrose), The Meatless Farm Co Burgers, Quorn Ultimate Burgers, Birds Eye Green Cuisine Meat-Free Burgers, Vivera Burgers and many of the supermarkets also do an own-brand version too.
Easy
Gluten free
Wheat free
Quick meal
Kids recipe
Cuisine
United States and Canada
Ingredients
2 vegan burgers of your choice (use gf or soya-free where necessary)
2 burger buns of your choice (ideally wholemeal)
2 slices of vegan cheese
½ red onion, sliced into rings
Handful of lettuce
1 tomato, sliced
Vegan mayonaise
Relish or tomato sauce
2 gherkins, sliced
Optional extras: sliced avocado, alfalfa/raddish etc sprouts, sliced cucumber, English mustard, sauerkraut, kimchi, sweetcorn
Serving suggestions: sweet potato fries, regular fries, salad, potato salad, steamed asparagus or broccoli, fried mushrooms, pasta salad, roasted vegetables
Instructions
Cook the burgers according to the instructions on the packet.
While they are cooking prepare your burger fillings and serving options.
Layer up the burger buns with the fillings of your choice and serve.
Did you know that V30 is run by a charity?
We create vital resources to help educate everyone – vegan veterans, novices and the v-curious alike – about vegan food, health and nutrition; as well as the plight of farmed animals and the devastating environmental impact of farming.
Through this work we have helped thousands of people discover veganism; but we want to reach millions more! We rely entirely on donations as we don't get any government funding. If you already support us, thank you from the bottom of our hearts, you are really making a difference! Please share our details with your friends and loved ones too, as every donation enables us to keep fighting for change.