Vegan Eggs Benedict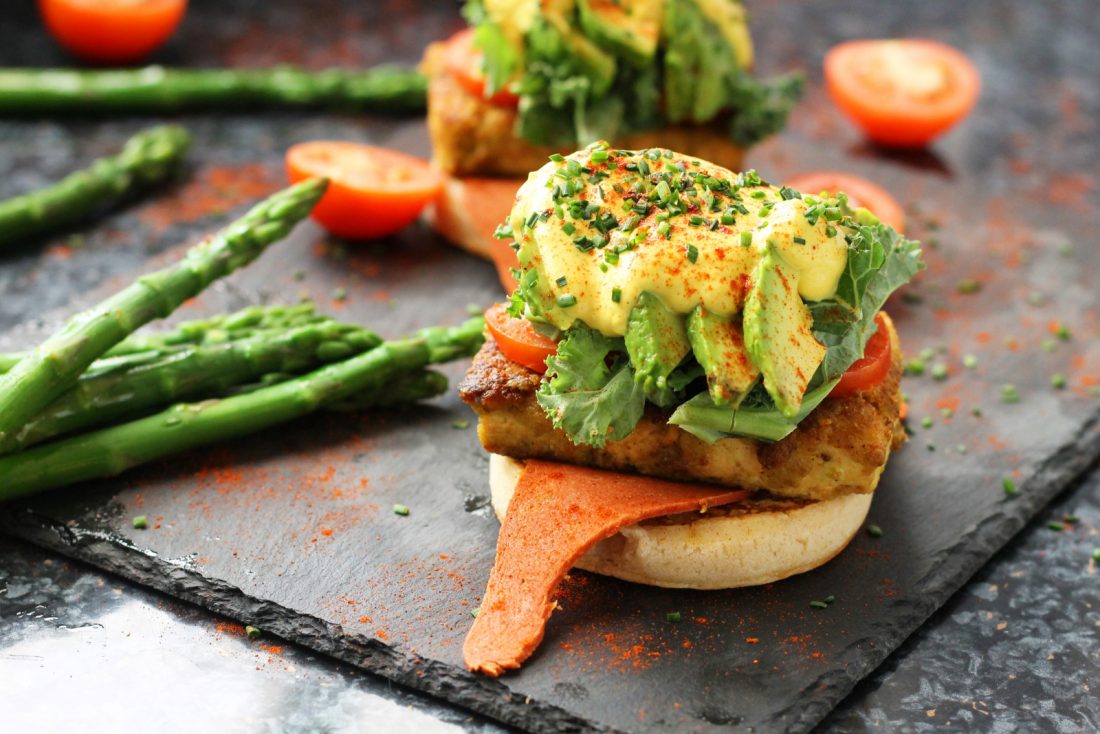 Enjoy a lovely, healthy vegan take on this classic dish. It is quick to assemble but you do need to do some prep beforehand – read through the recipe and ingredients the night before and go for it!
Ingredients
Tofu Steak
Marinade
100ml olive oil
20g parsley (with stalks)
2 cloves garlic (peeled and roughly chopped)
25ml tamari or other soy sauce
Coating
125g nutritional yeast flakes
60g cornflour
½ tbsp garlic powder
Pinch of salt and freshly ground black pepper
Hollandaise Sauce
1 vegetable stock cube or powder (eg Marigold vegan)
Oil for frying
1 onion (finely diced)
60ml vegan dry white wine
1.5 tbsp apple cider vinegar
2 tbsp cornflour
¼ tsp ground turmeric
2 tbsp nutritional yeast
¼ tsp black salt (optional) or sea salt
250ml unsweetened soya milk
1 tbsp lemon juice
Layers
2 English muffins
2 rashers vegan bacon or follow our amazing seitan vegan bacon recipe (it's well worth it!)
2 ripe tomatoes
1 avocado
Handful of kale or spinach
Vegan margarine for spreading
Sprinkle of paprika
Chives (finely chopped)
Asparagus (optional)
Instructions
Tofu Steak
Drain the water from the tofu and wrap the block in several sheets of kitchen roll. Leave for 20 minutes to absorb as much water as possible. Use a tofu press if you prefer.
Blend the olive oil, parsley and garlic together using a blender or stick blender then set aside.
Slice the tofu in half lengthways and then in half again so you have 4 large, chunky slices.
Pour the garlic and parsley sauce, then the tamari, evenly over each slice on both sides then set aside.
Combine the coating ingredients: nutrtional yeast, cornflour, garlic powder, salt and pepper into a medium sized bowl and mix thoroughly.
Cover each tofu slice in the coating mixture and press down to ensure that it has stuck properly.
Heat some oil in a large frying pan on medium heat and fry on both sides until golden and crispy.
Hollandaise Sauce
Cook the onion in a little oil, on a low heat, until softened but not brown.
Add the wine and vinegar and increase the heat to high and cook until the liquid has reduced by half.
Blend this mixture in a high speed blender or with a stick blender and set aside.
Combine the cornflour, turmeric nutritional yeast and black salt in a saucepan then whisk in the soya milk gradually to avoid lumps (off the heat).
Add the onion mix to the saucepan and sprinkle in the stock cube or powder.
Bring to the boil gradually and whisk in the lemon juice. The sauce will begin to thicken quickly so make sure you continue to whisk or it will stick to the pan and form lumps.
Layering
Slice 2 English muffins in half, toast and spread with vegan margarine.
Heat the vegan bacon for 1 minute on each side and place on one half of the muffin.
Place one of the tofu steaks on top of the vegan bacon.
Tomato slices go next.
Take a small handful of kale and place on top of the tomato.
Add some sliced avocado and drizzle with the hollandaise sauce.
Top off with finely chopped chives and a sprinkle of paprika.
Serve with steamed asparagus and enjoy!
Did you know that V30 is run by a charity?
We create vital resources to help educate everyone – vegan veterans, novices and the v-curious alike – about vegan food, health and nutrition; as well as the plight of farmed animals and the devastating environmental impact of farming.
Through this work we have helped thousands of people discover veganism; but we want to reach millions more! We rely entirely on donations as we don't get any government funding. If you already support us, thank you from the bottom of our hearts, you are really making a difference! Please share our details with your friends and loved ones too, as every donation enables us to keep fighting for change.