Vegan Mega Burger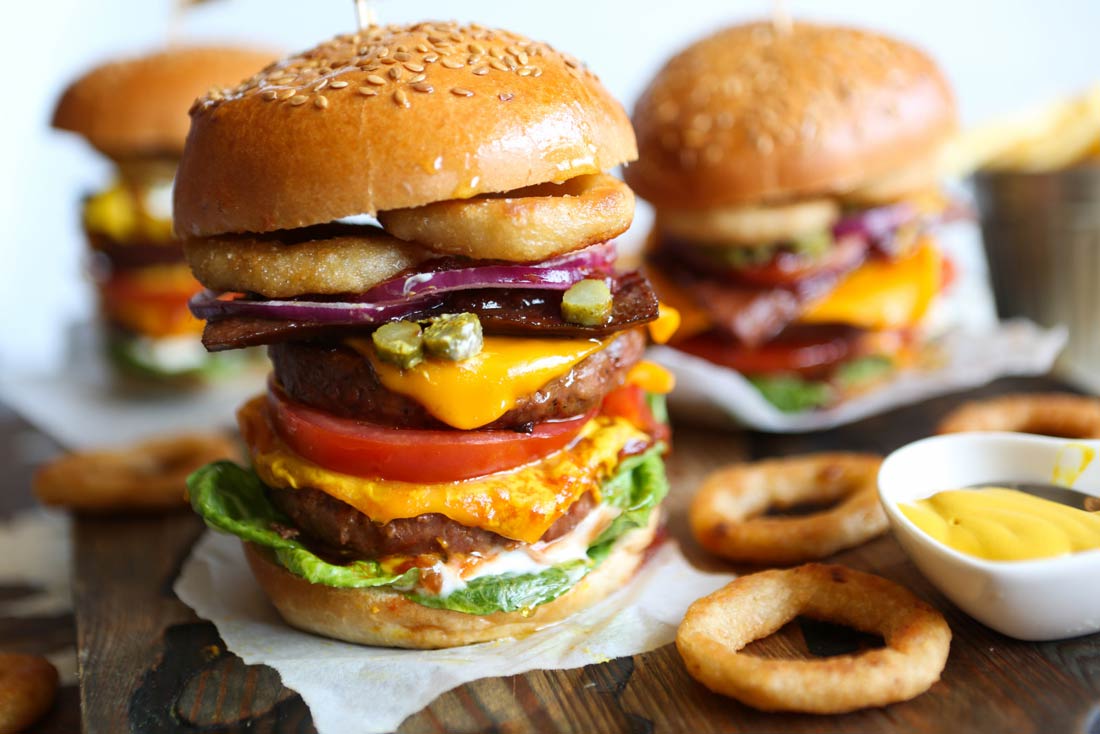 This burger is a beast and everyone goes mad for it… we think you can see why!
Easy
Gluten free
Wheat free
Kids recipe
Cuisine
United States and Canada
Ingredients
1 burger bun (use GF if necessary)
2 vegan burgers of your choice (our favourites are Moving Mountains, Naked Glory and Linda McCartney quarter pounders)
2 rashers of vegan bacon (we used THIS Isn't Bacon)
2 slices vegan cheese (we used Violife Mature Cheddar flavour)
2-3 slices tomato
2 leaves lettuce
¼ red onion, finely sliced
3 onion rings (plus more for serving if desired) or 2 hashbrowns
1 gherkin, sliced
1 tsp vegan mayo (our favourites are Follow Your Heart and Hellmann's)
1 tsp ketchup or tomato relish
1 tsp American mustard (eg French's)
Serving suggestions: extra salad, fries, onion rings
Instructions
Cook the onion rings or hashbrowns and fries (if using as a serving option), according to the instructions on the packet.
While they're cooking, prepare everything else.
If you're using a barbecue then grill the burgers on one side until nicely brown. Turn over, add the cheese slice and then cook the other side until brown.
Do the same with the vegan bacon although this will only take a couple of minutes on each side.
If not using a barbecue then cook the burgers/bacon according to the instructions and add the cheese when turning the burgers.
Assembly
Cut the bun in half and on the bottom half add the lettuce, then the mayo, followed by the first burger. Add the mustard, then the tomato, the second burger, the ketchup/relish, followed by the gherkins, red onion, bacon and onion rings. Place the top half of the bun over the top and enjoy this delicious feast. You might want to put a skewer through the middle to hold it all together 🙂
Did you know that V30 is run by a charity?
We create vital resources to help educate everyone – vegan veterans, novices and the v-curious alike – about vegan food, health and nutrition; as well as the plight of farmed animals and the devastating environmental impact of farming.
Through this work we have helped thousands of people discover veganism; but we want to reach millions more! We rely entirely on donations as we don't get any government funding. If you already support us, thank you from the bottom of our hearts, you are really making a difference! Please share our details with your friends and loved ones too, as every donation enables us to keep fighting for change.