Vegan Omelette or Egg Butties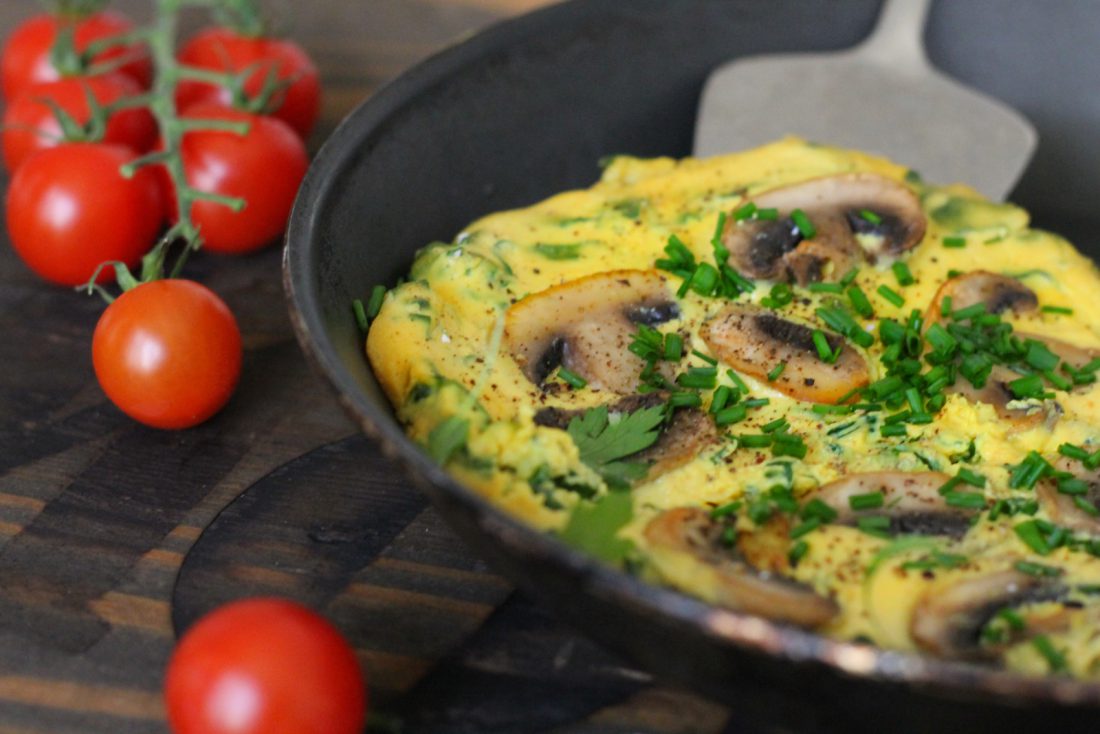 This delicious vegan alternative to omelette is quick and easy to make – and can be used for alternative egg butties by making little ones! Result.
While good to eat on its own, it lends itself to lots of creative fillings. It's also GF and nut-free so suitable for most people.
Firm silken tofu can be bought in larger supermarket branches, eg Tesco, Sainsbury's or Waitrose. Look for brands such as Morinu, Morinaga or Blue Dragon – sold in small tetrapacks (about 350g). Fresh silken tofu can be bought, eg Taifun from health food shops or other brands from Oriental stores. Clearspring also make silken tofu but it's in a smaller pack so you'll need to adjust quantities accordingly when weighing it out.
Aquafaba/chickpea brine is the miracle new vegan product – it's literally 'bean water' but usually chickpea brine (the goo from a tin of chickpeas) – what we used to chuck down the sink! Its protein works in a similar way to egg white and it's being used to make meringues and all sorts of goodies! The leftover chickpeas can be used to stick in a stew, curry or to make hummus dip – or bean burgers. The liquid from white beans – eg cannellini, haricot or butter beans also work well.
Easy
Gluten free
Wheat free
Reduced sugar, diabetic friendly
Kids recipe
Meal
mains
breakfasts
lunches
sides-light-meals-and-salads
Ingredients
Omelette
175g/generous 6oz firm silken tofu (half a pack of most brands). If using a tetrapack, no need to weigh, just open the packet, tip out the tofu then slice it in half
2 tbsp nutritional yeast flakes (larger Tesco, Ocado, Holland & Barrett, independent health food shops)
¼ cup/4 tbsp chickpea flour (also known as gram or besan flour). Sold in larger supermarkets, health food shops and Asian grocers
1½ tsp cornflour or arrowroot
¼ tsp turmeric
Large pinch smoked paprika
½ tsp Himalayan 'black' salt (adds a slightly 'eggy' flavour to the mixture) – or just use regular salt if you can't find it
6 tbsp aquafaba (tinned chickpea or tinned white bean goo – Value type works just as well as posh healthfood shop brands)
1 tbsp olive oil
Optional fillings (but feel free to invent your own!)
Use one or two of these only. It's best to prepare or cook them up first and keep hot as the omelette cooks very quickly.
Spinach and mushrooms with garlic – gently fry a clove or two of crushed garlic with a bag of spinach and 150g sliced mushrooms until tender. Add 1 tbsp good quality soya sauce and a sprinkle of nutmeg and black pepper. Finely shredded Swiss chard also works well with this.
Cheese – grate some melting vegan cheese (eg Violife) into the mixture and fry the omelette
Asparagus – chop off the woody ends and discard (the place on the stalk where it snaps easily is a good guide). Slice the remaining stalks in half lengthways so they are very thin. Steam or lightly fry for a few minutes until just tender
Sundried tomatoes and basil – chop a handful of sundried tomatoes from a jar, add to the mix and serve the cooked omelette with torn fresh basil leaves
Sausage and red pepper with cheese – cooked chunks of vegan sausage (eg Linda McCartney, VBites, Fry's, Vegetarian Choice) plus 1 small red pepper, thinly sliced. Add a few tbsp. grated vegan cheese, as above
Instructions
Blend all the omelette ingredients and whizz until everything is smooth and there are no lumps. If it looks too thick to pour, add a splash more aquafaba.
If you are making a vegan cheese omelette, add the grated cheese after you have blended the mixture.
Give the mixture a gentle stir to distribute in the mixed batter before frying.
Heat a medium non-stick saucepan until a drop of water makes it spit. Drizzle with 1 tsp olive oil or a couple of squirts of oil spray.
When the pan and the oil are hot, pour in just under half a cup of the mixture and swirl around, rather like you would when making a pancake. This will distribute the omelette mixture evenly – spread around with the fish slice or silicone spatula if necessary. Don't worry if it doesn't form a perfect shape, just squish it around in the pan. It will taste good whatever!
If you want vegan egg butties, the best way is to use cutting rings as these keep the batter in shape. Alternatively, just add smaller dollops around the pan – serve these on a roll with any additions you like – tomato or brown sauce, fresh tomato slices… get creative.
Let it cook for a minute or so, until it firms up, then turn over gently with the fish slice and cook the other side. If using one of the filling options, place a few spoons on top then fold over.
Serve hot.
Optional extras / notes
Timings don't include some of the fillings, which may take a few minutes longer
Did you know that V30 is run by a charity?
We create vital resources to help educate everyone – vegan veterans, novices and the v-curious alike – about vegan food, health and nutrition; as well as the plight of farmed animals and the devastating environmental impact of farming.
Through this work we have helped thousands of people discover veganism; but we want to reach millions more! We rely entirely on donations as we don't get any government funding. If you already support us, thank you from the bottom of our hearts, you are really making a difference! Please share our details with your friends and loved ones too, as every donation enables us to keep fighting for change.