Vegan Rasher Sandwich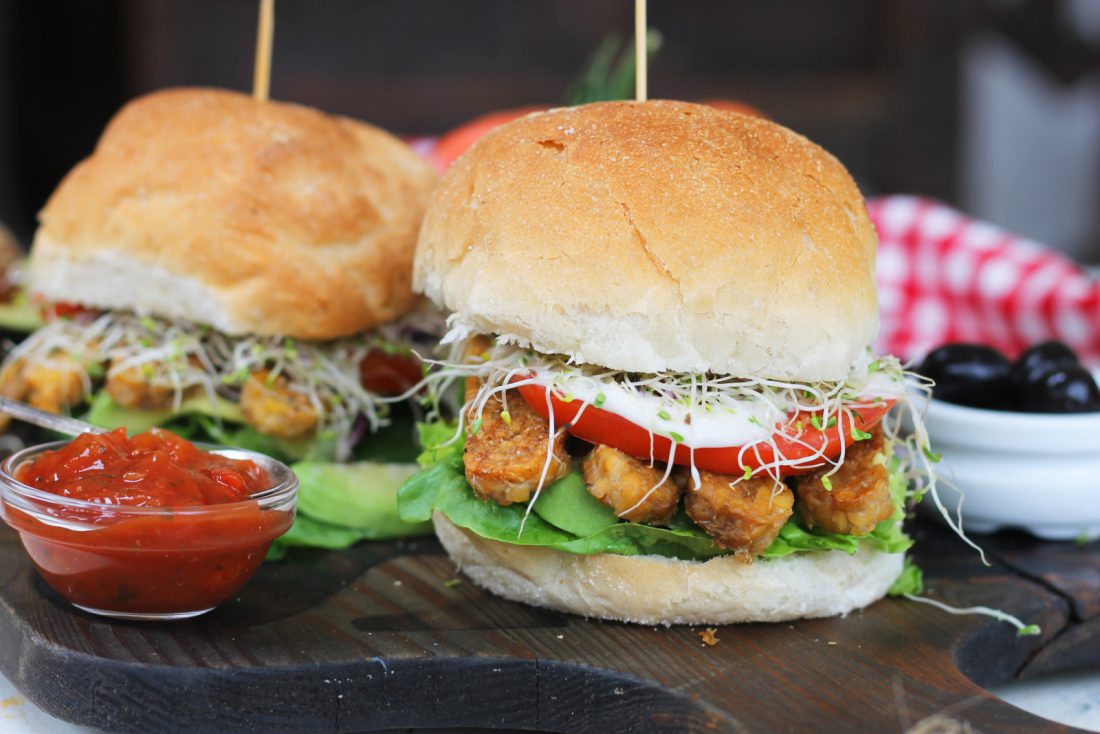 Most humans like stuff that tastes salty, smoky and slightly fatty, but this doesn't need to involve meat. The vegan bacons out there each have their particular charm. The most common varieties are the VBites rashers or else tempeh rashers, made by several companies: Impulse; Tofurky and VBites. Whichever type you choose, drizzle with a little soya sauce, put them in nice bread and maybe some brown or tomato sauce; sliced tomatoes… the rest is up to you!
Should you want to experiment and make your own seitan bacon it's not difficult if you follow our great recipe here
Or try our very simple tempeh rasher recipe – which is easy to make gluten-free.
Elsewhere on the web, vegan cooks worldwide are trying their hands at seitan bacon, coconut bacon, beancurd skin bacon, jackfruit bacon, shiitake mushroom bacon, tempeh bacon… go explore!
Easy
Gluten free
Wheat free
Quick meal
Meal
breakfasts
lunches
sides-light-meals-and-salads
Ingredients
2-3 rashers per sandwich, possibly 3-4 if using tempeh rashers
Oil – olive or plain
Good quality bread, white, wholemal, sourdough…
Vegan butter if you like it
Sauce, eg bbq, brown, tomato. Possibly soya sauce if using tempeh
Vegetable options: sliced tomato, leaves, alfalfa sprouts…
ALL KITTED OUT: scissors to open the rashers packet; non-stick pan of any type; fish slice or similar; knife to spread everything on the sarnie and chop tomatoes etc
Instructions
Get all the food and equipment out that you are going to use.
Heat the frying pan and add a little oil.
When the oil is hot, place the rashers in the pan and fry for a minute on each side. Don't overcook the VBites rashers – tempeh can be cooked a little longer to crisp it up if you wish.
Assemble the sandwich and eat immediately.
Did you know that V30 is run by a charity?
We create vital resources to help educate everyone – vegan veterans, novices and the v-curious alike – about vegan food, health and nutrition; as well as the plight of farmed animals and the devastating environmental impact of farming.
Through this work we have helped thousands of people discover veganism; but we want to reach millions more! We rely entirely on donations as we don't get any government funding. If you already support us, thank you from the bottom of our hearts, you are really making a difference! Please share our details with your friends and loved ones too, as every donation enables us to keep fighting for change.