Vegetable Paella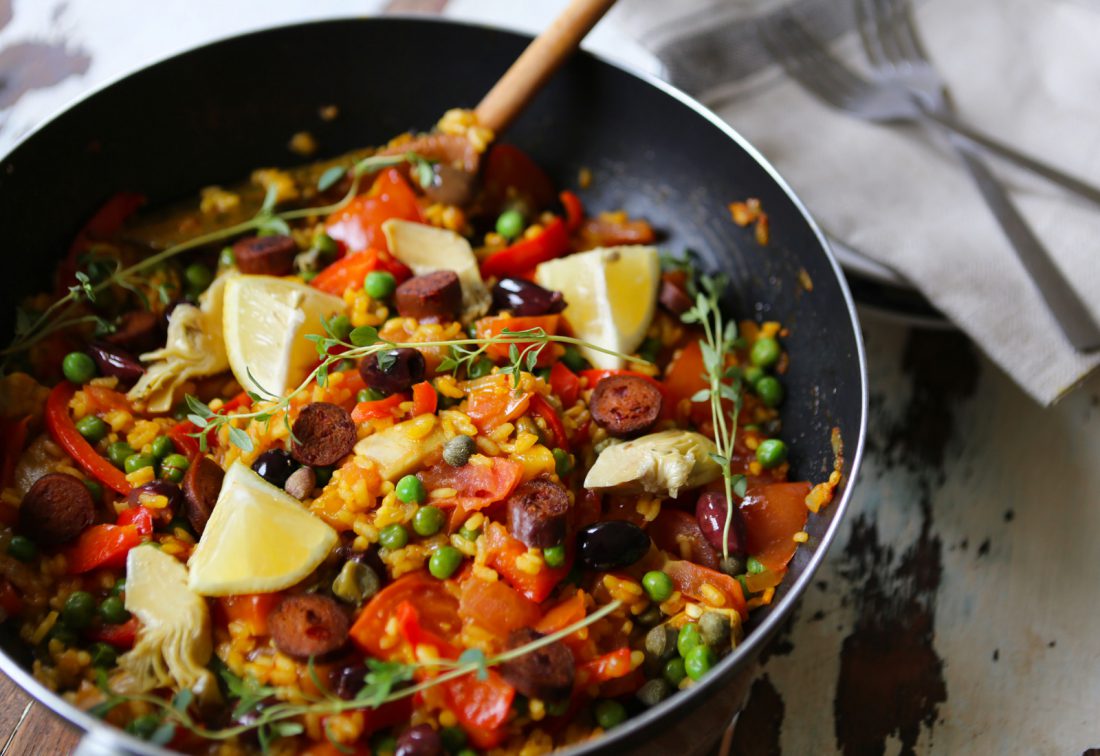 This paella dish is colourful and hearty with an incredible combination of flavours. It has a bit of everything you want… perfect to share with friends on a summer evening!
Not too tricky
Gluten free
Wheat free
Low fat, low sugar
Ingredients
Oil for frying
1 onion, finely diced
2 handfuls vegan chorizo, sliced (optional)
1 red pepper, finely sliced
5 medium tomatoes, roughly chopped
2 cloves garlic, crushed
½ tsp smoked paprika
½ tsp cayenne pepper
200g/1 cup paella rice (or use arborio if you're plastic-free)
125ml/½ cup (vegan) dry white wine
Good pinch saffron, soaked in tiny amount boiling water (ideally for 15-30 minutes)
2 bay leaves
475ml/2 scant cups strong vegan stock
200g/1⅛ cups frozen or fresh peas or broad beans
1 tbsp capers
10 artichoke pieces (from a jar), halved
1 handful olives, halved
1 tbsp fresh parsley or thyme leaves, chopped
Salt and pepper, to taste
Instructions
In a paella pan, wok or wide frying pan, lightly fry the onion until slightly soft.
If using vegan chorizo, add this now and fry for a couple of minutes.
Add the red pepper and tomatoes and fry for a further 5 minutes, stirring frequently.
Stir through the garlic and fry for 1 more minute.
Add the cayenne pepper and paprika and stir through for 30 seconds before adding the paella rice.
Stir the rice through and fry for a minute before adding the liquid.
Add the white wine, bring to the boil and then reduce to a simmer.
Add the vegetable stock, bay leaves and saffron, stir through and continue to simmer for 10 minutes. Don't stir whilst simmering.
After 10 minutes of simmering, add the frozen peas/broad beans but fold them in rather than stirring.
Simmer for another 10 minutes before adding the capers, artichokes, olives, seasoning and fresh herbs.
Serve immediately and enjoy with a glass of (vegan) wine 🙂
Did you know that V30 is run by a charity?
We create vital resources to help educate everyone – vegan veterans, novices and the v-curious alike – about vegan food, health and nutrition; as well as the plight of farmed animals and the devastating environmental impact of farming.
Through this work we have helped thousands of people discover veganism; but we want to reach millions more! We rely entirely on donations as we don't get any government funding. If you already support us, thank you from the bottom of our hearts, you are really making a difference! Please share our details with your friends and loved ones too, as every donation enables us to keep fighting for change.