Walnut Cake Energy Balls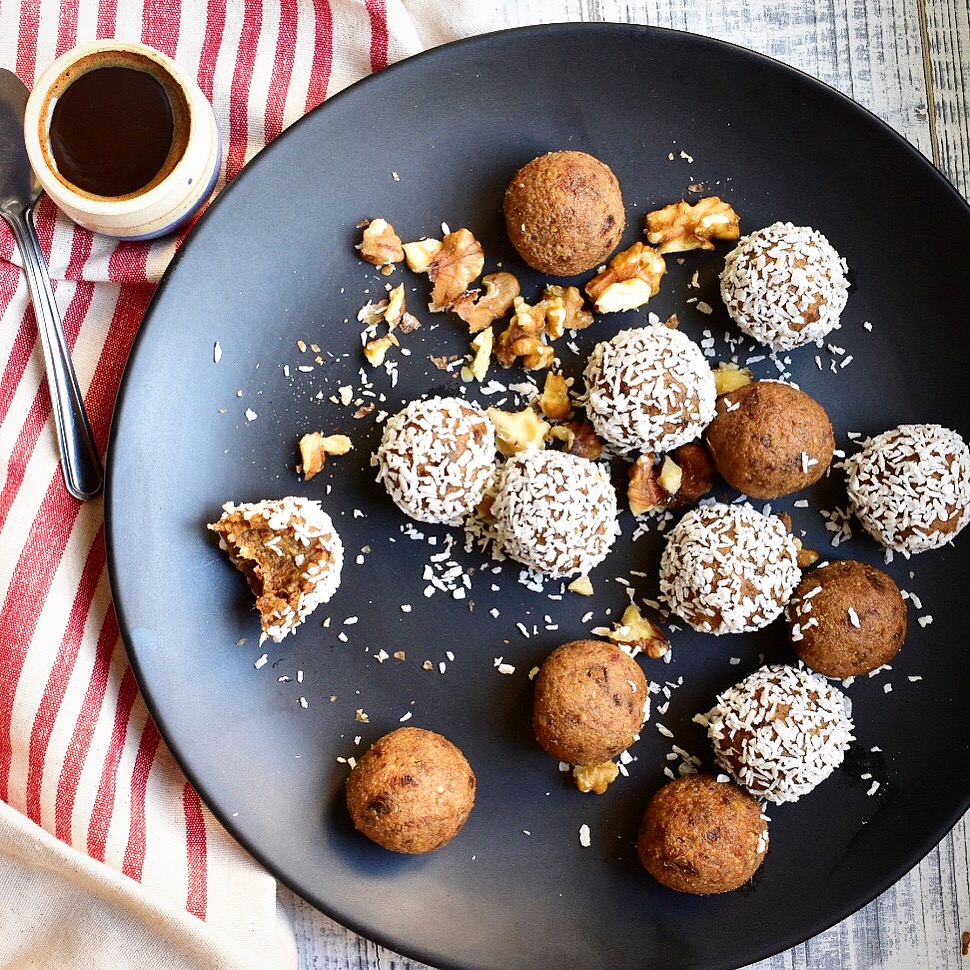 I do like to make a batch of energy bites every now and again. They make such a nice sweet snack, perfect for anyone like me with a sweet tooth, as a couple of these really help to keep you satiated after lunch or dinner!
It's amazing how versatile they are – you can experiment with using different nuts, seeds, spices, dried fruits, chocolate, citrus fruit zests etc, so the combinations are infinite! I had the idea to try making these energy bites a few weeks ago when we tried a vegan coffee and walnut cake at a café and wanted to capture the flavours of the cake but in a much simpler, quicker and healthier form that is energy bites (aka bliss balls). They're made of just four ingredients and includes walnuts, so they're a great vegan source of omega-3 – essential fatty acids that have been shown to decrease risk of cardiovascular disease and other inflammatory diseases.
Easy
Gluten free
Wheat free
Low fat, low sugar
Freezable
Courtesy of Meat Free Fitness


Meal
vegan-desserts
breakfasts
Ingredients
1 cup walnuts
1 cup dates
1 heaped tsp good instant coffee mixed with 50ml boiling water
½ tsp vanilla extract
Instructions
First of all, whizz up the walnuts in a food processor until they resemble the texture of wet sand.
Add the dates, and continue to blitz until they are chopped and the mixture is combined.
Add your coffee mix to the walnut and date mixture along with the vanilla extract and pulse a few more times in the food processor to combine thoroughly.
Take about 1 tablespoon of the coffee walnut and date mixture and shape into a small ball in the palms of your hands, then repeat to make 12 energy balls.
You can then roll the energy balls in desiccated coconut or cocoa powder if you like, or just enjoy them as they are. They will firm up nicely if chilled in the fridge, where you can store them for up to 10 days.
Did you know that V30 is run by a charity?
We create vital resources to help educate everyone – vegan veterans, novices and the v-curious alike – about vegan food, health and nutrition; as well as the plight of farmed animals and the devastating environmental impact of farming.
Through this work we have helped thousands of people discover veganism; but we want to reach millions more! We rely entirely on donations as we don't get any government funding. If you already support us, thank you from the bottom of our hearts, you are really making a difference! Please share our details with your friends and loved ones too, as every donation enables us to keep fighting for change.