Warm Beetroot & Quinoa Tabbouleh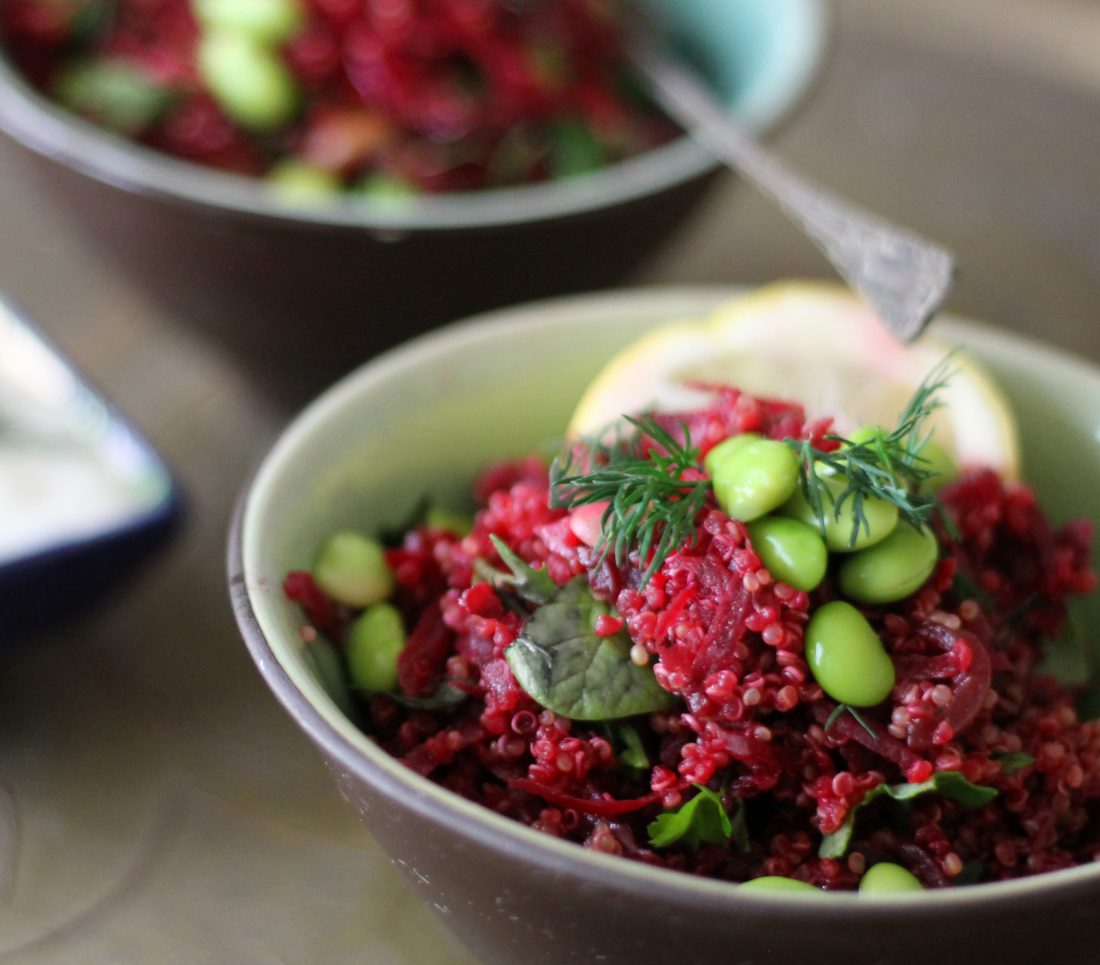 This quick supper is a lovely way to eat quinoa. The beetroot and the onions give a touch of sweetness which contrasts so well with the slight bitterness of the grain. The garnish also adds that extra bit of class and nutrients!
Budget options
If you don't have olive oil and balsamic vinegar, substitute with plain vegetable oil and cider vinegar (but reduce the vinegar by half and add 1 tsp sugar).
Quinoa is full of complete protein and also a great source of iron, making it relatively good value for money if you're vegan/veggie.
Beetroots are cheap in season and this is a great way to use them if they aren't your favourite vegetable!
Inspired by the legendary veggie and vegan chef Rose Elliot, from a recipe in her book Fast, Fresh and Fabulous, published by BBC Books.
Not too tricky
Gluten free
Wheat free
Reduced sugar, diabetic friendly
Quick meal
Low fat, low sugar
Cheap
Meal
soups-starters
lunches
sides-light-meals-and-salads
vegetable-side-dishes
Ingredients
125g/4oz quinoa
300ml/½ pint water
2 tsp low-salt vegan bouillon powder OR half a vegan stock cube
2 tsp olive oil
2 large red onions, finely sliced
2 tbsp balsamic vinegar
2 tbsp freshly-squeezed lemon juice
2 small raw beetroots, peeled and grated – about 200g/7oz (use kitchen gloves if possible as beetroot stains the skin!)
Handful flat-leaf parsley, coarsely chopped
Salt and freshly ground black pepper
Colourful salad leaf selection upon which to serve tabbouleh
Orange and lemon slices to garnish
Optional extras

Plain vegan yoghurt
Steamed peas (about 1 cup) or other pulses of choice
Instructions
Put the quinoa in a fine sieve and rinse thoroughly under the cold tap. Then place into a saucepan with 300ml/0.5 pint water and the bouillon. Bring to the boil.
Cover and leave to cook slowly for 18 minutes. Remove from the heat and leave to stand, still lidded.
While the quinoa is cooking, warm the olive oil in a roomy saucepan. Add the onions, stir to coat with the oil, then cover the pan and leave to cook gently for 10 minutes, or until very tender. Add a splash of water if they start to dry out.
Stir the balsamic vinegar into the pan, let it bubble, then remove from the heat.
Add the quinoa, lemon juice, beetroot, parsley and salt and freshly ground black pepper to taste.
Serve on a bed of salad leaves and garnish with the orange and lemon slices.
Did you know that V30 is run by a charity?
We create vital resources to help educate everyone – vegan veterans, novices and the v-curious alike – about vegan food, health and nutrition; as well as the plight of farmed animals and the devastating environmental impact of farming.
Through this work we have helped thousands of people discover veganism; but we want to reach millions more! We rely entirely on donations as we don't get any government funding. If you already support us, thank you from the bottom of our hearts, you are really making a difference! Please share our details with your friends and loved ones too, as every donation enables us to keep fighting for change.