White Bean, Sweetcorn & Carrot Salad with Tomato Herb Dressing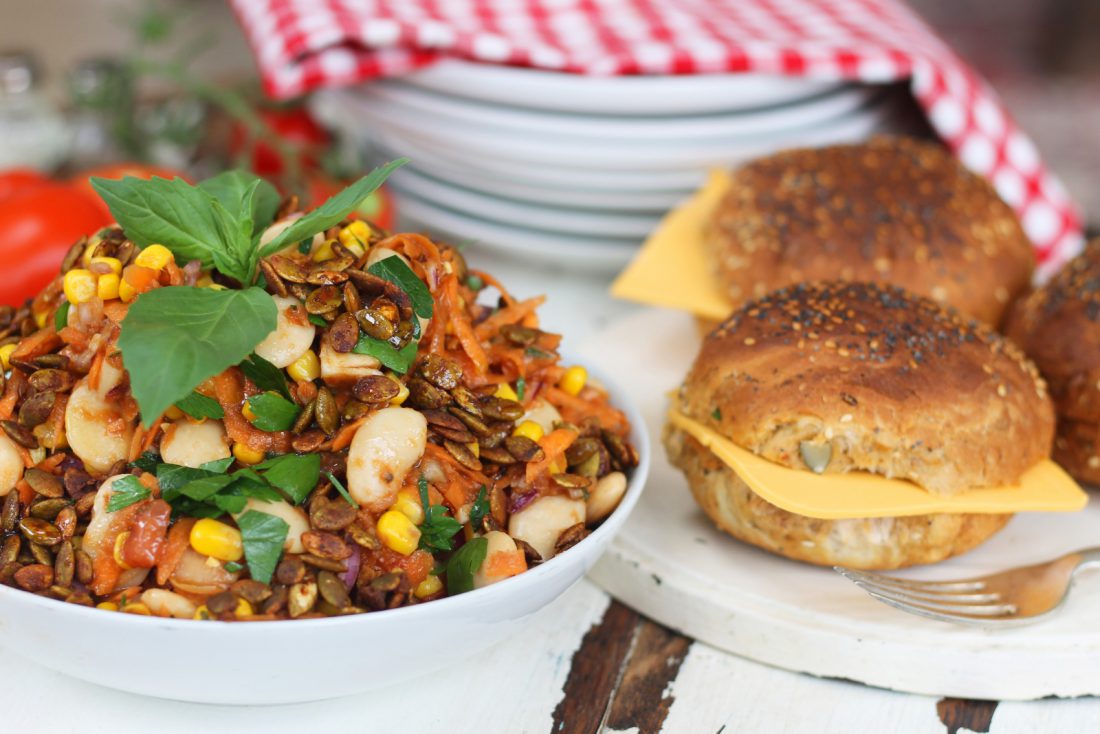 This colourful salad is delicious, very quick to make – and very low-fat. The dressing is particularly nice. Good news all round!
Easy
Gluten free
Wheat free
Quick meal
Low fat, low sugar
Cheap
Kids recipe
Meal
soups-starters
sides-light-meals-and-salads
Ingredients
Salad
1 tin white beans, eg haricot, drained and rinsed (or try pale green flageolet beans)
2 small tins or 1 large tin of sweetcorn
2 large carrots, grated
1 small red onion, chopped finely, or bunch spring onions, chopped
Optional: wholemeal bread or rolls (or use an alternative if you want a wheat/gluten free version)
Tomato Herb Dressing: makes about 240ml/1 cup. Will keep in a screw-top jar in fridge for about a week.
6 sun-dried tomatoes. If they are completely dry, soak in hot water first. The moist type or the oily ones in jars don't need soaking
1 fresh tomato, coarsely chopped
1 garlic clove, crushed
4 tbsp water
2 tbsp balsamic vinegar
Optional
Toasted seeds drizzled with soya sauce – home-made or toasted
Instructions
Make dressing. Blend sundried tomatoes, fresh tomato, garlic, basil, water and vinegar until you have a smooth purée. If it's too stiff, drizzle in a little more water.
Mix beans, sweetcorn, carrots and onion together.
Drizzle dressing over salad and serve with bread or cooked grains if desired.
Optional: Top with toasted seeds and fresh herbs.
Did you know that V30 is run by a charity?
We create vital resources to help educate everyone – vegan veterans, novices and the v-curious alike – about vegan food, health and nutrition; as well as the plight of farmed animals and the devastating environmental impact of farming.
Through this work we have helped thousands of people discover veganism; but we want to reach millions more! We rely entirely on donations as we don't get any government funding. If you already support us, thank you from the bottom of our hearts, you are really making a difference! Please share our details with your friends and loved ones too, as every donation enables us to keep fighting for change.