Creamy Pesto Cannelloni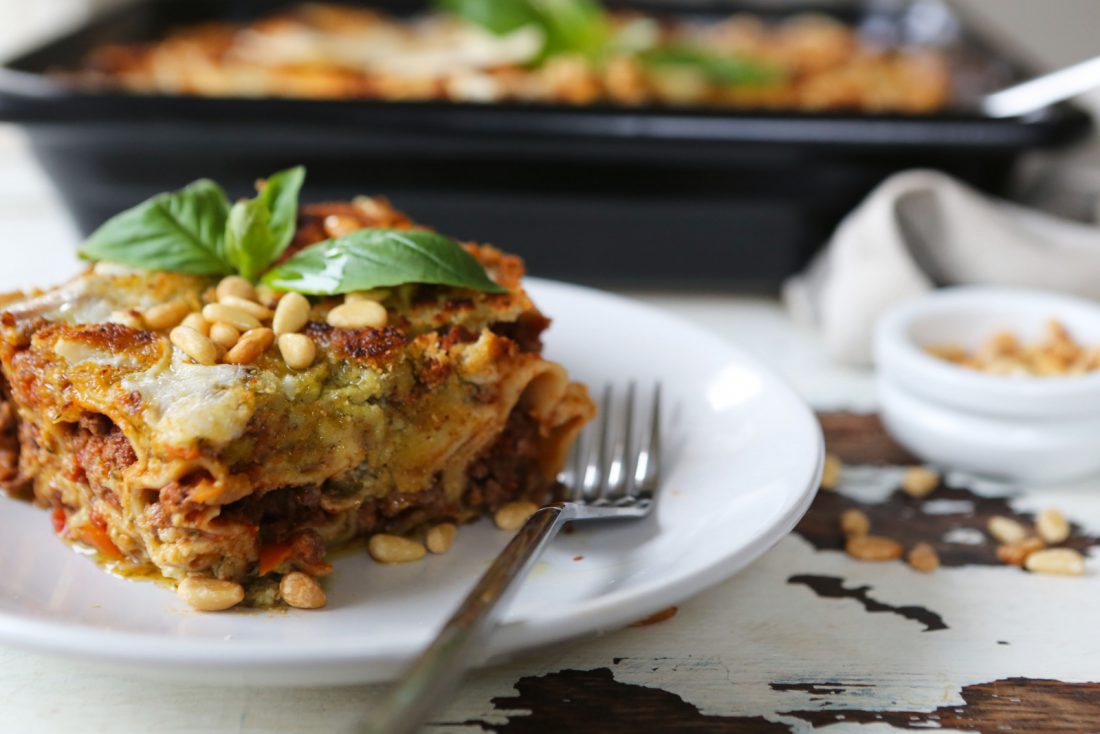 You can go two ways with this heavenly hearty recipe: cheat all the way using supermarket sauces or enjoy making all the different layers… either way it's delicious!
Ingredients
Mince
1 onion, finely diced
2 cloves garlic, finely chopped
1 large carrot, finely diced
1 courgette, finely diced
200g mushrooms, finely diced
500g vegan mince
1 tbsp tomato puree
150ml vegan red wine
2 x 400g tins chopped tomatoes
8 tsp stock powder (eg Marigold) or 3 veg stock cubes dissolved in 60ml/¼ cup boiling water (mix thoroughly)
1 tbsp syrup (eg maple or agave) or sugar
Salt and pepper, to taste
Pasta
You can use lasagne sheets if you prefer (layer in the usual way)
16 (approx.) tubes dry cannelloni
Béchamel
If you'd like to cheat at this stage then use 500g (approx.) vegan white sauce (eg Tesco Free-from White Lasagne sauce), Sacla, Asda Free-from, Marks & Spencer Vegan Béchamel
4 tbsp vegan spread
4 tbsp plain flour
500ml unsweetened soya milk
2 tsp Dijon or English mustard
½ tsp ground or freshly grated nutmeg
Salt and pepper, to taste
1 tbsp nutritional yeast (optional)
190g (approx.) vegan pesto (eg Sacla or supermarket free-from) OR make a batch of our hazelnut pesto
Topping
Option to add cheese (yes!), just choose your favourite melting variety… we used:
200g Sheese Greek Style, grated or sliced
5 tbsp Angel Food Parmesan Alternative
Instructions
Mince
Preheat the oven to 180ºC/350ºF/Gas Mark 4.
In a large wok or saucepan, fry the onion in a little oil until lightly golden.
Add the courgette, carrot and mushrooms and fry for a further 5 minutes, stirring frequently.
Add the garlic and fry for a further minute.
Stir in the tomato puree, red wine, tinned tomatoes, syrup (or sugar) and stock. Bring to the boil, turn down the heat and simmer for around 20 minutes. Set aside and leave to cool slightly.
Béchamel
Using a medium saucepan, melt the spread on a low heat.
Take the saucepan off the heat and stir in the flour until you have a paste.
Return the pan to the heat, turn up to medium and very gradually add the soya milk, stirring continuously to avoid lumps.
Once the sauce has thickened, add the mustard, nutmeg and optional extras. Use a balloon whisk to get rid of lumps if necessary.
Try the sauce and add salt to your taste. Stir through the pesto (bought or homemade). Set aside.
Assembly
Using a baking tray (12″x10″x2″ approx.), pour half of the bechamel and spread evenly accross the bottom of the tray.
Stuff the cannelloni with the mince mixture using a teaspoon and line them up over the bechamel layer until the tray is completely covered.
If you have any leftover mince then add another layer over the cannelloni tubes. The rest you can freeze to make a spag bol.
Pour the remaining bechamel over the top and spread evenly. Top off with the cheese of your choice.
Cover the top of the dish in foil and place in the oven.
Cook for 30 minutes, remove the foil and place back in the oven for another 15 minutes.
Serve with fresh basil, toasted pine nuts, garlic bread and salad. Enjoy 🙂
Did you know that V30 is run by a charity?
We create vital resources to help educate everyone – vegan veterans, novices and the v-curious alike – about vegan food, health and nutrition; as well as the plight of farmed animals and the devastating environmental impact of farming.
Through this work we have helped thousands of people discover veganism; but we want to reach millions more! We rely entirely on donations as we don't get any government funding. If you already support us, thank you from the bottom of our hearts, you are really making a difference! Please share our details with your friends and loved ones too, as every donation enables us to keep fighting for change.